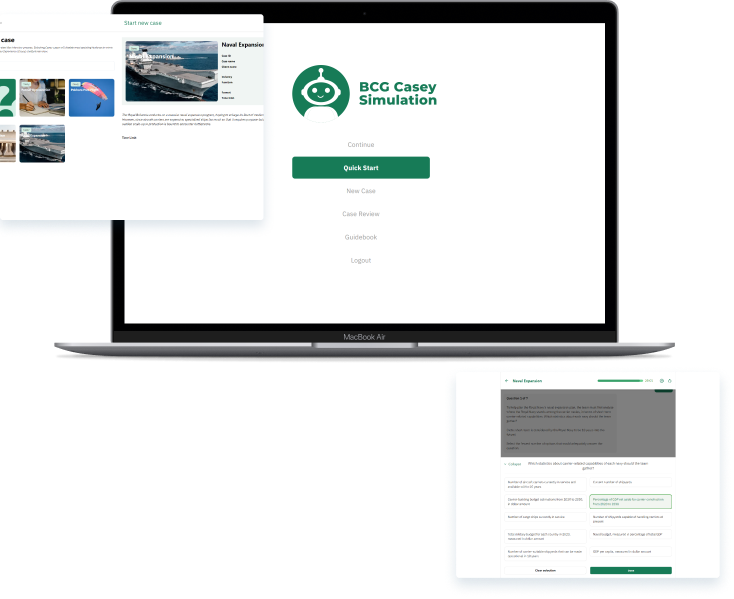 TRIPLE YOUR CHANCE TO PASS THE BCG ONLINE CASE
BCG CASEY SIMULATION
Lifetime access to software simulation of the BCG Online Case
Structured guide and practical tips on every question type
Entitlement to all future updates
GET IT NOW
Behind the development of BCG Casey Simulation
BCG Online Case Experience has been rolled out broadly across BCG offices and became the official test. Studying GMAT questions or similar tests is not enough for preparation. Despite having some practice with GMAT questions in advance, many candidates can't solve the hurdles since questions are not merely divided into qualitative and quantitative types. To help you avoid the pitfalls in the real Test and have an accurate practice experience, a stimulated Casey Chatbot has been developed.
What you will get?
The Most Accurate Interface
Actual chatbot developed to simulate the test environment of the BCG Online Case / Casey Chatbot, with accurate answer formats and chatbot logic.
We update and refine the software continuously, based on candidate feedback.
Experience the BCG Online Case FOR REAL.
No-Nonsense Guidebook Based On Real Candidate Feedback
Dozens of interviews, reports and experiments result in the most INFORMATION-DENSE and PRACTICAL Casey guidebook ever. (we also keep it short – we don't stuff words into our guidebooks just to make them fat).
Five question types with step-by-step answer guides (a full 20-page worth of text and reconstructed interfaces)
Preparation and test-taking tips for a time-crunch test (no "manage your time" kind of tips!)
Continuously Expanding Case Library
Twelve Casey-style cases with realistic question types and difficulty
Accompanied step-by-step answer guides (one page worth of explanation for every single question!)
Lifetime and immediate access to our expanding case library
What goes into development

20+
Test-taker interviews

10+
Case samples

30+
Controlled experiments
BCG Online Case Simulation
What our customers say
"The Guidebook really covers it all. Bravo to you guys. My Test was due soon and your insights are really helpful"
— Lisa —
July 2022
"You made it easy to review my whole 25-minute performance. It was weird to watch my video question, but thanks to that I know where I could improve on."
— Mike —
August 2022
"I didn't think the questions would be so much different from GMAT. Your Guidebook is easy-to-follow and insightful! Thanks for the package"
— Richard —
August 2022
Terms & Policy
30-day Refund Policy
Within 30 days of purchase, if you find the quality of our materials to be unsatisfactory AND are able to provide specific complaints, you can request a partial, or in some specific cases, up to a full refund. In the case of a failed test, we would only be able to provide you with a refund of up to 40%.

Please note that if the customer simply says I don't like it or were looking for something else without legitimate justifications, we CAN NOT proceed a refund.

Please be advised that no refund policy is applicable to products and services provided by coaches.

To claim a refund, please reach out to us at [email protected] with your specific complaints, and we will get back to you as soon as possible. Please be mindful that with any refund, the license to our products will be retracted.
Payment & Pricing
All transactions performed on our website are powered and protected by PayPal, which allows you to purchase our products with credit/debit cards OR a PayPal account. If you have any trouble processing your purchase, please reach out to our team at [email protected] for further instructions.
Accessing Purchased Products
Once the payment has been completed, we will send you an email containing the link to the learning interfaces of the products you have purchased, which include web-based apps, PDFs, videos, and interactive courses depending on each product.

Purchased products will also be available for access through your User Dashboard, which can be accessed through the profile icon located on the top-right of the screen.
Contact Us for Further Support
Please feel free to contact if you need any support. If you have problems related to:
Course content: Email us at

[email protected]

Technical issue: Report quickly through our technical-support channel on

Discord
We will get back to you WITHIN 24 HOURS!