MBB firms and the Big 4 almost always take the spotlight when it comes to management consulting. However, smaller, more specialized firms, called "boutique consulting firms" also deserve our attention, both as a career and a service. So, in this article, let's find out about these lesser-known consultancies – what they do, and how they compare with larger firms.
Boutique consulting firms are small/specialized/localized consultancies. They tend to have fewer than 500 employees, focus on one or a few industries (e.g.: healthcare), functions (e.g.: marketing), and serve clients in localized markets (e.g.: national, regional). They also identify themselves as "boutique".
What are consulting firms?
Consulting firms are companies that sell professional advice to businesses.
The word "consult" means to seek advice from an expert on a particular topic; the said expert is called a "consultant". Consultants are usually implied to be professionals. Examples include "management consultants", "strategy consultants", "IT consultants", "personal health consultants", "career consultants", and even "gardening consultants".
"Consulting firms", however, almost exclusively refers to business consulting firms – which cover areas such as management, strategy, accountancy, law, IT, security, marketing, finance, etc.
At the top of consulting firms are MBB consultancies – McKinsey, BCG, and Bain – along with the consulting divisions of the Big 4 accounting firms – Deloitte, PwC, KPMG, and EY. Further down are the "tier-2" consulting firms – Accenture, Oliver Wyman, LEK, etc. These are massive "generalist" firms, offering service across countless areas, with numbers of employees at four to five digits.
Boutique consulting firms are just about the opposite.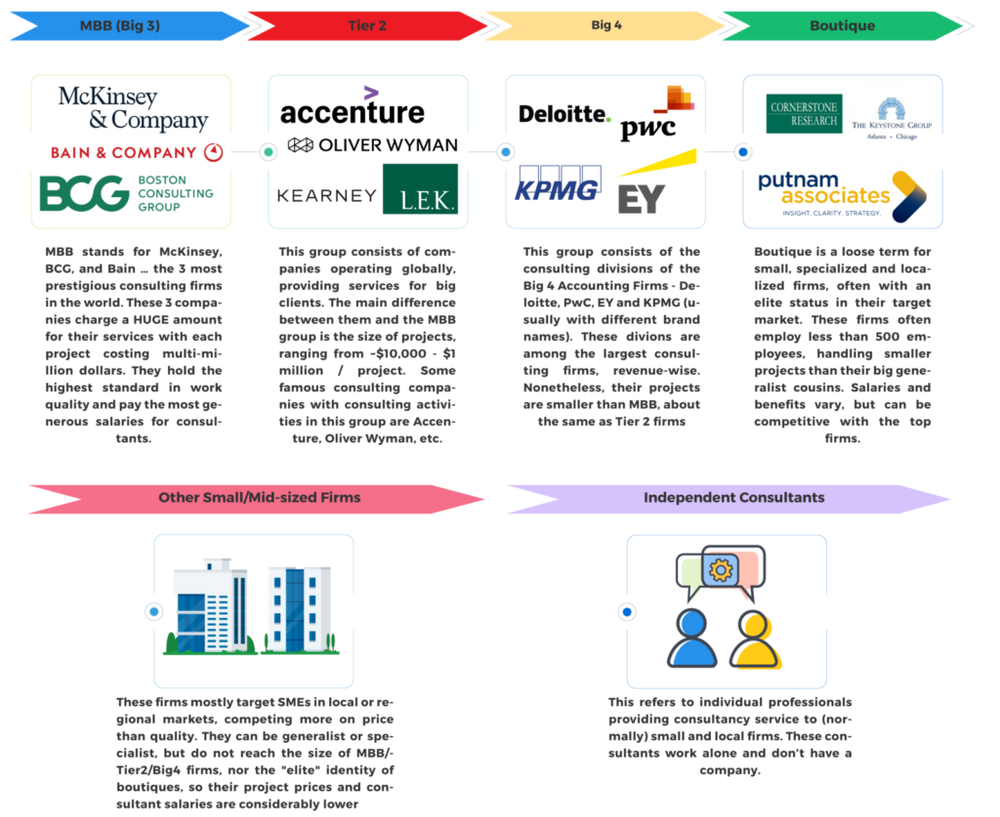 What does "boutique" mean?
The term "boutique consulting firms" is not a hard-and-fast category, with specific sets of rules and determinants. It is more a mix of the firm's size, scope of operations, locality, and most importantly, how the firm views and positions itself.
Just as how boutique stores sell luxurious and sophisticated items, boutique consulting firms identify as elite firms offering (or intending to offer) high-value, specialist advice on just one or a few related industries, functions, and locations. Their small size is often the result of this self-identity and intended focus, and may or may not dictate whether one firm is "boutique". Vault, for instance, defines "boutique" as having 750 employees or less, while stating in many cases this "rule" is ignored if the firm does not identify or aim to be "boutique".
Here is a list of 25 top boutique consulting firms in 2020, according to Vault.
Score, and consequently, ranking is determined by the following set of weighted criteria:
25% – Firm culture
20% – Satisfaction
20% – Work-life balance
10% – Level of challenge
10% – Compensation
10% – Overall business outlook
5% – Promotion policies
25 Best Boutique Consulting Firms to Work For (2020 – United States)
| Rank | Score | Name | # Staff | Focus | Location |
| --- | --- | --- | --- | --- | --- |
| 1 | 9.336 | ClearView Healthcare Partners | 200 | Pharmaceuticals, biotechnology, medical devices, diagnostics | Massachusetts, US |
| 2 | 9.328 | ghSMART | 125 | Management, strategy | Illinois, US |
| 3 | 9.327 | Insight Sourcing Group | 166 | Strategic sourcing, procurement | Georgia, US |
| 4 | 9.305 | Putnam Associates | 125 | Biopharmaceutical, biotechnology, diagnostics, medical device, other related healthcare issues | Massachusetts, US |
| 5 | 9.136 | The Keystone Group | 30 | Management; mid-market manufacturing and distribution | Illinois, US |
| 6 | 9.042 | Ignyte Group | 27 | Digital, management, branding, marketing | DC, US |
| 7 | 9.007 | Blue Matter | 90 | Management; life sciences, pharmaceutical, biotechnology | California, US |
| 8 | 8.952 | Clarkston Consulting | 270 | Business and technology; consumer products, retail, life sciences | North Carolina, US |
| 9 | 8.927 | Health Advances | 150 | Medicine, molecular biology, biomedical engineering | Massachusetts, US |
| 10 | 8.918 | DeciBio Consulting | 50 | Life sciences | California, US |
| 11 | 8.861 | ScottMadden Management Consultants | 185 | Energy, corporate & shared services | Georgia, US |
| 12 | 8.792 | Eagle Hill Consulting | 200 | financial services; public service; media, technology and entertainment; health and life sciences | Virginia, US |
| 13 | 8.789 | The Bridgespan Group | 273 | Nonprofit organizations, NGOs, impact investing, philanthropy | Massachusetts, US |
| 14 | 8.696 | StoneTurn | 158 | Advisory | Massachusetts, US |
| 15 | 8.686 | The Chartis Group | 390 | Advisory and analytics; healthcare industry | Illinois, US |
| 16 | 8.591 | Applied Value | 65 | Management, finance | New York, US |
| 17 | 8.526 | Cicero Group | N/A | Management, customer insights | Utah, US |
| 18 | 8.502 | DayBlink Consulting | 54 | Strategy, technology | Virginia, US |
| 19 | 8.485 | The Cambridge Group | 60 | Demand strategy; consumer packaged goods, financial services, media, retail, and telecommunications | Illinois, US |
| 20 | 8.476 | Kenway Consulting | 51 | Management, technology | Illinois, US |
| 21 | 8.455 | Censeo Consulting Group | 50 | Strategy, operations; public sector | DC, US |
| 22 | 8.416 | LeapPoint | 41 | Finance, HR, IT, marketing, and government | Virginia, US |
| 23 | 8.394 | Keystone Strategy | 90 | Economics, strategy | California, US |
| 24 | 8.390 | Cornerstone Research | 775 | Economics, finance, laws | California, US |
| 25 | 8.382 | The Poirier Group | 30 | Process and performance improvements; medium to large-sized businesses | Ontario, CA |
Disclaimer!
What I am going to say now are broad generalizations – "boutique" is not a clearly defined category, so there are a lot of variations between each boutique firm. When you do apply for a boutique firm, take time to research and answer all the important questions.
With that out of the way, let's discuss career prospects at boutique consulting firms and compare them with the larger MBB and Big 4 cousins on 9 aspects: recruitment, nature of work, culture, internal support, compensations, learning opportunities, stability, work-life balance, and exit options.
Recruitment
On one hand, boutique consulting firms are understandably less selective about qualifications than large consultancies – so if you come from a non-target school or have a GPA outside the top 10%, boutique firms might be a good place to start.
On the other hand, given their small size, boutique firms care more about "fit" than their larger, global cousins. Due to their specializations, boutique consulting firms also place a higher emphasis on industry knowledge and experience.
Like most consulting firms, however, boutiques prefer to hire "blank slate" candidates. Lateral recruits, especially with 3-5 years or more at another firm, are more difficult to train.
Nature of work
The scope of projects is narrower than at MBB/Big4 firms, while the scope of responsibilities is wider. The former is due to the specialized nature of boutique firms, and the latter is because of their small size and staffing limitations.
Difficulty varies greatly across boutique consulting firms – those competing with large consultancies can be just as demanding – both in the hours and the final work quality. Smaller, less ambitious firms tend to be more relaxed (nonetheless, consulting is never an easy job).
The implications depend on your career goals and priorities – if you want to specialize in one or a few related industries, and/or expose yourself to higher-level responsibilities right from the start, go for boutiques. There you will be given client-facing or management tasks very early in the track. By contrast, if you prefer to have wide-ranging industry exposure and can tolerate the limitations of bureaucracy, go for MBB or Big 4, where you will be an analyst at first, slowly working up the ladder.
Culture
The culture at boutique firms is usually more close-knit and stronger – mostly because they have fewer employees, and the employees are more alike.
For a consulting job seeker, that means investigating the culture of the firm more carefully before entering. If possible, speak with former employees and insiders, hear from clients, look up on forums, find out if it's really the company for you.
Boutique firms also have more informal and flat cultures compared to MBB or Big 4 – a direct result of their flat structure. At these firms, even the youngest recruits can speak and work with the "big boss" on a daily basis.
Internal support
If you've read my article "What The Heck Does A Consultant Do?", you know the incredible network of experts, specialists, and other support staff given to MBB consultants.
You just can't have such extensive support at boutique firms. In many cases, you need to learn to be an industry expert yourself and handle the boring administrative tasks also. Book your own flights, brew your own teacup, fix your own laptop, make your own slides, learn the necessary things by yourself, that's how they do it at boutique consulting firms.
Boutiques cannot match their global cousins, facilities-wise. Some firms might not even have a physical office, to begin with.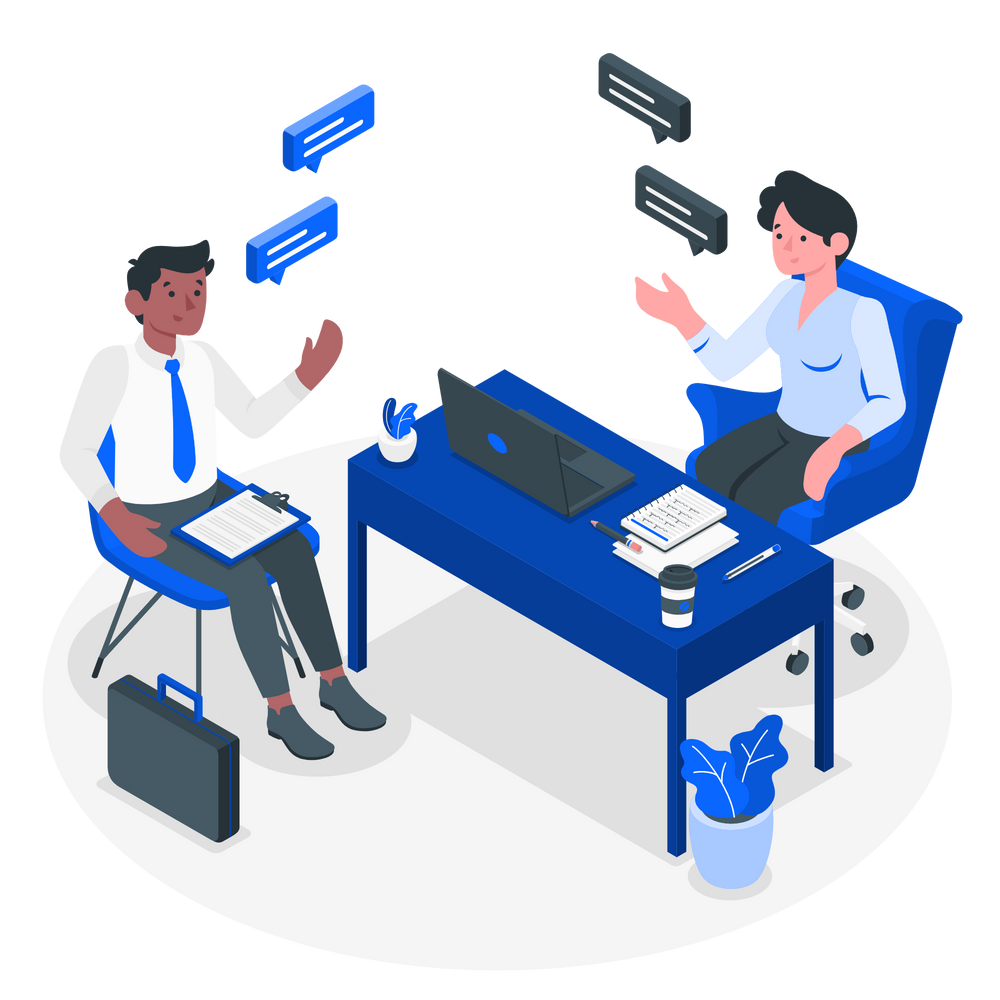 Compensations
Generally, boutique consulting firms sit lower in the pay range, but consulting is still a high-income job nonetheless. If you want to be more specific, it really depends on each firm.
Believe it or not, some boutique consulting firms offer salaries and bonuses even higher than MBB. Some of my old colleagues and friends left MBB or Big 4 firms for elite boutique consultancies with a 20-30% raise. Of course, higher pay comes with higher expectations.
Learning opportunities
Boutique firms simply cannot afford the extensive formal training or MBA tuitions that MBB firms do. That means as far as learning goes, you mostly have to do it through real-world experience and self-learning.
What you can learn from the work is already discussed in the "Nature of work" section – generally, it's industry-focused, but there's also more exposure to higher levels in the firm's structure.
Nonetheless, a consulting job is still a valuable learning experience – the achieving mindset, structured thinking, and people/resource management skills earned during the process will help you many years down the line.
Stability
Without the massive base of capital to support them, boutique consulting firms are less stable businesses, and so are their consultants' job prospects.
Boutique consulting firms are hard-pressed to find clients – most of them are without the bottomless advertising budget and famous brand name of their top-tier counterparts. Failure in business development, however, will result in laid-off consultants much quicker than at big firms – so as a job seeker, try to examine the health of the consultancy in advance.
Work-life balance
Boutique consultants usually have better work-life balance than MBB or Big 4 ones.
Don't expect 40-hour work weeks, though. Most of the time, the better balance comes in the form of working from home or the local office, not having to travel as frequently. The well-performing boutiques will still require some 60-70 hours per week. Some firms do offer 40-hour work weeks, but such offers are rare, and often at lower salaries.
Exit options
As with other consulting firms, there are two main paths:
The first one leads to industry – being an industry expert yourself, you can be offered a management or expert position, often with a 20-40% raise at least. The other one leads to other consultancies – with consulting experience up your sleeve, you may fare better than other candidates at MBB/Big 4.
However, there are a few caveats. As mentioned, consulting firms prefer "fresh" people, so coming with a few years of experience at boutiques might harm your chances at McKinsey (or even industry firms that hire fresh candidates). Additionally, boutiques don't have the universally prestigious brand names of MBB and Big 4 firms, so putting one on your resume won't be as life-changing.