McKinsey, Bain, and BCG (the Big Three or MBB) are by far the most prestigious consulting firms – as surveyed by Vault in 2020. Within MBB firms, McKinsey is the most prestigious and well-known, both inside and outside the industry. This is the result of their early and continuing success in maintaining extremely high standards in recruitment and project deliverables.
MBB firms have much higher prestige scores (vault 2020)
On the list of best consulting firms by prestige compiled by Vault, MBB ranks at the highest level with the scores outperforming all other firms in the US. This list bases its data on surveys of working consultants, who are allowed to rate other firms but not their own.
While McKinsey almost reaches the score of 9, Bain and BCG are both above the score of 8.6; the highest score of the Big 4 group is only 7.1. Other firms, on the other hand, all scored below 7. In other words, the majority of people in consulting fields agree that MBB are the best firms when it comes to prestige.
Rank
Score
Name
1
8.984
McKinsey & Company
2
8.738
Boston Consulting Group
3
8.600
Bain & Company
4
7.121
Deloitte Consulting LLP
5
6.751
PwC Advisory/Strategy&
6
6.490
Booz Allen Hamilton
7
6.474
EY (Ernst & Young)
LLP Consulting Practice
8
6.445
Accenture
9
6.155
KPMG LLP (Advisory)
10
6.066
Oliver Wyman
MBB consultants will land at top executives after exiting
In general

With an MBB brand name on your resume, you will generally get into C-level/top executive roles at big companies in different industries.
This is because any consultant from MBB companies will likely have cultivated the skills, network, and credibility that open up options from a wide variety of roles and industries. The Big 3 firms all have a rigorous selection process, much harder than any other companies, so having made it through these selection rounds and becoming an MBB consultant shows you're a candidate of high caliber in the recruiters' eyes.

In comparison with Big 4

Alumni from MBB companies can apply for a high-level position at the Big 4 firms with a higher paycheck. However, it does not work the other way around. A Big 4 alumni need to work their way up in the traditional career path at MBB.
MBB's projects are more expensive and high-level
MBB charges clients the highest fees in the consulting industry. For example, for a strategy project, they will charge $500K/month for a team of 6, with an extra 20% travel. MBB's projects tend to be higher-level and concern the overall strategy/organization than the projects handed to other firms, such as the Big Four consulting practices.
While the MBB firms are clearly the most prestigious consulting firms in comparison with the Big 4 and other companies, among the MBB group, McKinsey's brand name also surpasses its two competitors by a quite considerable margin. Let's take a look at three aspects of how the prestige of McKinsey is higher than BCG and Bain.
McKinsey is more well-known than BCG and Bain
Here, I'm talking about both people in the management consulting field (or those who have an interest in the field) and the laypeople.
First, from a fact-based perspective, when comparing the interest people show in each of these three firms over the past 12 months, unsurprisingly, the average number of people who actively search for McKinsey & Company is more than double those of Bain & Company and Boston Consulting Group. This insight is concluded based on the data on Google Trends.
Also, if one gets offers from all MBB firms, he/she would most likely join McKinsey.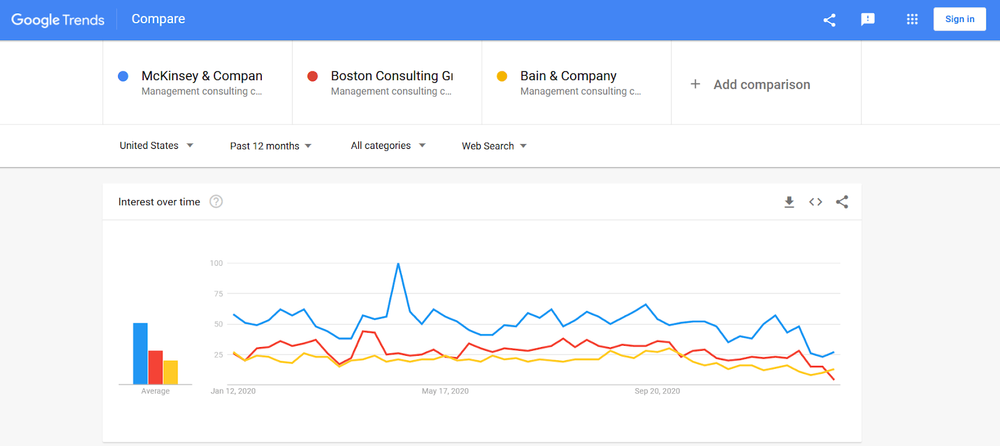 Second, when I ask my friends who don't know much about consulting firms, the name McKinsey often rings a bell more than the other two. Although there is no fact-based evidence on this case, you might get a general idea of how McKinsey has a slight edge over Bain and BCG on prestige.
McKinsey is the largest "CEO factory"
All MBB companies are often dubbed "CEO factories", but out of the three giants, McKinsey has a slight edge over this.
They produce the most Fortune 500 CEOs. Many McKinsey alumni run companies with more than $1 billion in annual sales. According to one estimate, McKinsey alumni have a 1 in 690 chance of securing a CEO position at one of the 1,187 publicly traded companies valued at a minimum of $2 billion in market capitalization.
McKinsey charges higher than BCG and Bain
For the same scope of work, McKinsey charges on average 30% more than BCG and Bain. Their project typically covers a wide range of industries and areas – strategy, implementation, and operation. With a highly professional, formal, and structured working style, clients know that McKinsey is the safest bet to ensure consistency and comprehension.