Everything to know about the McKinsey Consulting Fellowship Program
McKinsey just announced the next Consulting Fellowship Program, or CFP for short. It is an incredible initiative for anyone who wants to become a McKinsey consultant. For many, it is a once-in-a-lifetime opportunity to start their consulting career.
The McKinsey Consulting Fellowship Program (CFP) is a two-day capacity-building workshop/recruitment program targeting local undergraduates/fresh graduates in South East Asia and Sri Lanka. Participants will have an opportunity to understand more about McKinsey and the consultant job; they are also automatically interviewed for the next year's intake of Consulting Analysts.
McKinsey CFP application requirements
Candidates are eligible to apply if they fall under one of these 2 categories:
Senior-year students working to attain either Bachelor's or Master's degrees.
Fresh graduates or undergraduates with less than 2 years of real-life work experience.
Of course, there will be other factors at hand. You can't expect to be a McKinsey consultant without a proven record of leadership in a work setting or extracurricular activities, can you? And to top that off, you need to fit in with the consulting culture, by showcasing characteristics such as an achieving mindset, a structured problem-solving approach, and an interest in business and learning in general.
McKinsey CFP timeline
The McKinsey CFP journey can be divided into three phases:
Before the CFP: the applicant undergoes the resume, screening test, and screening interview rounds, along with an info-session
During the CFP: the applicant attends a two-day workshop (for 2021, the workshop will be online due to COVID-19; for previous years, the event was held offline at a centralized location in SEA)
After the CFP: the applicant attend full interviews for the CA role of the following year
The whole process often takes 3-4 months, as shown below:
| Rounds | Overview | 2017 Timeline | 2018 Timeline | 2019 Timeline | 2021 Timeline |
| --- | --- | --- | --- | --- | --- |
| Online Application | Applicants submit their resumes for screening | Until Jul 9 | Until Jul 31 | Until Jul 23 | Until Jul 17 |
| Screening Test (PST/PSG) | 60-80 minute problem-solving test. It used to be paper-based but was changed into a simulation test in 2019 | Jul 15-23 | Aug 8-12 | Jul 31 | Jul 21-28 |
| Screening Interview | One 30-45 minute online/phone interview (fit and mini case) with McKinsey consultants | Jul 28-30 | Aug 18-19 | Aug 10-11 | Jul 30-31 |
| CFP Weekend | A fun weekend of fun events and capacity building workshops with McKinsey consultants and fellows from the region | Aug 18-20 | Aug 31 – Sept 2 | Aug 30 – Sept 1 | Aug 14-15 |
| Interview for Consulting Analyst role | Five 60-minute standard interviews (PEI and full case) across 2 rounds with McKinsey consultants | Aug 26 onwards | Sept 15 onwards | Sept 20 onwards | Aug 23 onwards |
Pre-screening info session
Early applicants are usually invited to an online info session on McKinsey and the CFP. The sharing consist mostly of the basic information on the firm and the job, as well as the timeline and overview of activities for the CFP – the latter being necessary to plan your prep process. With an hour or so in duration, do not expect any in-depth learning here.
With that said, there is always a Q&A session where you can uncover the less-known parts of the consulting job. To make full use of that Q&A session:
Learn all the basic stuff in advance: Do not come in the info-session asking things you can find within 15 minutes on Google – which, unfortunately, is a mistake many candidates make.
Write down your questions before the session, then quickly submit it when the session starts. There are literally hundreds of applicants (500-1,000), so after the flood of questions comes in it will be very difficult to get your own questions noticed.
Resume screening
Recruiters at McKinsey must receive hundreds or thousands of applications and resumes during this period. And since they have certain rules for what resumes should look like, most resumes submitted will look somewhat the same. So here are some things that should make a candidate's resume look great.
Format: Be conservative with your formatting – stick to black and white Times New Roman (or similarly conservative serif fonts), size 11. And don't include your photos, you might get disqualified right away.
Content: 60% of your resume should be about your working experience; focus on achievements, not job descriptions. Remember this rule of thumb: Quality over quantity – only include the most impactful achievements in your career, and try to fit your resume into one A4 page.
Presentation: Stick to this bullet point structure: (A) the achievement – (B) details of that achievement, such as how it was realized – (C) data and benchmarks to explain why that achievement is impressive . Find out more about the structure in this video. Moreover, don't digress, be straightforward and to the point.
The application period usually lasts about 6 weeks, starting from early June and ending in mid-to-late July Shortlisted candidates will receive an invitation email to take part in the screening test within 5 – 7 days after the resume submission deadline.
Screening test (PST/PSG)
Before 2019, candidates who passed the resume round would have to go through the infamous Problem-Solving Test (PST), which was taken at designated sites. Starting from 2019, the PST has been replaced by the Problem-Solving Game, also referred to as "Digital Assessment" or "Imbellus Game".
The Problem-Solving Game is a set of mini-games designed to test a candidate's critical thinking, logical reasoning, learning capacity, systems thinking, situational awareness, among other skills, using assessment algorithms measuring both the candidate's process and product scores. In this regard, it is unlike the PST, which only measures the final product and assesses a limited range of skills and traits.
The PSG often lasts 60-80 minutes, and also unlike the PSG, it can be taken at home, at any point during a scheduled time (usually a week).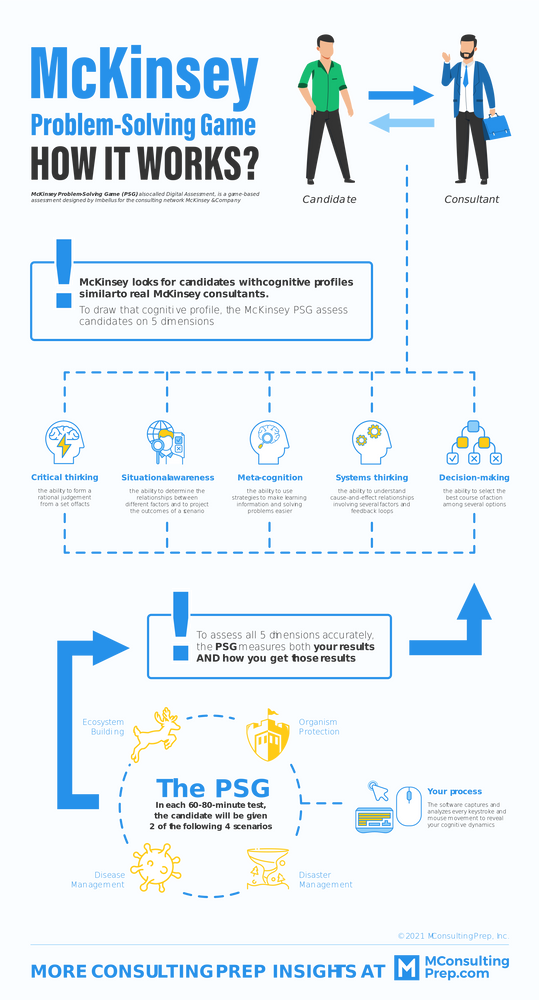 Article: McKinsey Problem Solving Game
I have written a full article on the McKinsey Digital Assessment round, which is also known as the McKinsey Problem-Solving Game, providing you with the latest and most detailed update on this new form of testing. If you plan to apply to McKinsey in the future, it's always a good idea to stay ahead of the game (pun intended). Feel free to check out that article here.
CFP Screening interview (mini-case)
After the screening test, the candidate proceeds to the "Screening Interview". The Screening Interview is 1-on-1, usually a phone or online interview. It is a miniature version of the full interview, with its own PEI and case interview. This round only lasts 30 to 45 minutes for each candidate, and although it sounds short, it's enough time for the interviewer to scan your leadership potential and once again, problem-solving ability.
Personal Experience Interview (PEI): In this part, the interviewer will typically dig deep into the interviewee's ONE working experience that can demonstrate a certain consulting trait or qualification. This experience may well be derived from your resume, so when you write your resume, make sure to have a story behind every bullet point you list.
Case Interview: The magnum opus of the consulting field, and the most feared obstacle for anyone who wants to be a consultant. In just about 30 minutes or less, your consulting qualities will be put to the test as you are put through a hypothetical consulting project by the interviewer. Be sure to check out the Case Interview 101 – The Online Guidebook on all the basics you need to know and master before a case interview.
The screening interview, despite being a shorter and somewhat easier version of the actual case interview, will stress test every skill in your arsenal. As such, don't wait until after this round to start doing cases! Practice as early as possible, that will give you an edge!
To ace this cornerstone of consulting recruitment, you will need to sharpen your business intuition and fundamentals, learn tips and techniques to ease your way through, as well as improve your mental math skills (you won't get to use a calculator in the interview) – which is the exact approach taught in my Case Interview End-to-End Secrets Program.
McKinsey designs the two-day CFP around 4 cornerstones:
Learning about McKinsey
Career counseling and orientation
Capacity development
Entertainment
By this point, networking won't help you too much (because the only thing left are the CA interviews); likewise, two days aren't enough to cover the endless knowledge for capacity building (both for the job AND the case interviews). So when you are there, make sure to pay attention to the two remaining cornerstones: "Learning about McKinsey" and "Career counseling and orientation".
Learning about McKinsey and career counseling
These 2 knowledge pillars signify that participants will get real, up-to-date, localized insider knowledge in the consulting field and McKinsey, as well as career prospects they get working at the firm. Of course, seminar hosts will give you the general information, but to dig deep and learn the important stuff, you have to ask the right questions. While a considerable proportion of the knowledge provided can be found online if you do your research well enough, that's just the tip of the iceberg – the most important stuff is often less publicized.
In the events, use your chance to ask questions about:
Company policy: this is a chance to deepen and verify your understanding about the widely-known policies (up-or-out), and uncover the lesser-known ones with direct implications on your plans (for example, pursuing personal projects, or focusing on particular industries).
Personal experience: hearing the personal experiences from many consultants will deepen your understanding of the firm and prepare you for what's coming in the real job
Localized insights: each McKinsey location is unique in their projects, circumstances, policy, etc.; most information available online applies to established offices in mature markets such as North America, which may not apply to small, new offices such as the one in Colombo (Sri Lanka).
The key takeaway here is that you need to master all the basics and grasp every available information before the CFP. Once you do that, you might find parts that don't fit together or things that require further understanding, remember to note them down. Then, at the event, don't hesitate to raise your hand and ask your potential future seniors what you have written down. They would be more than happy to share, and you might learn something valuable for the next rounds.
Candidates are now only one step away from becoming McKinsey Consulting Analysts. Unfortunately, this is not an easy step. Here you will go through 2 rounds of interviews, which is a total of 5 interviews led by McKinsey consultants.
But first, what does a consulting analyst do?
The position of Consulting Analyst (CA) is basically the practice ground for a Business Analyst (BA) job. In essence, these two are the same job. The primary differences are: (1) CAs play smaller roles than BA, contributing to their seniors' workstreams or handling the smallest workstreams in the project; (2) the expectations are lower; and (3) the salary is a bit less.
This is an entry-level job at McKinsey or in other words, what most people start out as. Consulting Analysts usually work in teams of 3 – 5 people mainly to maintain client engagement. Specifically, a Consulting Analyst's job includes synthesizing information, formulating and testing hypotheses, or making and communicating recommendations. To make the job more dynamic, a Consulting Analyst can also present results to client management and implement recommendations together with client team members.
CAs receive a lot of training and mentoring from colleagues, including Partners. One will stay in this role for 18 to 24 months before graduating into a Business Analyst role, assuming they have good performance.
And now, here is an overview of the final interview rounds a candidate goes through before becoming a Consulting Analyst.
The interview process
There will be 5 interviews divided into 2 rounds (2 first-round interviews, 3 second-round interviews). All interviews are conducted by senior-ranking consultants – usually EMs or senior associates for the first round, and partners for the second round.
Each interview can last as long as 50 minutes and generally follow the interviewer-led format – although this depends on the interviewer, and the more senior an interviewer is, the more likely he/she will lean towards the candidate-led side. This means you must be prepared for both types of case interviews.
Duration of the CA interview round
The final interviews are conducted mostly by senior associates and partners, whose schedules are usually packed with project work. That is why this round doesn't have a fixed, predetermined schedule. It depends wholly on the interviewers' availability, which McKinsey office staff – the people who organize the CFP – do not have control over.
This final round can therefore end within 1-2 days if you are lucky; and if you're not, you might have to wait for weeks on end to be called in.
Structure of the interviews
All 5 interviews are structured similarly, with the case interview forming the single biggest and most important part. The PEI used to be "just a procedure" in the past but has gained in importance lately.
Sections
Content

Part 1: Personal Experience Interview

This part lasts 10 to 15 minutes, in which the interviewer will ask questions about the candidate's past experience in detail. The interviewers will want to look for leadership experience, personal impact, and entrepreneurial drive.
Part 2: Case Interview
This is the main and longest section of the interview, typically lasting 25 to 30 minutes. Candidates are given a business problem and asked to solve it. Interviewers will evaluate the interviewees' problem-solving skills, math skills, and common sense based on their thought process.
We have talked a lot about case interviews and how to ace them on our site. Feel free to check out if you want to learn more.
Part 3: Q&A
You've reached the end of the interview, and this is where you ask your interviewer questions about anything McKinsey-related you need to know. Ask smart questions – neither you nor the interviewer has much time.
Conclusion:
The
McKinsey CFP
is the first and quintessential step to becoming a consultant. Before all the glory comes, one will have to go through rigorous training and preparation. Stay tuned with us on this website and our
Youtube channe
l for free and insightful content from an ex-McKinsey consultant. Time to start learning!