In recent years, many companies and big corporations have grown fond of personality tests intending to make better hiring decisions and improve hiring practices by identifying high performers in certain roles.
With research advances in neuroscience and statistical analysis, SHL has been one of the leading experts in providing businesses with personality tests for a wide range of job roles and levels. In this article, you'll be learning all the details about SHL personality tests including what they are and how you can best prepare for them.
SHL personality tests (also known as Occupational Personality Questionnaire - OPQ) offer companies and businesses a tool to assess personal behavioral preferences, in terms of how candidates are most likely to work in a specific environment. The tests do not evaluate your core working abilities, but rather how you see yourself with others, your problem-solving process, and how you handle feelings and emotions.
There are no right and wrong answers in an SHL personality test. Nevertheless, there are certain preferences when it comes to answering these personality questions. This is due to the companies' expectations when recruiting and therefore would prefer their candidates to possess specific traits.
All questions are presented in the form of forced-choice triplets. In each question, there will be three behavioral statements, and you have to select one that most accurately describes yourself. Once selected, that statement will disappear and you continue to choose the one statement that is most like you in the two remaining options.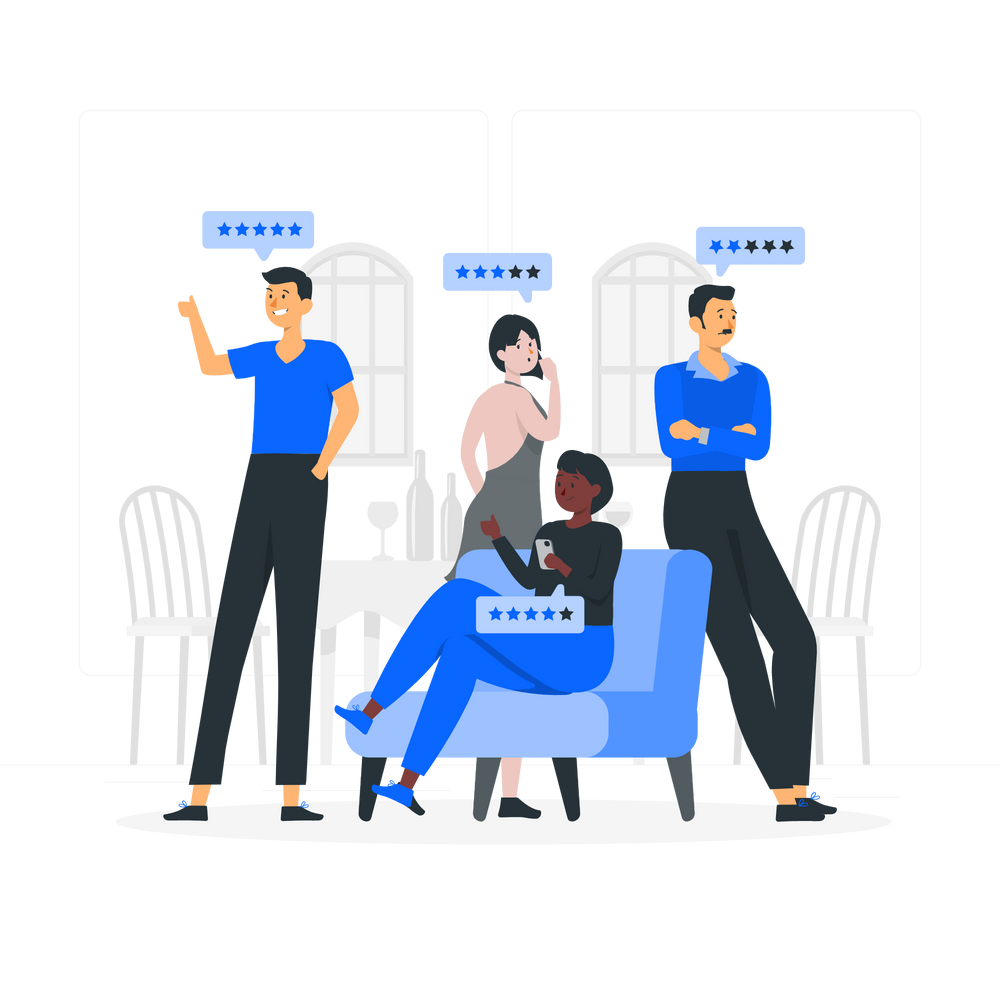 The SHL personality test provides organizations with a well-rounded picture of candidates' performance at work by examining different aspects of their personalities and behaviors. The test includes questions involving 32 specific personality characteristics - OPQ dimensions that are scientifically proven to influence work performance.
Three key measurement areas include
Relationship with people: How you connect with people and demonstrate leadership.
Thinking style: How you assess and analyze facts and information.
Feelings and emotions: How you internally think and feel in given situations including dynamism - the intensity of your striving for change, growth, and achievements.
There are different reporting options for the OPQ tests. These reports ensure employers have enough information to make insightful hiring decisions. Below are a few reporting samples for an SHL OPQ:
Managerial and professional profile charts: An in-depth scale representation of your results.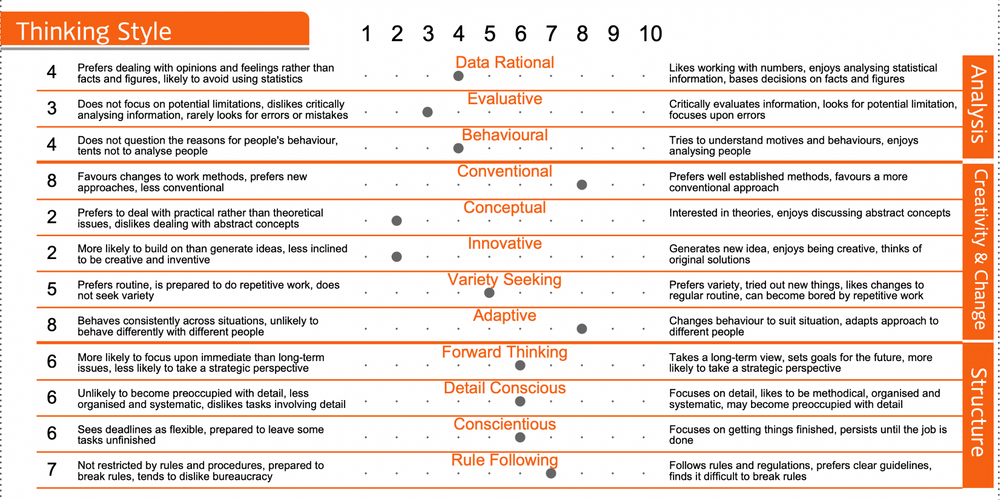 Manager reports: A brief report that describes your characteristics.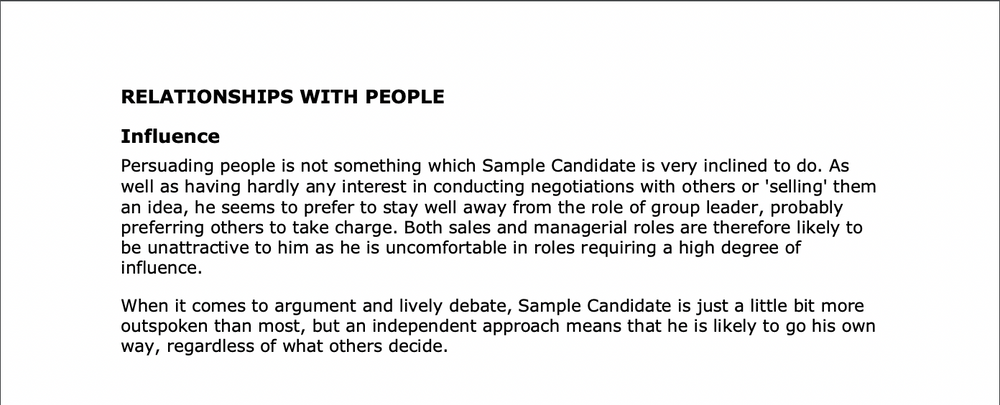 Test-taker reports: A combination of both graphical and written reports of your personality test results.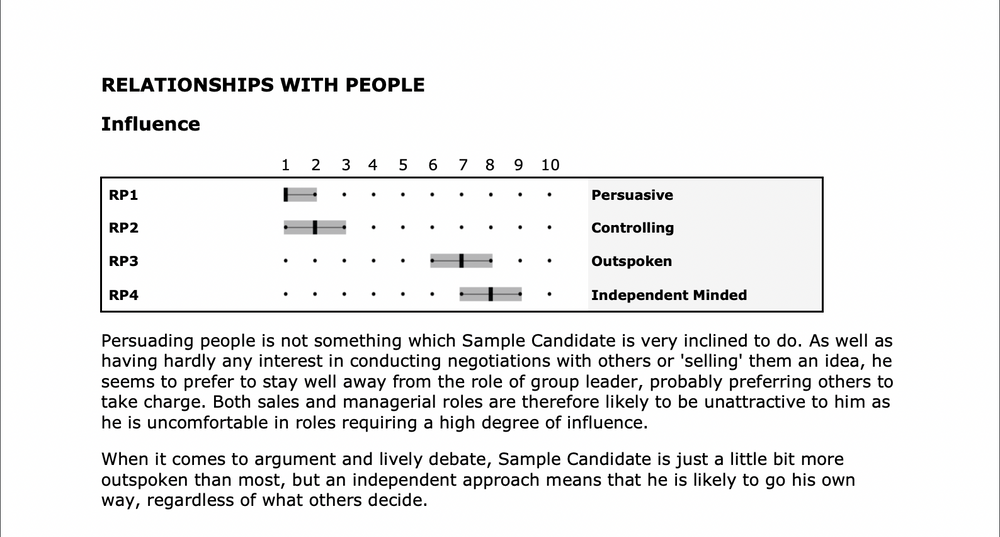 Relationships with people
In determining candidates' characteristics involving aspects of relationships with others, SHL OPQ examines a wide range of personalities.
The "Relationships with people" category is divided into three groups: Influence, Sociability, and Empathy.
Influence: Evaluating an individual in terms of his persuasiveness, influence, control, and independent mind.
Sociability: Assessing an individual for characteristics being outgoing, affiliative, and socially confident.
Empathy: Examining an individual considering his modest dislikes, democratic consult, and caring.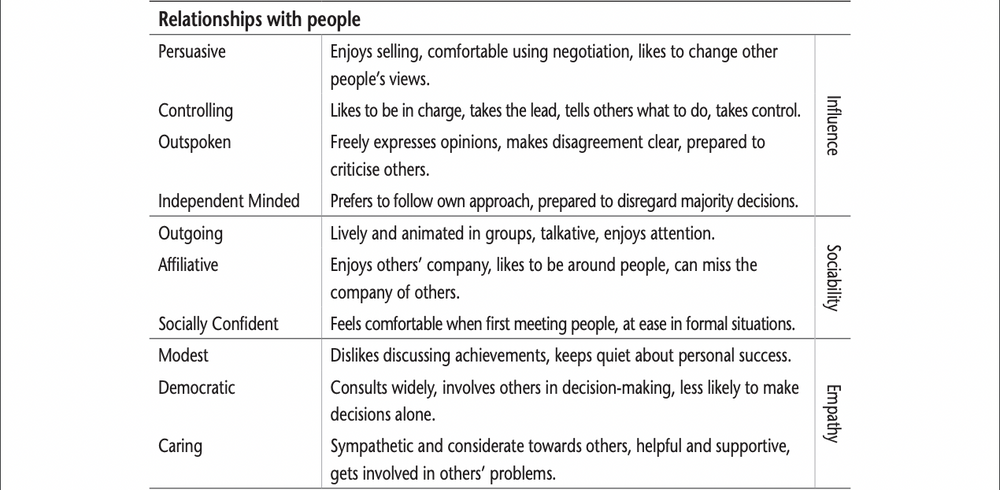 Source: 20 The Occupational Personality Questionnaire
Thinking style
Thinking styles concern candidates' abilities to make analyses, be creative, change, and think structurally.
Analysis: Assessing whether the candidate is data rational, evaluative, and good at making sense of behaviors.
Creativity & Change: Evaluating if the test-taker is conventional, conceptual, innovative, variety-seeking, and adaptable.
Structure: Examining if the prospect possesses forward-thinking ability, strategic perspectives, detail consciousness, conscience, and is a rule-follower.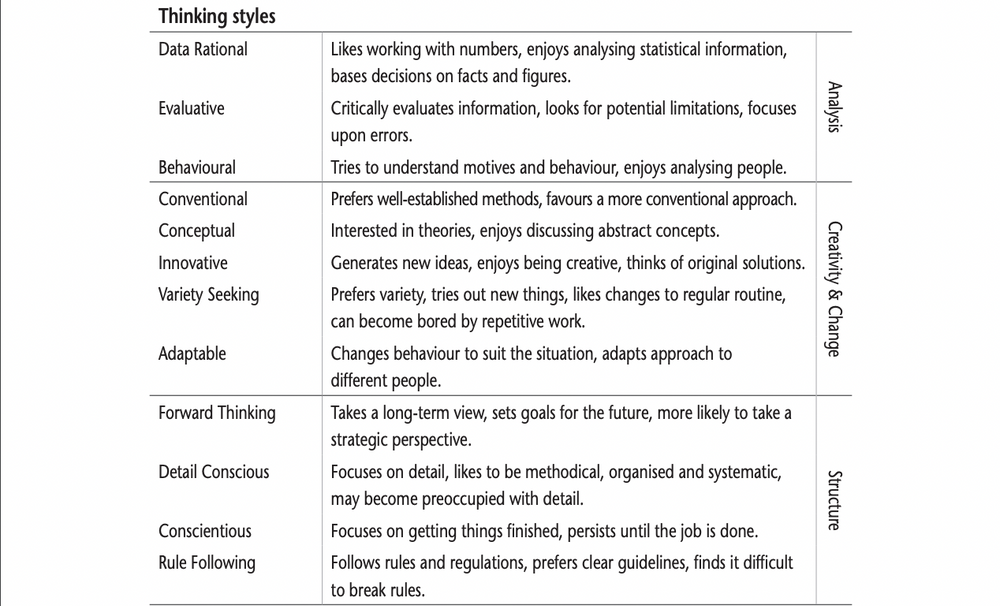 Source: 20 The Occupational Personality Questionnaire
Feelings and emotions
Feeling and emotion questions aim at evaluating candidates in areas of emotions and dynamism.
Emotions: The section examines candidates associated with emotions such as relaxed, worrying, tough-minded, optimistic, trusting, and emotionally controlled. ​​
Dynamism: The section targets examining whether candidates are vigorous, competitive, achieving, and decisive.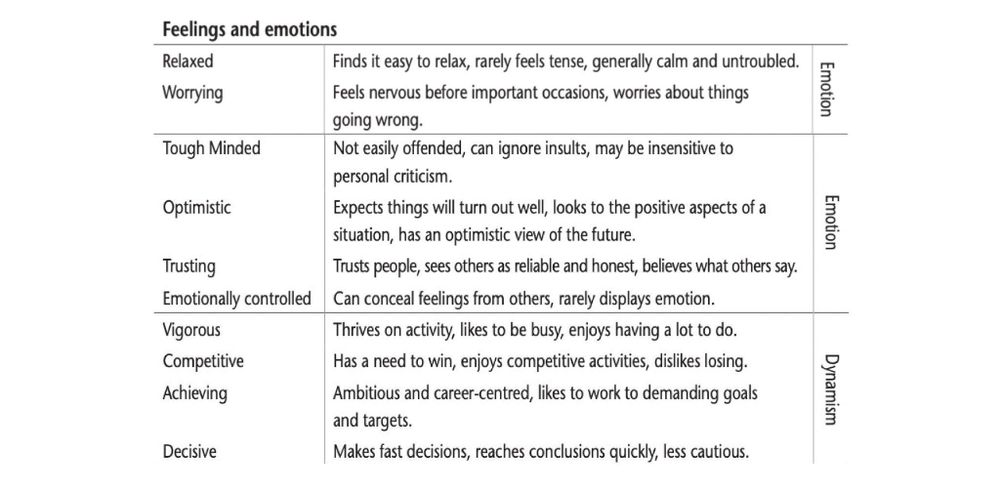 Source: 20 The Occupational Personality Questionnaire
The latest version of the SHL personality test is the OPQ32 - an international model of personality with 32 dimensions that reflect the changing nature of working environments.
There are two versions of SHL OPQ32 - the OPQ32n and the OPQ32r. The OPQ32n is a single stimulus normative questionnaire adopting a Likert rating scale of 5 for each question. Meanwhile, the OPQ32r is a forced-choice version using item response theory to generate normative scale scores.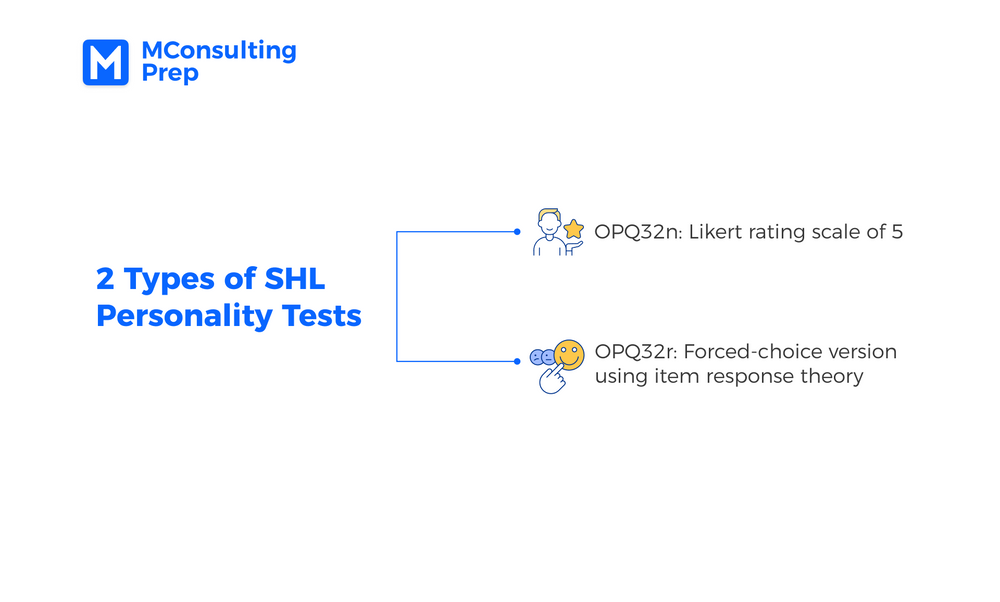 In the OPQ32n, respondents are required to rate each given statement on a 1 to 5 Likert scale, with respective options being Strongly Disagree (1), Disagree (2), Unsure (3), Agree (4), and Strongly Agree (5). In addition to the scale of 32 dimensions, the OPQ32n also features a Social Desirability scale as a reflection of the extent to which the test-taker has given socially desirable answers. This specific scale helps indicate to evaluate whether a respondent is faking his responses.
The OPQ32r takes on a different format - a forced-choice questionnaire. It requires candidates to consider three given statements and rate these statements in order from the "most like" them and the "least like" them.
In addition to the scale of 32 dimensions, the OPQ32r provides a Consistency scale. This specific scale is designed to measure if candidates are answering in a consistent manner. People who understand the rating task are motivated to provide accurate answers to each question, and therefore have consistency throughout similar questions. Meanwhile, people who are not grasping the question thoroughly tend to choose answers that are considered more favorable. This will create an inconsistency in their answers to different questions.
Out of the two existing versions of the OPQ32, the OPQ32r is the more popular. It is 104 questions of three statements concerning 32 characteristics. Factor analysis extracts from the Bìg Five - the five-factor model of personality with additional factors such as Achievement.
As personality tests assess personal behavioral preferences rather than intellectual abilities, it is almost impossible to practice. Nevertheless, there are a few tips that can help you perform better on your SHL personality tests.
Get a grip on areas of measurement
Before anything else, you should have a thorough understanding of what is being evaluated in SHL personality tests. Knowing all the characteristics being examined gives you a sense of how each statement can affect the score on each character dimension.
You can take a sample personality test provided by SHL to see how it grades you across different characteristics. With the results sent via email, you can have a better picture of your current personality in comparison with desired characteristics of the position you want to apply for.
You can put it this way: The test not only helps employers make better hiring decisions but also helps candidates know themselves better.
Don't try to force an answer
You may receive advice saying you should deliberately answer each question based on the company's preferences for the vacancy. Yet this does more harm than wonder.
Personality tests are designed to identify the best performers and most suitable candidates for each position. Therefore if you try to demonstrate yourself otherwise, you may eventually burn out during the working process or cannot grow in terms of personal development.
Working in any environment should mutually benefit both sides. You can grow and climb to higher levels in your career path while companies have star achievers in their organizations. With that being said, there are no point in gaming and faking answers.
Be aware of the scoring mechanism
The SHL OPQ32 always has a scoring mechanism to indicate possibilities that candidates are faking answers for favorable test results. This scoring system has been backed up by scientific proof and well-researched data. Therefore, you may face the risk of getting exposed regardless of your countless practice for the test.
There are chances that you can still practice to have a more desirable outcome in an SHL personality test, but you can never know if the techniques work.
Be yourself and answer carefully
The best advice is, however, to remain yourself and answer each question carefully. This is not just for the most accurate and consistent assessment result but also your future growth.
Answer each question openly and honestly helps give you the best representation of your nature. Regardless of your test result in preferences of the companies, you have a better understanding of yourself, and eventually, make better applying decisions.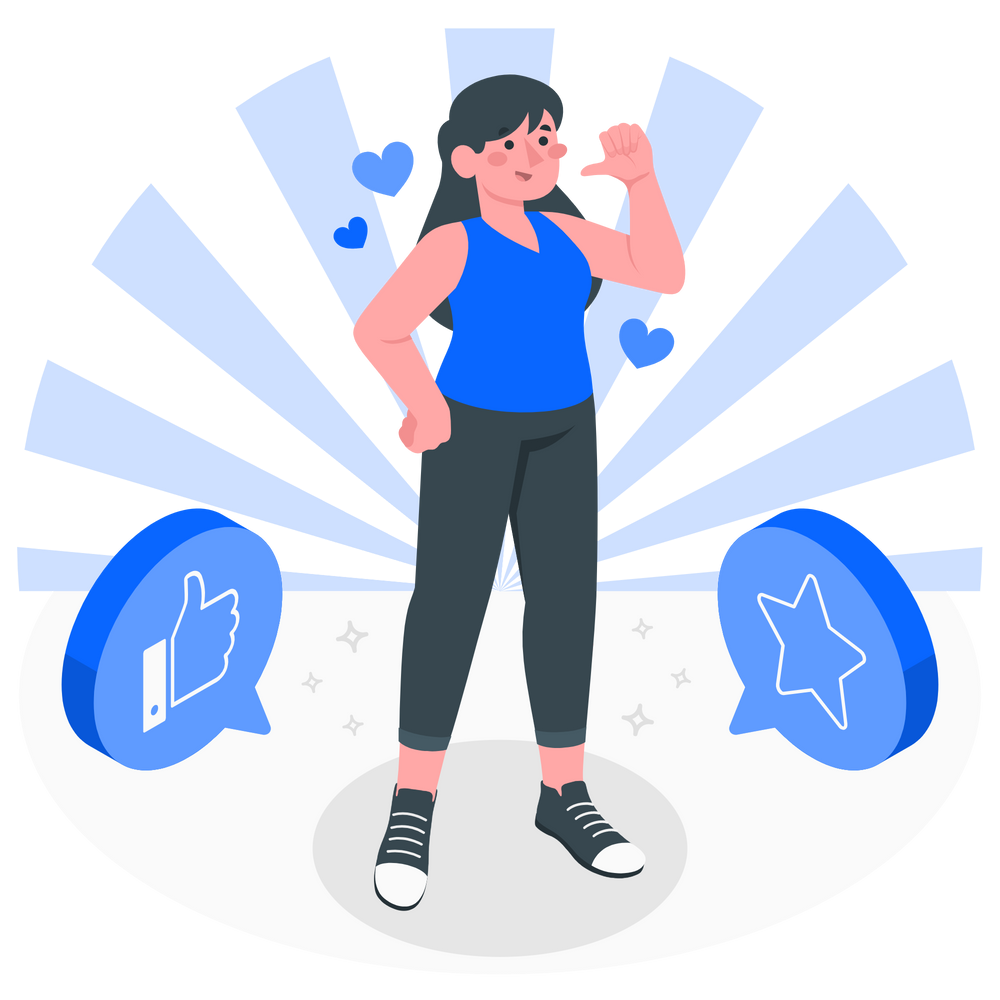 For your reference, here are a few examples taken from the sample of SHL personality tests.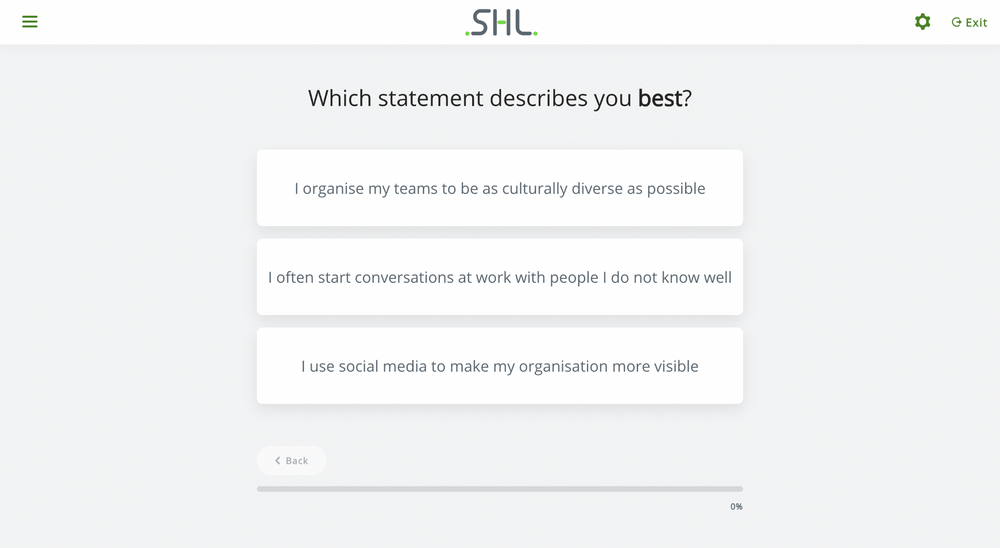 This is an example that falls under the "Relationships with people" category. Once you choose the most likely-to-present-yourself answer, that answer will disappear.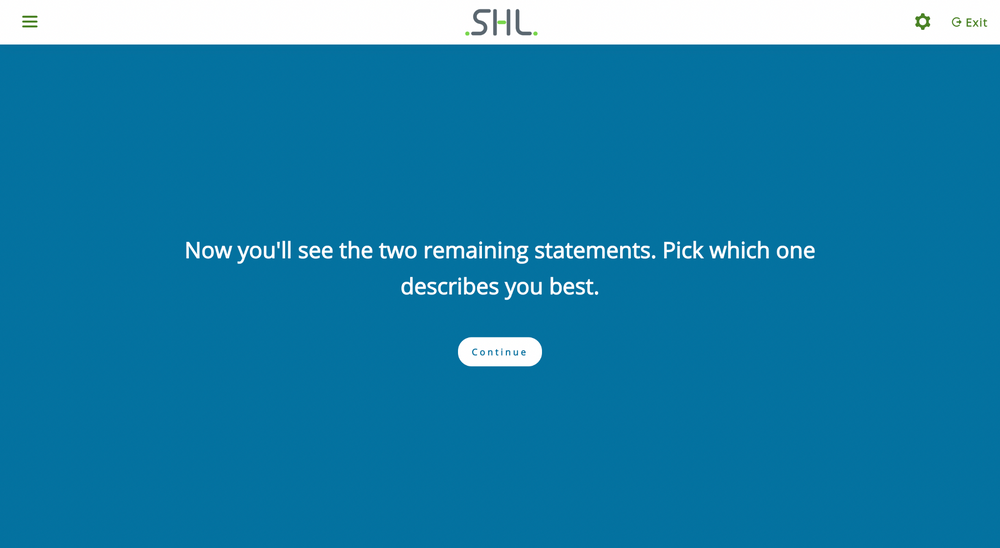 Among the two remaining statements, you will have to choose the more accurate answer that describes yourself.
While you can not practice personality tests, you can prepare for the best performance on your aptitude tests! Discover MConsultingPrep's Aptitude Test practicing platform with
A question bank of 1400+ aptitude questions (Numerical, Verbal & Logical)
A comprehensive explanation of every question
Evaluation and recording tools for performance reviews
With our test packages, you can practice more strategically and gain more confidence for every test question you might encounter in your future aptitude tests.
Our extensive aptitude question bank covers a large number of item variations in Aptitude Tests in the pre-employment process across different companies & businesses. With questions categorized in types, you can leverage your preparation by
Focus on practicing questions in specific types
Improve your performance in questions that you struggle with
With evaluation tools coming in handy, you have better insights into your overall performance, what you excel at, and what you need improvements on.
You can sign up for our various mock tests here to see how our tests work.