Aptitude tests are cognitive assessments that candidates often encounter in the first stage of the application process. You need to pass these tests to step into the interviewing round.
Are aptitude tests hard? Can you beat them with one-day practice?
Aptitude tests cover a lot of different assessments that measure different abilities and skills, so there is very little chance of getting through them when you practice in one day. Instead, one week may be the appropriate time for practice so that you get ready for aptitude tests.
We all know that learning aptitude tests in one day is impossible. 24 hours cannot make a careful preparation. But if you literally have one day left and you have no idea of what these tests are, getting a basic understanding of aptitude tests is essential.
Aptitude tests cover a host of different tests to measure the different abilities of a candidate. Some of the most popular types include:
Numerical reasoning test
Verbal reasoning test
Deductive reasoning test
Inductive reasoning test
Spatial reasoning test
Diagrammatic reasoning test
Mechanical reasoning test
Each of these tests requires different skills and knowledge to answer questions. For more information about them and their typical examples, let's check out our free guide: A Quick-start Guide to Aptitude Tests.
While one-day preparation seems to be impractical, you can actually have chances of passing aptitude tests with one-week practice.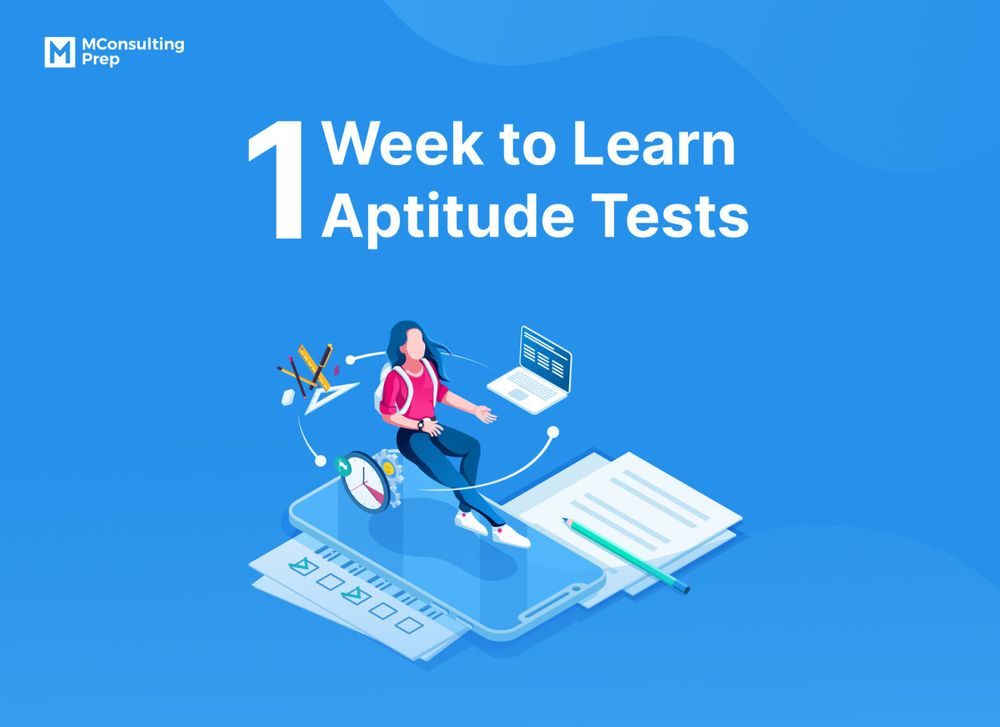 7 days are enough for you to:
Get an idea of what the test will look like
Do some practice tests
Learn practical tips and tricks
Step 1: Find out the test provider and type of test
It's important for you to know who the test provider/publisher is and what type of test you'll encounter.
Each test provider has a different style of designing aptitude tests. These assessments can vary in terms of difficulty levels, question types, and format. Some of the most prominent names include SHL, Aon, Cubiks, TalentQ, Saville, etc. To grab this information, you can reach out to the hiring manager or conduct some research on employment websites, forums, or the company you're applying to.
Similarly, you need to find out the type of test you'll take so you can practice the exact type. As we mention earlier, there are some common types of aptitude tests such as numerical reasoning, verbal reasoning, deductive reasoning, etc. Access our free mock tests to learn more about them.
Step 2: Practice online tests
One of the realistic ways to learn aptitude tests is to do practice tests.
We're currently providing the three most common aptitude tests, which are numerical reasoning, verbal reasoning, and deductive reasoning. The total of more than 1000 questions is designed with various difficulty levels (easy to hard) and heavy time constraints. Besides, our selling point is that we provide step-by-step answer guides, which help you understand how to approach the question and come up with the right answer.
In terms of difficulty levels, for example, our verbal reasoning practice tests require an English level of B1-C2 with a time limit of 30-60s per question.
In terms of elaborate answer guides, let's take a look at the following example to see how we teach you how to answer a numerical question.
Question: How was the growth rate in the number of students of Public College between 2015-2016 and 2016-2017 compared to the growth rate for Community College in the same period?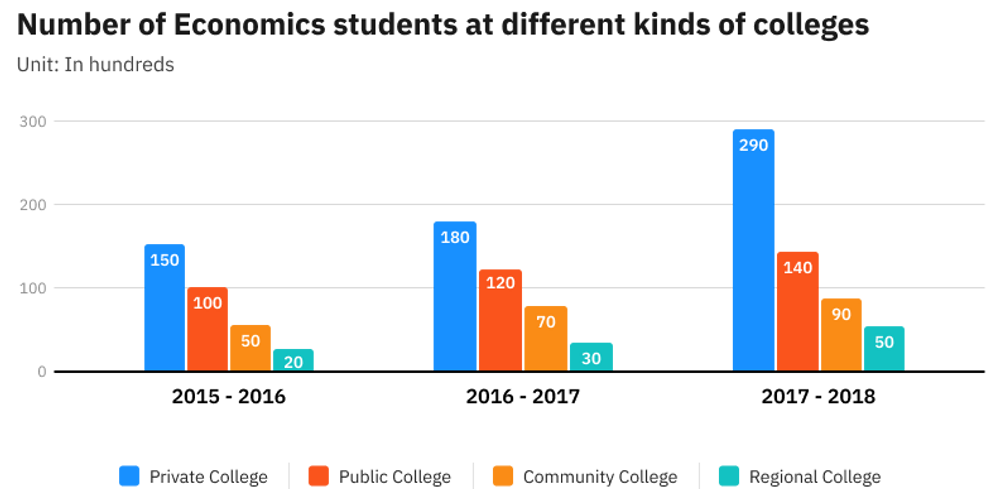 A. More
B. Equal
C. Less
Answer: C
Explanation:
Growth rate of Economics students in Public College = (120 – 100) / 100 = 20%
Growth rate of Economics students in Community College = (70 – 50) / 50 = 40%
Thus, the growth rate of Economics students in Public College is less than that of Community College in the given period.
Step 3: Learn useful tips and tricks
We all know that if you have enough practice time, you'll naturally realize tips and tricks to answer fast and accurately. However, with only one week left, it seems to be impossible to recognize tips and tricks for aptitude tests by yourselves.
That's why our aptitude test package comes to your rescue. In addition to challenging mock tests for numerical reasoning, verbal reasoning, and deductive reasoning, the package also includes comprehensive study guides presenting logic analyses and effective strategies that help you handle every question.
A study guide for verbal reasoning tests will look like this: