The management consulting industry is not exactly well-understood. They say we consultants "solve business problems", but most don't know how we do it. As such, in this article, we examine what a "consulting firm" is, how it works, learn about the big players, and decide which is the best for your career.
This article completes a trio of introductions into management consulting; if you haven't read them, the two previous ones are "What is Management Consulting?" and "What the Heck Does a Consultant Do?".
With that out of the way, let's begin:
Consulting firms are business that sell professional advice to businesses and organizations, to help them solve problems. They do so through their in-house experts and/or external experts. Some consulting firms might specialize in one or a few industries and functions, or while others are generalist, covering hundreds or thousands of areas.

Most consulting firms are organized as partnerships – i.e. networks of legally independent entities, headed by partners, principals and directors. Major consulting firms divide these entities into offices, projects and support centers – in which projects rent consultants from office and support from support centers to deliver solutions to clients.
What "consulting" and "consulting firms" mean
The word "consult" means to seek advice from an expert on a particular topic; the said expert is called a "consultant". Consultants are usually implied to be professionals. Examples include "management consultants", "strategy consultants", "IT consultants", "personal health consultants", "career consultants", and even "gardening consultants".
"Consulting firms", however, almost exclusively refers to business consulting firms – which cover areas such as management, strategy, accountancy, law, IT, security, marketing, finance, etc.
How consulting firms are organized – Partnerships & Corporations
Partnerships
The "partnership" kind of consulting firms are organized as multiple independent but mutually supporting entities, each with separate owners and management.
The largest, most well-known and most prestigious consulting firms – such as McKinsey, BCG, Bain or the consulting practices of the Big 4 accounting firms – are all organized this way.
The McKinsey network, for example, consists of projects, offices, and support centers. Projects are where the main actions happens – with the typical problem-solving sessions, and presentations; however, projects need consultants, experts and specialists to work, so they hire these "human resources" from offices and support centers, respectively.
This kind of structure is prominent not only among consulting firms, but also law firms, accounting firms and other professional services businesses.
Corporations
The "corporation" kind of consulting firms, on the other hand, operate as one entity, with one owner/group of owners and management at the top.
This structure is more prominent among the old consulting divisions of the big British accounting firms, which in the past have been compelled to separate from the accounting services (nowadays, however, these accounting firms have established new consulting services, again following the partnership model).
Small and medium-sized consultancies also tend to use this structure.
How consulting firms are organized – Pyramids & Diamonds
Pyramids
Large consulting firms, such as MBB firms or the Big 4 consulting divisions, use a very top-down, hierarchical, pyramid-shaped structure. In these firms, there are many junior consultants at the bottom, fewer senior consultants and managers in the middle, and very few partners/senior managers at the top.
The former structure allows the firm to be more profitable by saving costs on training and development; most of the grunt work is done by junior consultants (usually called "analysts"), and the quality of the work is supervised by a few managers.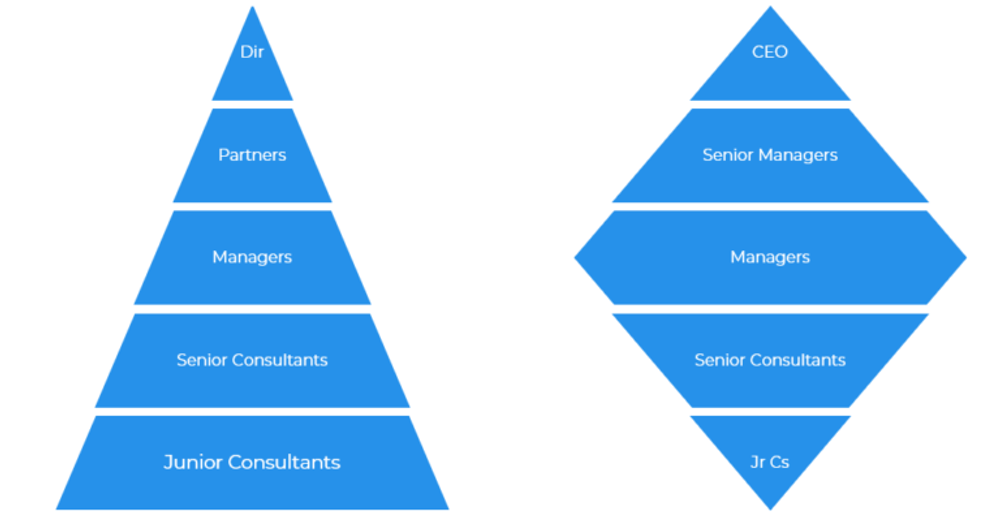 Diamonds
Small and niche consulting firms, such as boutique consulting firms, on the other hand, may have a diamond-shaped structure. In these firms, there are some junior consultants at the bottom, many senior consultants and managers in the middle, and few owners/senior managers at the top.
The latter structure comes from the fact that most work at niche consulting firms is done by the senior consultants and managers – who are industry experts themselves – to ensure quality; junior consultants are their assistants, who can be plugged in multiple projects at a time.
Consulting firms sell projects to clients, each of which lasts a few months, and aims to diagnose/solve one specific problem for the client business or organization. Consulting firms may or may not be involved in the implementation of the solutions in a follow-up project.
Here's how most people imagine consulting: the client has a problem, they phone the consultant, the consultant comes to the office, listens to the problem, delivers some advice, the two shake hands, then the consultant goes back to their fancy hotel while the client is satisfied with the answer.
The less friendly version involves the consultant delivering B.S advice while charging their client exorbitant by-the-hour rates.
Hell no, it does not work like that!
The cycle of consulting projects
Here I will discuss "the cycle of consulting projects", which is even described in more detail in our Rookie Consultant product. For simplicity, I will use the terms for MBB firms; the process is generally the same for all consultancies, big or small.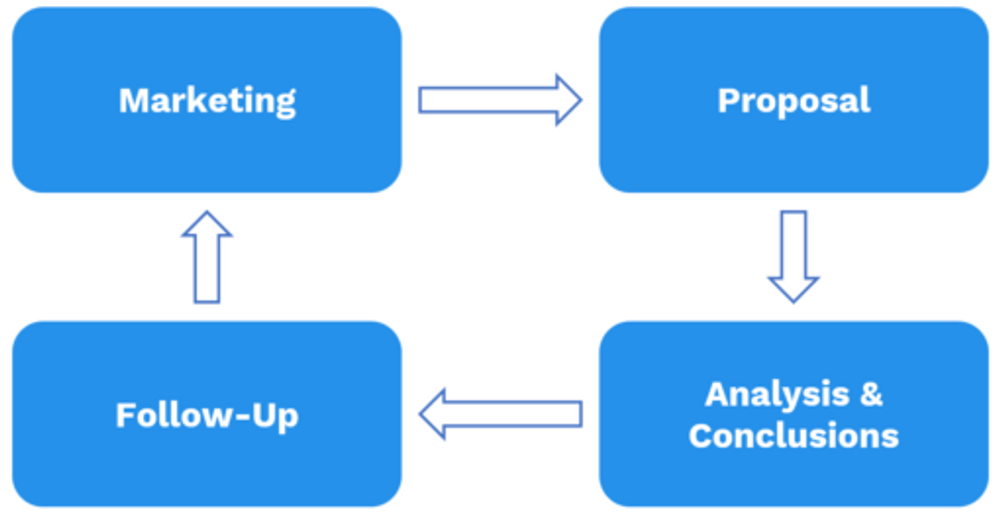 The process begins with marketing, where the partners or senior managers of the firm publish research, hold conferences, perform speeches and conduct press releases on industry matters. This helps the firm and the partner build reputation along with informal contacts with potential clients – so when they are in trouble, they know who to call. This is why top consulting firms are always quite vocal on big and trending issues in both the business and public sectors.
After this indirect marketing, the partner/senior manager develops relationships with prospects by meeting up with the key people, and turns those relationships into sales with an official proposal. If the proposal is successful, a project begins.
The partner/senior manager would then assemble a team for the project, who would conduct initial research to develop a hypothesis on the client's problem, further leverage their expertise as well as data to find the root cause of that problem, and deliver a set of supposedly long-lasting solutions. Large consulting firms, such as McKinsey, have unimaginable networks of support centers to help their consultants in the process – analysts could come to the experts for insights on virtually any kind of business problems.
After the project is finished, the firm may continue working with the same client on follow-up projects for further investigation or implementation.
The work and products
Consultant/consulting firms either are experts in the field, and/or act as a bridge between the client and the experts. In either case, the most important role of the consulting side is "problem-solving" – to break down the problem and find the root causes. In reality, this involves a lot of analysis (analyzing the problem) and corporate politics (convincing people to cooperate and follow their advice).
The final, tangible products of consulting projects are documents (often slides) containing the analysis and recommendations.
These recommendations ideally entail the best practices in any given industry. Sadly, however, consultants may get called in to support one faction in corporate infightings, or to promote the client's interests. This gives the project another purpose than problem-solving – something that can be very discouraging for new consultants. Additionally, the absolute "best practices" is only available with top dollars; small and mid-sized, offering cheaper services, simply cannot match boutique or large consulting firms in quality.
Categories of consulting firms
When the phrase "top consulting firms" is heard, almost everyone imagines McKinsey, BCG and Bain – the "Big 3" consulting firms with the highest prestige. However, "top" or "best" are vague terms, and in the shadows of the MBB firms stand many excellent consultancies, both as service providers and employers.
Consulting firms are divided into many groups, according to size, prestige, as well as areas of specialization. Among them, the most notable groups are:
MBB Consulting Firms: McKinsey, BCG, Bain
Tier 2 Consulting Firms: Accenture, LEK, Oliver Wyman, Kearney, etc.
Big 4 Consulting Practices: Deloitte, PwC, EY, KPMG
Boutique Consulting Firms: Putnam, Keystone, Cornerstone, etc.
You can click on the name of each group for detailed insights; here's a quick summary: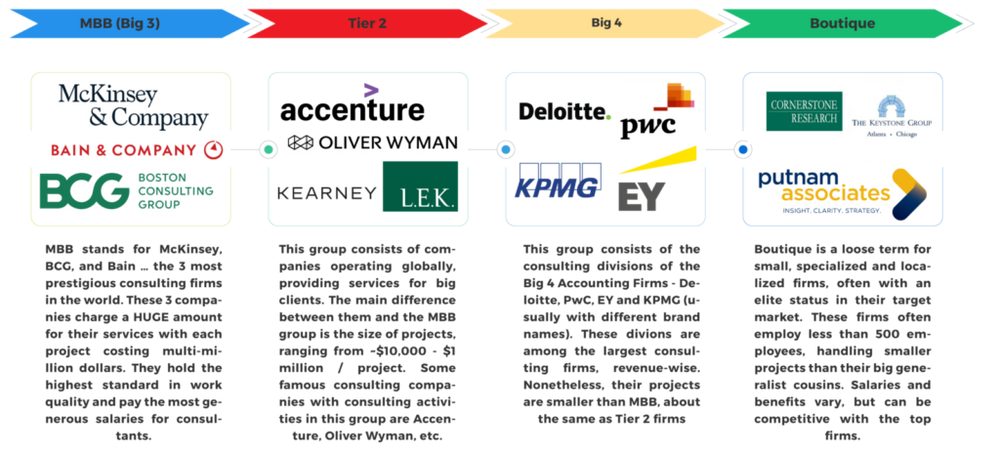 Best consulting firms to work for (2020, US)
The following list is compiled by Vault, which ranks consulting firms on the following factors:
30% – Prestige
15% – Firm Culture
15% – Satisfaction
10% – Compensation
10% – Work/life Balance
10% – Level of Challenge
5% – Overall Business Outlook
5% – Promotion Policies
| Rank | Score | Name | Category | Location (HQ) |
| --- | --- | --- | --- | --- |
| 1 | 9.273 | McKinsey & Company | MBB | New York, US |
| 2 | 9.190 | Boston Consulting Group | MBB | Massachusetts, US |
| 3 | 9.158 | Bain & Company | MBB | Massachusetts, US |
| 4 | 7.930 | Deloitte Consulting LLP | Big 4 | New York, US |
| 5 | 7.855 | Oliver Wyman | Tier 2 | New York, US |
| 6 | 7.747 | Booz Allen Hamilton | Tier 2 | Virginia, US |
| 7 | 7.705 | EY-Partheno | Big 4 | Massachusetts, US |
| 8 | 7.623 | PwC Advisory/Strategy& | Big 4 | New York, US |
| 9 | 7.600 | Kearney | Tier 2 | Illinois, US |
| 10 | 7.595 | GE Healthcare Partners | Boutique | Illinois, US |
| 11 | 7.578 | Accenture | Tier 2 | New York, US |
| 12 | 7.513 | Putnam Associates | Boutique | Massachusetts, US |
| 13 | 7.401 | ClearView Healthcare Partners | Boutique | Massachusetts, U |
| 14 | 7.382 | KPMG LLP (Advisory) | Big 4 | New York, US |
| 15 | 7.351 | The Bridgespan Group | Boutique | Massachusetts, US |
| 16 | 7.331 | Strategy&, Part of the PwC Network | Big 4 | New York, US |
| 17 | 7.304 | Analysis Group, Inc. | Boutique | Massachusetts, US |
| 18 | 7.293 | L.E.K. Consulting | Tier 2 | Massachusetts, US |
| 19 | 7.228 | The Keystone Group | Boutique | Illinois, US |
| 20 | 7.122 | ghSMART | Boutique | Illinois, US |
If you want to find out more about different consulting firms rankings, such as size, revenue and prestige, click on the link below for the dedicated article:
Which firms should I choose?
The choice of firm should depend on what you want out of a consulting career. Most people approach a consulting career in two ways: the short-term "three-years-then-out" and the long-term consultant.
In short terms, for building your professional portfolio and network, consulting is a no-brainer – that is, if you can get in. For this approach, MBB firms are undoubtedly the best options, firstly for the prestige, and secondly for the excellent learning and networking environment. Next down the line are Tier 2 and Big 4 groups, then the boutique firms.
In long terms, however, it ultimately boils down to your skill set and preferences. Working at large firms such as MBB can be extremely stressful, but they offer better salaries and benefits. Smaller boutiques offer less, but allow you to preserve some work-life balance and sanity.
Either way, consulting firms are highly selective about their candidates; at MBB firms, the acceptance rate is even lower than 1%; even the small boutiques need to keep their standards up to maintain their work quality and reputation.
However, at MConsultingPrep, we believe anyone can become a top consultant – you can do that by watching our Youtube series and reading other articles on this site. We also offer an Ultimate Management Consulting Program for consulting candidates – you can get the full benefits at only half the price!