The BCG Potential Test (also known as BCG Online Test) is a screening test used by the Boston Consulting Group (BCG) to assess a candidate's numerical, verbal and logical thinking abilities. In BCG's recruitment process, the Potential Test takes place after the resume screening and before the case interviews.
Consulting screening tests such as BCG Potential Test are notoriously difficult -not so much for the questions, but for the time pressure. Yet, these tests are highly predictable, and with the right amount and right approach to practice, you will nail every one of them!
What is the BCG Potential Test/Online Test?
The BCG Potential Test is a screening test used by the Boston Consulting Group (BCG) to assess a candidate's numerical, verbal and logical thinking abilities. The test is available in 2 formats – paper-based, and computer-based – the latter sometimes referred to as the "BCG Online Test".

In BCG's 3-step recruitment process, the BCG Potential Test takes place between the resume screening and the case interview – the purpose of this test is to rule out candidates unqualified for the expensive case interview (case interview are considered expensive, because they take away the time that managers and partners would otherwise use to generate revenue for the firm).
MBA candidates might not have to take the BCG Potential Test
MBA candidates might be able to skip the BCG Potential Test – as reports suggest. However, as the process varies from office to office, it is best to contact your target BCG office and ask for details about the screening test. Successful networking may also help a candidate bypass the test and go straight for case interviews.
The BCG Potential Test is less standardized than the McKinsey PST
As I have mentioned, the BCG Potential Test can be either computer-based or paper-based, but this is not the only variation in terms of test format. The time limit and number of questions also differ.
The computer-based version contains 23 questions, answered in 45 minutes. All questions belong to one single business case. This is the more common format, verified in major countries – the United Kingdom, the United States, France, Germany, Spain, Italy, etc. In any given country, around 80-85% chance you will encounter this type.
The paper-based version contains 53 questions, answered in 50 minutes. Questions belong to different business cases. This format is much less common, appearing in only 10-15% of offices, with Russia and Israel confirmed.
While it may appear that the paper-based version is harder (you have only 56 seconds per question, compared to 117 seconds per question of the computer-based test), it's actually the other way around. Each question in the computer-based test requires more time to answer due to the larger amount of context information, and familiarity with computer-test-taking is necessary.
No calculators allowed in the BCG Potential Test
Calculators are usually not allowed in the BCG Potential Test, regardless of the test format, according to our test-taker reports. Offices that allow calculators often reduce the time limit per question. This means mental math skills are crucial to BCG Potential Test performance.
I would recommend checking your target BCG office to see if they permit calculators in their test. However, all things considered, it is best to prepare for the test without calculators – hard practice makes an easy game, and after all mental math is a crucial skill for management consultants.
No guessing in the BCG Potential Test
BCG specifically states in its official practice tests that guessing is penalized. Specifically, there is a -1 point penalty for each wrong answer, compared to 3 points for each correct answer. In a 4-option multiple choice question, this penalty effectively cancels out any possible points from guessing – however, BCG Potential Test questions can have anywhere from 4 to 6 questions, making the risk outweigh the reward. That means while random-guessing is a viable tactic in the McKinsey PST, it does not apply for the BCG Potential Test – if you are especially unsure, or have absolutely no clue about a question, just leave it there.
There can be more than one correct answer for each question
Some questions in the BCG Potential Test may have 2-3 correct answers at the same time – unlike the PST or most variants of the Bain Online Test, which has only one correct answer for each question.
That means you need to check every option against the given data, to avoid missing correct answers. BCG Potential Test questions generally take more time to complete than PST or Bain Online Test questions partly because of this – you cannot simply move to the next question as soon as you find one correct answer.
BCG Potential Test passing score / cut-off rate
BCG Potential Test passing score / cut-off rate is around 70%, according to our estimate using test-taker reports. However, there is no official statement on passing score (which likely fluctuates between offices and recruitment seasons). This mean one in every three BCG Potential Test can reach the passing score.
Now, getting 70% is not that difficult – if you have enough time and practice at home. The biggest challenge in consulting screening tests is getting correct answers within the time limit, under heavy pressure. That means you need to practice until you can get the right answers more than 90% of the time. See the "Study Plan" section for more insights on how to practice.

The following sample test mimics the computer-based format of the BCG Potential Test. It contains 4 questions within one business case. Each question should be answered in 2 minutes, with no calculator.
Download BCG Potential Test Free Sample here [PDF]: Expensive Oil Case.
More materials like this can be found in our Prospective Candidate Starter Pack – a collection of free materials for consulting prep starters, from resume template, sample tests, case books and other tools.
Each test has one business case divided into 9 "docs"
All 9 docs are related and tell one big story. Each doc has about 150 – 300 words, docs with charts usually have fewer words. Generally, a new doc emerges after every 3-4 questions. Some questions require you to pull information from previous docs but never from future docs.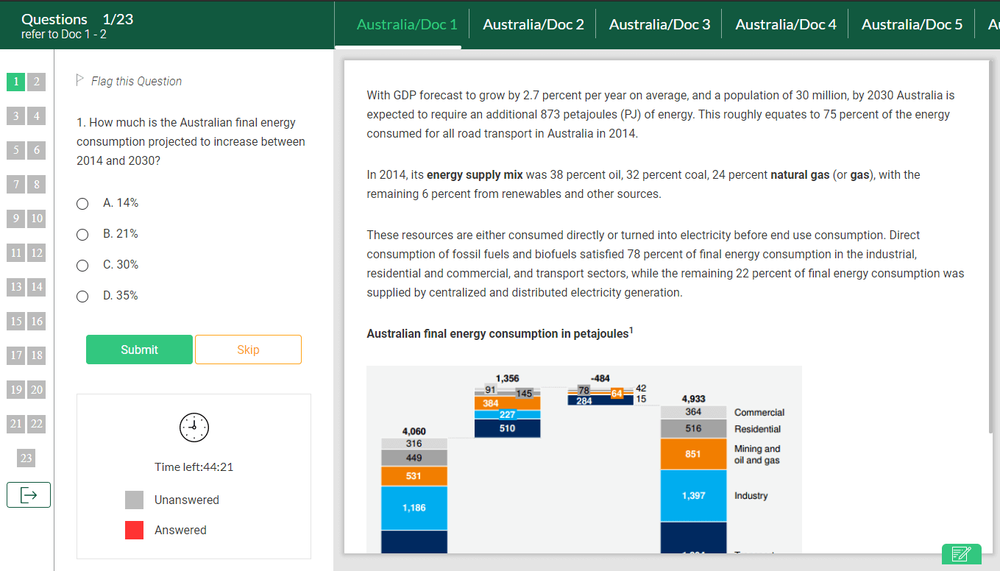 Screenshot from BCG Potential Test – Interactive Practice
For each question, there will be a note saying which doc you need to look at.
Sounds nice, right? But the game gradually gets more challenging. At the beginning, questions only refer to one or two docs at a time (doc 1, doc 1-2, doc 1-3, doc 1-4), but towards the end of the case, it almost always says "refer to doc 1-8" or "1-9" – you really feel the stress of a consulting digging through a pile of data for insights! You need to combine multiple docs in order to answer one question. The questions are also sometimes related to each other, i.e., you cannot independently answer question 5 without answering question 4.
There are 5 common question types similar to PST, plus a few others
In the BCG Potential Test, the six most common question types are:
Type 1: Reading facts questions
Type 2: Fact-based conclusion questions
Type 3: Root-cause reason questions
Type 4: Word problem questions
Type 5: Formulae questions
Type 6: Solution-finding questions
Among these, the first five are similar to those in the McKinsey PST, and require almost no prior knowledge in business. Most of them are similar to verbal, numerical and logical questions found in other recruitment tests, but tend to be much more difficult.
The last type (Solution-finding questions) is only present in the BCG Potential Test and Bain Online Test, and require some prior knowledge in business to answer effectively.
For each question, I'll explain the concept and give you an example – more insights on the logics, possible "traps" and how to tackle each type can be found in this article about the McKinsey PST.
Type 1: Reading facts questions
Reading-facts is the most common question type in the BCG Potential Test (up to 100%). These questions test your ability to understand facts and data. There will be no inferring, logic, hypothesizing, or creativity needed. Instead, proficiency in chart reading and calculations will be handy here.
The following are a few formats of typical reading-facts questions:
Which of the following values is the best estimate of…?
Which of the following statements is valid based on the data …?
Which of the following can be concluded from Exhibit …?
Sometimes even though the word "conclude" is used, questions don't require any logical reasoning, just your ability to read facts and perform basic calculations. In these cases, I still classify these questions into the reading-facts category.
EXAMPLE
| | | |
| --- | --- | --- |
| | Revenue This Year | Average Annual Revenue Growth Over Last 5 Years |
| Soccer | $342.8 K | 4.5% |
| Basketball | $62.3 K | 3.3% |
| Tennis | $55.6 K | 1.2% |
| Golf | $13.9 K | -9.0% |
Which of the following statements is valid based on the data in Table 1?
A) Soccer revenue was more than $325 thousand five years ago
B) Tennis revenue grew by no less than 1.2% in each of the last five years
C) The total revenue of Saigon League did not grow at all in the last five years
D) If the growth rate in the last 5 years is maintained, Soccer revenue will be more than $420K 5 years from now.
Type 2: Fact-based conclusion questions
Fact-based conclusion questions test your ability to draw and recognize the sound and logical conclusions based on a set of data/facts provided. These are essentially "deductive reasoning questions".
The typical formats for this type include:
Which of the following statements is a valid conclusion based on …?
Which of the following statements can be concluded from …?
EXAMPLE
The McKinsey team has an interview with the Chief Operating Officer of the New Bingham Mine, Salt Lake City. During the interview, the following facts have been gathered:
The factory must have at least one safety inspector 24 hours a day, seven days a week, in accordance with Federal and State labor regulations.
To maximize operational efficiency, there must be exactly 10 line workers operating the mine.
The mine operates from 8 am until 5 pm, Monday to Sunday.
The mine employs 4 safety inspectors and 16 line workers to make 20 workers in total.
The total weekly labor cost for the Bingham Mine is $16,000.
Which of the following statements is a valid conclusion?

A. One-fifth of the total labor cost for the mine is for safety inspectors
B. At least one safety inspector must work more than 40 hours per week
C. Line workers do not work more than 40 hours per week
D. The majority of the mine's labor cost is for line workers
Type 3: Root-cause reason questions
Root-cause reason questions give you a particular set of facts/data and asks you to identify what could be the cause for them.
The following are a few examples of typical root-cause reason question format:
Which of the following reasons, if TRUE, will help explain the Facts …?
Which of the following does NOT explain the Facts …?
Which of the following points is NOT a valid reason for the Facts …?
EXAMPLE
Fact provided: Visits to the website MConsultingPrep were relatively low last month.
What reasons, if TRUE, would help explain the low traffic to MConsultingPrep last month?
Youtube has been demonetizing their channel
Because of technical issues, some visitors could not access the website
Last month was December when the overall demand for job prep materials is lowest in the year
Other new consulting prep blogs closed recently
Type 4: Word problem questions
Word problem is a math/quantitative question where the answer cannot be calculated directly from the data provided. Usually, we have to set up one or more equations in order to solve this kind of question.
EXAMPLE
Data on the Washing Room of Jean Valjean Restaurant
Manual Process
Machine
Process
Labor cost per hour
30 Franc
30 Franc
Labor resource needed to wash and process dishes
5 dishes
per minutes
1 person per shift
Set up and clean-up labor time time per meal shift
20 minutes
(1 person)
1 hour
Other costs
350,000 Franc purchase
and running costs for machine's 5 years lifetime
Suppose the restaurant opens 350 days a year. There are 3 meal shifts per day, 1 shift lasts 3 hours, 1 customer uses an average of 5 dishes per visit, and currently the restaurant hosts 530 customers on average daily.
What percentage of increase in the number of daily visits would be required in order to make purchasing the machines financially beneficial?
A. 25%
B. 50%
C. 100%
D. 200%
Type 5: Formulae questions
Formulae questions are similar to word problems, except you don't have to provide the actual numerical results, just the formulae containing letters representing input variables.
Normally, the question will provide input variables in letter format and you will be asked to provide the right formulae in letter format (e.g. it takes the process center T hours to process each file. If the speed is doubled, it takes T/2 hours to process each file). This is one of the easiest question types on the BCG Potential Test. Let's make sure you don't lose points on any question of this type in your exam!
EXAMPLE
Labor Cost and Processing Data – Holcim Missouri plant
| | | |
| --- | --- | --- |
| | 2011 | 2012 |
| Monthly labor salary (p) | $1,120 | $1,280 |
| Cement output (c) | 2.2M tons | 2.8M tons |
| Blue-collar labor cost (b) | $5,376K | $6,144K |
| White-collar labor cost (w) | $1,344K | $1,536K |
Which of the following formulae accurately calculates the annual cement output per worker?

A. (c x p) / (b + w)
B. (c x p) / [(b + w) x 12]
C. 144 x (c x p) / (b + w)
D. 12 x (c x p) / (b + w)
Type 6: Solution-finding questions
Solution-finding questions exist only in the BCG Potential Test and the Bain Online Test (the case version). These questions often go along the lines of "Select 3 actions that effectively do XXX".
This kind of question requires some business background and intuition – which can only be trained by exposing yourself to the business and consulting world. Try to read as much consulting news as possible, on trusted sources such as McKinsey Insights, Bain Publications, and BCG Insights. Couple news-reading with fast reading training and you'll find yourself improving quickly in both intuition and reading speed in no time!
Combinations and other question types
While the aforementioned six types of questions cover nearly all questions in the BCG Potential Test, sometimes there are questions outside all of these types, or a mixture of them.

The biggest implication for a test-taker is to learn the principles – which I'll talk about in the Study Plan section – and even when learning the question types, it's best to understand the logic behind each and every one of them. Preparing for tests using only tips and tricks is like learning to drive without knowing how steering wheels work – it won't get you anywhere.
Math in BCG Potential Test
About 50% of the questions involve calculations of some sort. This is about the same ratio with the McKinsey PST. Math questions on average require 3 calculations to derive the answer. Calculators are usually not allowed in these tests.
What does that mean for you, the candidate? Practice. Mental. Math. You have to get it fast and get it accurately every single time.
Mental math is so important in consulting prep, that I devote a whole section of this website just to cover the math skills needed for the tests and case interviews, while the single Comprehensive Math Drills is grouped with the test packages (BCG Potential Test Double Comprehensive) just for this reason.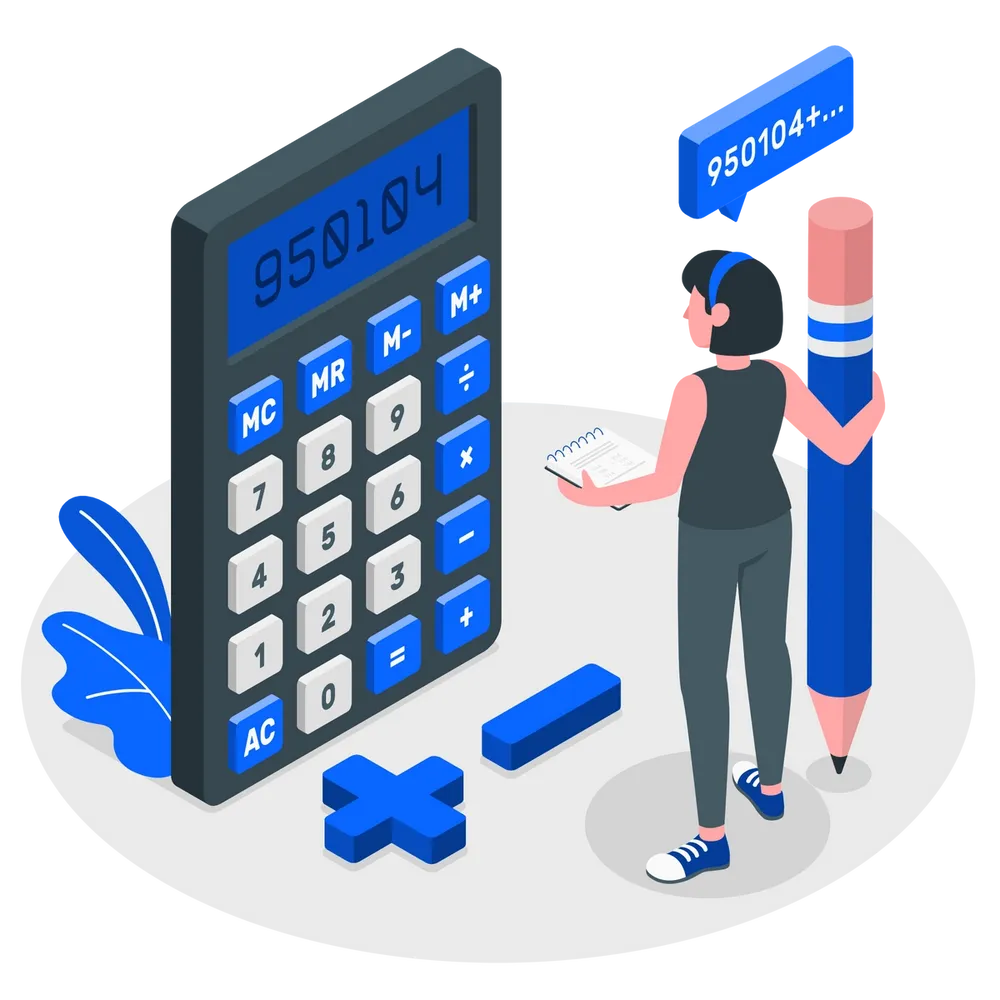 Step 1: Learn the test format, rules, and contents
The first step in any test prep process is to know what you're up against – and that means contacting your target BCG office, use your personal connections, or get in touch with your school's consulting club to find out which format your target office is using. (the last option is in fact the easiest networking tactic for undergrad or MBA candidates – not so much for professionals, however).
If you find yourself in the 80-85% that uses the common test format discussed in this article, congratulations because now you have much more options in terms of prep materials. However, even if your target office uses an uncommon format – the principles of the test remain the same.
When I did test-coaching, I always advised my clients to learn the principles because it gives you the flexibility to tackle any test format from any firm. While that's easier said than done, I also have a structured, tried-and-true process that I used myself to get myself in McKinsey, and many dozens of clients to McKinsey, BCG and Bain alike – which leads to our next step.
Step 2: Practice answering the questions correctly
The second step is to answer all the test questions correctly without time pressure – because answering quickly is of no use if you can't get the right answers. Many candidates practice with the time limit on, then hit face-first into a brick wall and get demoralized because the test just feels so insanely difficult.
Getting the correct answer is even more vital in BCG Potential Test than in McKinsey PST or Bain Online Test because of the guess penalty.
Use the question types I laid out in the previous section as the basis for this step. It is necessary to understand how these questions are constructed, what are their logical foundations, and even how the wrong choices are made.
Step 3: Practice answering the question quickly
There will be no turning point that indicates you it is about time to move to the second step, but you should gradually try to answer the questions both correctly and quickly. Once getting all the correct answers without clocking, you should put yourself under time constraint. If you don't know how to increase your speed, you have better to start with 3 steps below:
#1. Increase your reading speed: Digging through 9 docs trying to filter "noises" and getting the right answers is never easy without good reading techniques. Luckily, there is one technique that I myself used and found very effective – which I discussed in my Speed Reading Guide.
#2. Increase your mental math speed: Half of the test involves math, which has no way to improve but practice rigorously. The more you practice, the better you gain. If you haven't found any efficient tips, try my method to score well in this guide to Consulting Mental Math!
#3. Embrace test-hacking tips: General test-taking tactics and computer-based tests are two things you need to pay attention to at this stage.
Step 4: Run mock tests under simulated conditions
This is where you put everything together. Try to simulate real test conditions – ask someone else to act as your test supervisor, to keep you from the tempting "try again" or "one more minute" if necessary. Use a fresh practice test. And stay away from the calculator.
Once you've finished the mock tests, use your grades to figure out your weak points and return to the previous steps for further practice. Rinse and repeat until you can nail each question almost every time.
Over the years, I have received tons of requests to provide the BCG Practice Test. To all of them, I replied with the recommendation to use the McKinsey PST as a substitute. This has been bothering me to a great extent. Deep down, I know that's just a "decent" and temporary solution. Using McKinsey to get the hang of the BCG Potential test is helpful in earlier study phases, but as the real test comes close, we all need practice that closely mirrors the BCG test.
All the question principles, math and supporting skills lead to this, the highest stage of your study: Putting it all together. Without this final phase, it feels like a football team worked so hard on all the tactics, all the drills, all the skills, all the game plans, etc. but never got a chance to put them all together in a real match. They end up losing by just a close margin in their tournaments.
I know that at some point I have to get this done. But developing this test is really a challenge. Time and effort is never the factor. We are willing to put nights, months, years into it just like we did for all other products. But the challenge is to gather enough insights.
Over the last 3 years, we gather as much data and insights as we can about the BCG Potential Test. We "bother" so many test takers around the globe. We conducted interviews, aggressively looked for insights, having them take many beta versions and see how close they reflect the real test. Literally, hundreds of field reports of test taking in multiple locations were gathered.
The result is a set of "typical" BCG Potential Test practice materials that well reflects the characteristics of the majority of tests in various offices. We are confident that this is by far the most realistic practice test for the BCG Potential Test available!
Learn the Secrets to the BCG Online Case Experience!
Pass the screening test and land yourself a slot in the case interviews
with our BCG Casey Simulation!
Multi-cases in interactive chatbot environment to help you prepare effectively!