Consulting Target Schools

Target schools for MBB, get into MBB from non-target schools

The Big 3/MBB consulting firms mostly target top business schools in the United States/Canada. Coming from target schools gives you many opportunities to enter MBB; however, you can still make it to consulting with extensive learning and preparation.

Learn more: Top Consulting Firms 

Consulting target schools (for McKinsey, Bain and BCG)
MBB consulting firms
have their
favorite recruiting grounds
, mostly top business schools in the United States/Canada. Candidates from these schools have a
much higher chance of networking and getting selected
for an interview.
There is
no official statement
from any firm about their target schools, nor do we find any official data on the backgrounds of MBB consultants, but we can make fairly good guesses. Below is a list of top schools contributing significant percentages of consultants at MBB firms – according to a 2018 analysis of Wall Street Oasis users.
MBB Consultants on WSO by alma mater (2018)

College/University

University of California Berkeley

New York University

University of Pennsylvania

The University of Texas at Austin

Yale University

Harvard University

University of Michigan

Northwestern University

University of Virginia

Stanford University

Cornell University

Duke University

The University of Illinois at Urbana-Champaign

Penn State University

Princeton University

University of Cambridge

Boston College

Georgia Institute of Technology

Georgetown University

Columbia University

University of Toronto

University of Maryland – College Park

University of Western Ontario

University of Southern California

University of Notre Dame

McKinsey

0%

2%

6%

1%

6%

1%

6%

1%

0%

4%

2%

3%

0%

1%

3%

3%

3%

0%

1%

1%

0%

0%

0%

0%

2%

BCG

2%

3%

4%

1%

0%

7%

5%

2%

1%

2%

1%

3%

0%

0%

3%

0%

0%

0%

0%

1%

0%

1%

0%

0%

1%

Bain

8%

0%

0%

4%

3%

0%

0%

1%

0%

8%

0%

0%

0%

0%

3%

1%

1%

0%

1%

3%

0%

0%

5%

1%

3%

The list is derived from WSO user data and by no means comprehensive – so your school, despite being targeted by MBB, may not be included.

Enter MBB from non-target schools
The main differences between consulting candidates from non-target schools and candidates from target schools are the network and the resume. Coming from target schools, candidates often have much higher chances of networking and getting selected for an interview.

So if you come from non-target schools, you should focus on expanding your network and writing a perfect resume. These two factors are crucial because they help you pass the very first round – the resume screening, of the consulting recruitment process. After that, the other rounds require each and every candidate, regardless of the educational background, to work hard AND smart to finally land the job.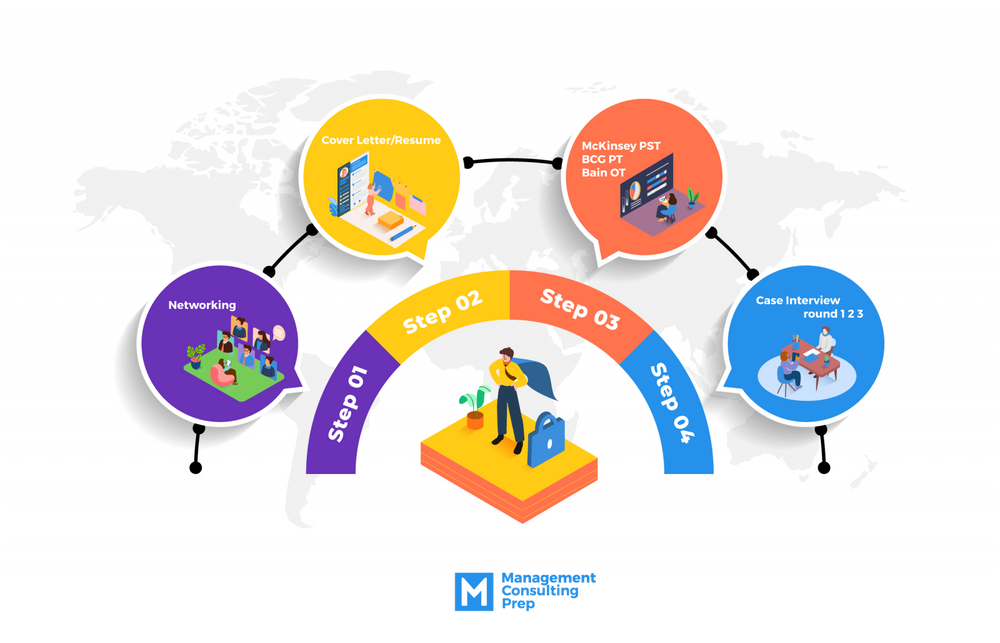 I have written comprehensive guides for each listed step. Read the full guides here:

In this article, I will focus mainly on the first two steps, which are important for those coming from non-target schools.
Networking – Utilizing the consulting clubs

Although coming from non-target schools creates fewer opportunities for you to network and get selected for the next rounds, you can still join consulting clubs at your schools and consulting events to widen your networks. These clubs and events help you meet up with current/former consultants from top firms and alike people who also want to become consultants.

Joining these clubs have two benefits: information and connections. 
•
First, the members of these clubs are those who are interested in management consulting, so they can provide you with invaluable insights about consulting firms and advice to support your consulting prep. 

•
Second, these members can have their own connections with people in the field, which opens the chances for you to meet up with current/former consultants from top firms. By having a network of consultants prior to your recruitment process, you can earn referrals that get you into the next rounds easier. 

Consulting resume – How to write the perfect bullets

Along with the networks, candidates from non-target schools can increase their chances by making their resume perfect to every bullet point to help them stand out from the pool of applicants.

Since other candidates also have the luxury to show off in their CVs, you must make every bullet in your resume perfect. A perfect bullet point for a consulting resume must explicitly but objectively show off your consulting skills and qualifications by being structured, result-oriented, and fact-based.

Typically, a great bullet has 3 parts:

1. The work
2. Explanation of the work
3. The output

For example: (A) went grocery shopping – (B) at the most crowded supermarket – © ensuring adequate food supply for the whole family for the next 7 days.
There are a few things you should notice:

•
The work: Use strong yet simple verbs in the present or past tense, depending on the time of course.

•
Explanation of work: This is NOT the place for results. It's just an elaboration of the above part. But 3 things you can do to show off your consulting traits here:

1. Be very specific, as specific as possible
2. Highlight the difficult nature of the work
3. Create a "consulting feel" by using consulting wordings and terminology

•
The output: This can be either qualitative or quantitative.

Read next
Top Consulting Firms [2020 Ranking]
18 lists of top consulting firms, on 18 different criteria, all updated for 2020 - size, prestige, salary, work/life balance, and even more.