Kenexa assessments is a popular assessment tool used by organizations to evaluate job applicants and employees. The assessments are designed to measure a range of skills, including cognitive ability, personality traits, and job-specific knowledge.
In this article, we'll provide an overview of Kenexa assessments and offer practice tests to help you prepare for the assessments.
Kenexa – a company acquired by IBM, is an international psychometric test publisher, talent acquisition tool provider, and recruiting management specialist.
Founded in 1987, the company was formerly known as TalentPoint, Inc. specializing in providing recruitment services. Within the first decade, Kenexa expanded to offering an automated recruiting management system, employee research, employee performance management, and later employee screening, behavioral assessment, and skill testing solutions.
In 2012, Kenexa was acquired by IBM and continued to provide both midsize companies and large enterprises with outstanding talent management solutions. IBM Kenexa products cover various aspects of employee management in an organization, including recruitment, acquisition, onboarding, and internal learning systems.
IBM Kenexa has an extensive resource of talent skill assessments and psychometric tests. Companies and businesses use tailored packages of these assessments as a hiring solution to screen for the most suitable candidates.
Kenexa aptitude tests are psychometric tests that measure the abilities of candidates across different types of reasoning: numerical, verbal, and logical reasoning. Kenexa also offers a Kenexa CAT (Kenexa's Computer Adaptive Test) that includes numerical, verbal, and logical reasoning tests in increasing difficulty levels.
In most cases, you will encounter Kenexa assessments during the initial stages of the recruitment process. However, depending on each company, you may also have to take the tests in other recruiting stages.
IBM Kenexa Numerical Reasoning Test
Read more: How to Pass Numerical Reasoning Tests?
The Kenexa numerical reasoning test aims to evaluate candidates' abilities to handle mathematical concepts, general arithmetic, and data interpretation and analysis. Depending on the job level, the test will last around 20-35 minutes with a total of around 20 multiple-choice questions.
Questions in the Kenexa numerical reasoning tests involve plenty of charts, graphs, diagrams, and tables. Depending on the job sector, these questions may be tailored to assess more specific skills such as currency conversion or calculating markup percentages.
Below is an example of a question in the Kenexa numerical reasoning test.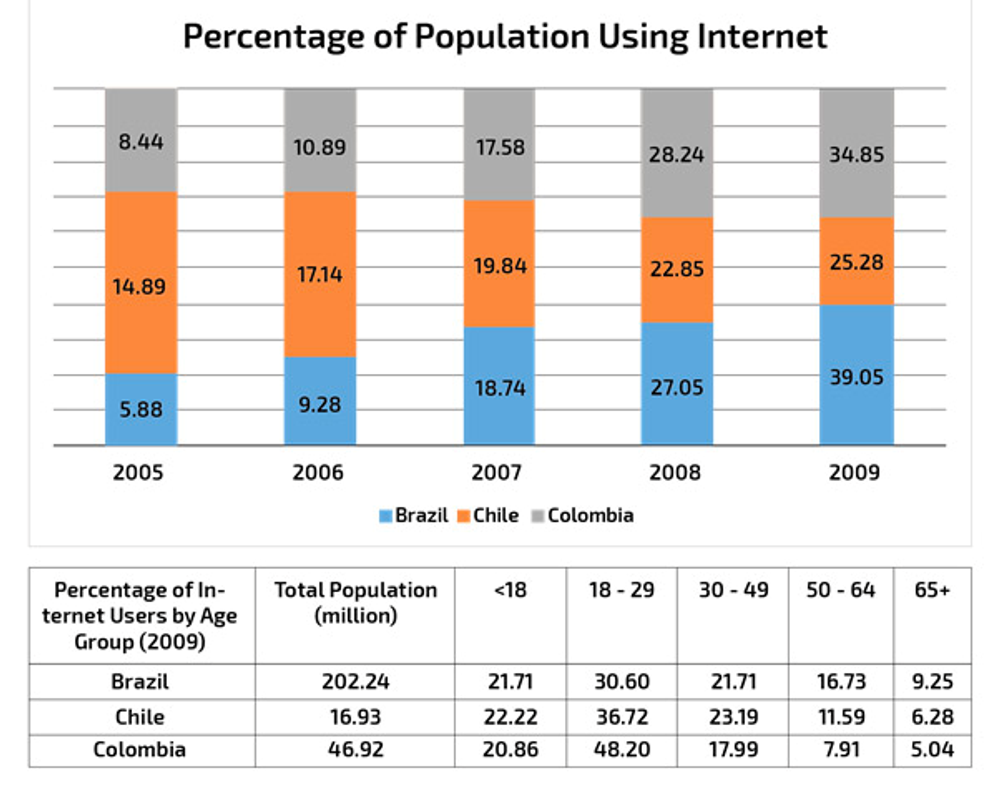 Source: Kenexa

The number of Chileans using the internet in 2009 represents an increase of 40% from the 2007 figure. What is the total population of Chile in 2007?
Answer: The correct answer is 15,408,639
Explanation:
The answer above is calculated based on the following steps:
Calculating the number of Chileans using the internet in 2009:
0.2528 x 16,930,000 = 4,279,904
Calculating the number of Chileans using the internet in 2007:
4,279,904 / 1.4 = 3,057,074
Work out the total population of Chile in 2007
3,057,074 / 0.1984 = 15,408,639
IBM Kenexa Verbal Reasoning Test
The Kenexa verbal reasoning test aims to assess candidates' abilities to read, comprehend and interpret written information. It is a multiple-choice test that typically lasts around 18 to 25 minutes depending on the job level and the company you are applying for.
Questions are in the form of given statements with multiple choices of True, False, and Cannot Say. Based on the given passage, candidates are required to answer these questions by deciding which answer best represents the given statement within a tight amount of time. Candidates should keep in mind that no prior knowledge of the subject given in the passage is needed for the answers.
Below is an example of a question in the Kenexa verbal reasoning test.

Source: Kenexa
Answer: The correct answer is C, "Cannot Say".
Explanation:
The passage says that "individuals choosing to consume media on the basis of their felt needs and the degree to which media can successfully address these needs." and that only indicates individuals can choose to use media based on their needs and how media addresses those needs. The passage doesn't mention anything related to users' way or manner of using media, therefore the statement is "Cannot Say".
IBM Kenexa Logical Reasoning Test
Kenexa logical reasoning test is designed to assess candidates' abilities in analyzing and drawing conclusions from diagrammatical data. The test is rarely implemented as a standalone test, but rather as a subtest alongside other tests of the Kenexa Aptitude Tests.
The test is given in the form of multiple-choice questions that contain sequences of shapes. Test-takers are required to identify the pattern and choose the missing figure to complete the given sequence.
The skills tested in this Kenexa assessment are not commonly utilized in daily life, and therefore practicing is important if you want to get accustomed to the style and types of Kenexa logical reasoning questions.
Below is an example of a question in the Kenexa logical reasoning test.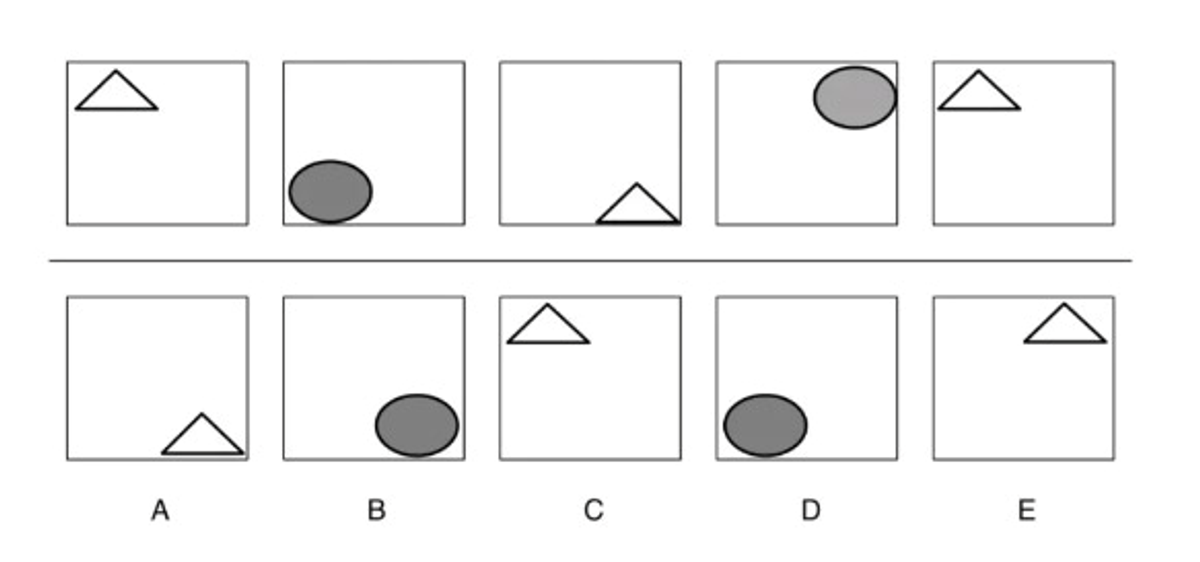 Which of the boxes in the sequence comes next?
Answer: The correct answer is D.
Explanation:
In the figure sequence above, two patterns rule the entire series:
The shapes in each sequencing square move one corner in an anticlockwise direction.
The shapes of each sequencing square rotate between triangles and circles.
As one of the most popular talent recruitment and management test providers, Kenexa also has other types of tests that may be administered alongside its aptitude tests. There are five other types of Kenexa Assessments, which are:
IBM Kenexa Career Fit Tests
IBM Kenexa Culture Fit Tests
IBM Kenexa Job Fit Tests
IBM Kenexa Performance Indicators (KPIs)
IBM Kenexa Prove It!
IBM Kenexa Career Fit Tests
Kenexa Career Fit test is a personality or competency assessment that helps companies identify the most suitable candidate for job openings. By gaining insights into candidates' personalities and competency via the test, employers can see whether applicants fit the job profile and have the potential for further development.
IBM Kenexa Culture Fit Tests
Kenexa Culture Fit test is designed to explore and identify what candidates value in a working environment, and compare those values with those of the employing companies. Organizations use the test to assess whether applicants are aligned with their core values and working culture.
IBM Kenexa Job Fit Tests
Kenexa Job Fit test is designed to assess the job preferences of candidates concerning the demands and duties of the job opening. Companies and organizations use Kenexa tailored job fit test to make informed decisions about whether candidates have the necessary characteristics for the position.
IBM Kenexa Performance Indicators (KPIs)
Kenexa Performance Indicators (KPIs) are a suite of tools that predicts candidates' tendency in exhibiting important behaviors to the success of the job role. It helps identify and highlight the likelihood of such behaviors and employers can decide whether the candidate is a good fit.
IBM Kenexa Prove It!
Kenexa Prove It! is a SaaS product of IBM - a platform that contains over 1200 skill assessments. The online platform has a wide range of skill tests including everything from general skills like Microsoft Office tests to more specific skills like a computer programming language or accounting practices.
There are a great number of companies that are adopting Kenexa Assessments in their recruiting process. You will most likely encounter Kenexa Assessments during the recruitment stages of companies in finance and tech.
Some big names on the list that are using Kenexa Assessment include:
Balfour Beatty
Nomura
Bank of America
Merrill Lynch
CVS Caremark
Grant Thornton
Snap On
ABTEL Universal Technology
BizViz
Practicing regularly and strategically is important to improve your performance on Kenexa Assessment. Since Kenexa Assessment is tightly timed, daily practice helps you get more familiarised with what is in the tests, how they look like, and what they measure, and eventually increases your speed and performance quality.
MConsultingPrep offers a structured guide and a library of practice tests that help you prepare for all companies/industries' recruitment Aptitude Tests, including companies using Kenexa Assessments.
In addition to a detailed explanation to guide you through the solving process for each question in our test package, you can also gain access to evaluation tools that help you build a more suitable and strategic study plan for your progress. Our evaluation tools keep records of your scores and test times so you can have a better insight into your overall performance, what you excel at, and what you need improvements on.
You can sign up for our mock tests here to see how our tests work