The Morgan Stanley online test, or the Morgan Stanley assessment test, is a pre-employment recruitment tool used by the company Morgan Stanley. While its components are similar to regular aptitude tests, the content is specifically designed for the banking industry, making it a challenge for any Morgan Stanley candidates.
In this article, we will go through every part of the Morgan Stanley online test with detailed analysis, examples, and tips to pass.
The Morgan Stanley online test, or the Morgan Stanley assessment test, is a pre-employment recruitment tool used by the company Morgan Stanley. It has 4 main parts namely Numerical reasoning, Verbal reasoning, Logical reasoning, and Accuracy tests. While the test's time limit is unknown, the number of questions is expected to be around 98 in total.
This test is reported to be a customized assessment from the famous test provider Aon, designed explicitly for banking jobs. Morgan Stanley has stated that candidates will be assigned different tests based on their applied division and region. The company also emphasizes the importance of practice for the best result in this test.
The Morgan Stanley online test takes place in the screening stage of the hiring process. The whole recruitment procedure of the company has 2 rounds named the screening round and the interview round.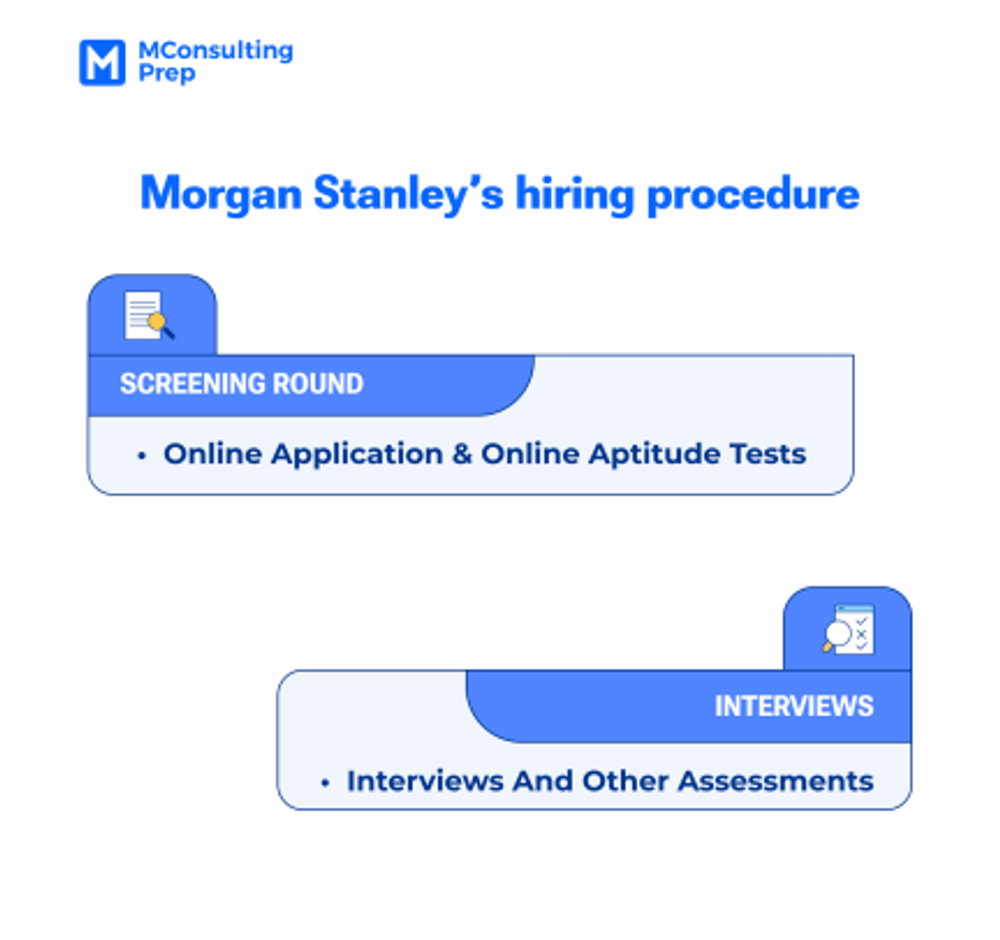 1. Morgan Stanley's screening round
The screening round of Morgan Stanley has 2 parts, which are the online application and the aptitude online tests.
Online application
The first step after identifying your desired job at Morgan Stanley is to apply for it on the company's official website. Morgan Stanley encourages candidates to apply early and also notifies them that different regions have different deadlines for job openings. In particular, the deadlines in Asian Pacific are often earlier than in other regions.
For this round, Morgan Stanley has advice for student/graduate candidates as follows:
In the CV: The company wants to see good academic credentials. Specifically, candidates from EMEA are expected to have 2.1 in their degrees.
In the cover letter: Candidates should clearly state the reason why they want to join Morgan Stanley in their specific professions. Furthermore, candidates should also express interests, extracurriculars, and activities that make them different.
Online aptitude tests:
After their CVs are reviewed, candidates will be asked to take several psychometric tests. These tests can be different for each candidate since they are assigned based on their applied divisions. Candidates will be tested on their capabilities in problem-solving, critical thinking, and other necessary skills for working in the banking industry.
2. Morgan Stanley's Interviews
In this round, candidates need to attend several interviews and some other assessments testing their communication and interpersonal skills.
Interviews
Successful candidates from the screening round will be invited to participate in 2 interviews as follows:
The screening interview: This first-round interview is expected to happen via phone, video calls, or in person, depending on the location and applied divisions. This interview is typically for the company to do a background check and get to know the candidates briefly.
The one-on-one interview: This interview is a part of the last stage of the hiring procedure. It is when Morgan Stanley gets to understand the candidates in-depth and evaluates how well they fit with the company and their applied position.
Other assessments
In the last stage of the recruitment process, along with the one-on-one interview, candidates should expect to demonstrate their skills in some other assessments. These assessments can include written tests, an individual presentation, and a group exercise (often called an assessment center).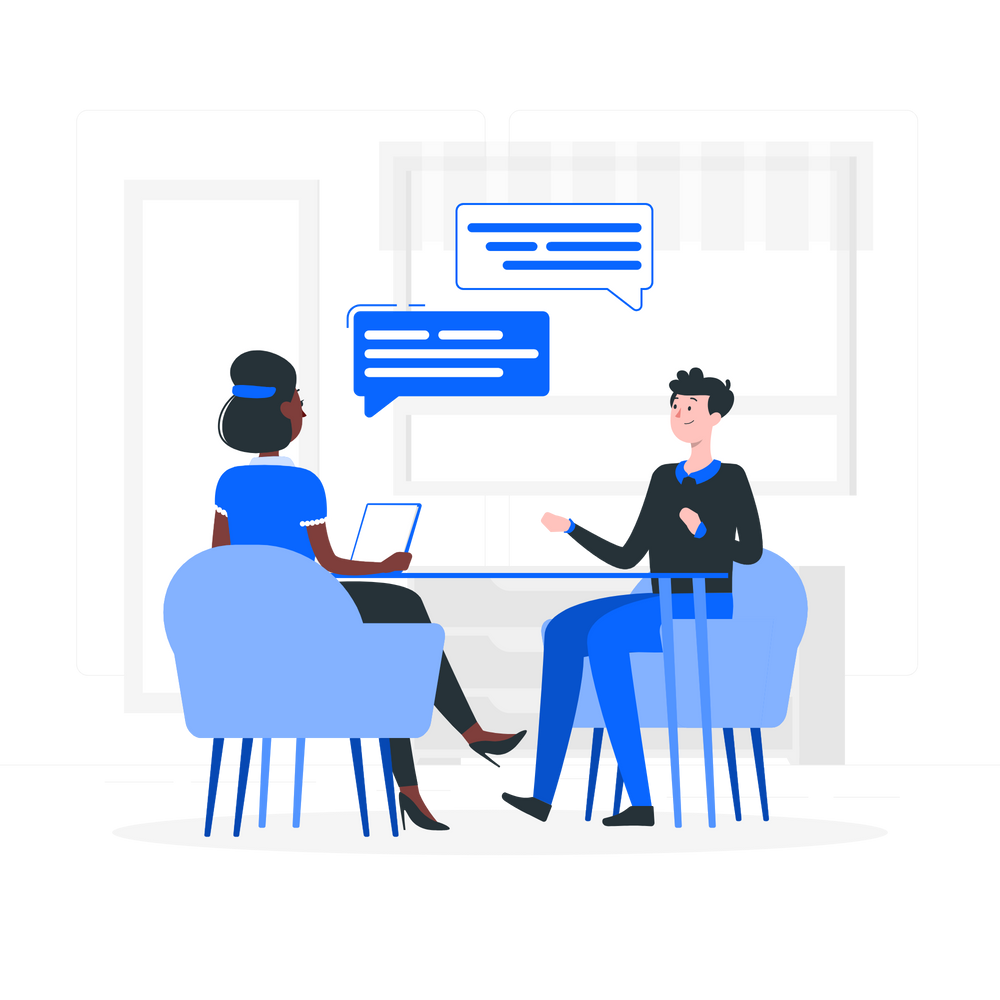 The Morgan Stanley numerical reasoning test has multiple-choice questions, often asking about charts and graphs. The test is estimated to have 18 questions with a 6-minute time limit. Candidates need to conduct basic math principles like fractions, decimals, and percentages from the given graphical data to answer these questions.
This test focuses on the candidates' ability in interpreting data, mental maths, and speed and accuracy in dealing with numbers. Those are all necessary skills for working in the banking industry.
Let's look at an example of a graphical reasoning question:
Question: If the value of the investment increases by 10% per annum, what would be the future value of the total investment for projects completed in 2019 as of the year 2021? The compound rate is not taken into account.
A. €82M
B. €410M
C. €492M
D. €496M
Answer: C
Explanation:
To calculate the future value of the total investment for projects completed in 2019 as of the year 2021, you will need to first calculate the total value of investments in 2019, then the increase of the value of investments in 2 years, and finally add the two numbers together.
Total value of investments in 2019 = 250 + 160 = €410M
The increase in value of investments in two years (2019 to 2021) = 410 × 10% × 2 = €82M
Required value = 410 + 82 = €492M
Questions in Morgan Stanley verbal reasoning test have short passages and statements with multiple-choice answers of True, False, and Cannot say. The test has 18 questions and 6 minutes to complete. The topics of the passages are often about agenda and stakeholder conferences.
In this test, you need to have good skills in making inferences from verbal information. You should be extremely careful when reading the provided texts since they can be vague and misleading.
Here is an example of a verbal reasoning question for better visualization:
Question:
Mischel still teaches psychology at Columbia University and has just written The Marshmallow Test, a book summing up half a century of research. When Mischel was young, his family was forced to move from a comfortable life in Austria to the US. They settled in Brooklyn, where they opened a bargain shopping store. Business was never good and Mischel believes that moving from 'upper middle class to extreme poverty' shaped his outlook. He is concerned with trying to reduce the impact of deprivation on an individual's life chances.
Mischel and his family decided to move to the US to have a better life.
A. TRUE
B. FALSE
C. CANNOT SAY
Answer: B
Explanation:
The key phrase for this question is "When Mischel was young, his family was forced to move from a comfortable life in Austria to the US."
The passage explains that Mischel and his family had to give up their comfortable life in Austria to move to the US, which means they did not intend to move because their life in Austria was comfortable. They are forced to move and the text did not mention the reason underlying this.
Morgan Stanley uses a unique logical reasoning appraisal named the Switch Challenge. In this test, you will complete levels by choosing the right set of numbers that shows how an input shape sequence turns into an output sequence. You will have 6 minutes to finish as many levels as you can. It is suggested to get around 25-30 correct answers to pass the challenge.
By far the Switch Challenge is considered the most difficult assessment among all of Morgan Stanley's online tests. Although a detailed tutorial is provided before taking the challenge, many candidates still find it confusing. This might be due to its unique interface and tight time limit. In rare cases, you might only have 3 minutes to finish the challenge.
Furthermore, the level of difficulty in this challenge depends on whether you can answer correctly the questions or not. That means if you answer a basic question incorrectly, your next question will be curated to be at the same level as the previous one. Thus, you cannot get to higher-leveled questions. Your overall performance will be detrimentally affected since you only solve easy questions.
Let's look at an example of a basic question in the Switch Challenge for more insights: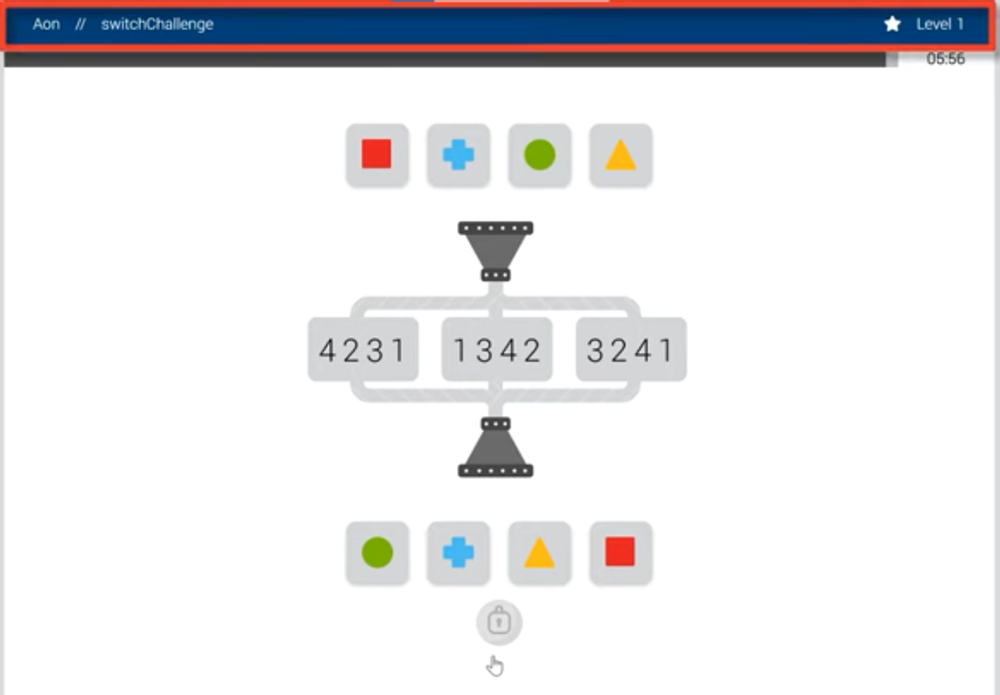 Source: Aon's Assessment Solutions
Answer: 3241
Explanation:
Step 1: Encode each shape with numbers in their respective order. "1" for the red square, "2" for the blue cross, "3" for the green round, and "4" for the yellow triangle.
Step 2: Rewrite the output in that numerical arrangement. Since the green round is number 3, the first digit will be "3". The blue cross is "2", so the second digit will be "2". Continue applying the method, we will end up with the answer 3241.
The Morgan Stanley accuracy test provides candidates with numbers and multiple-choice answers for candidates to select the matched options. The test focuses on evaluating candidates' speed and accuracy in capturing numbers.
This test doesn't evaluate candidates' skills but their speed in dealing with numbers and ability to work under pressure. While the answers may sound simple, the test has 32 questions and a time limit of 2 minutes. That means you need to be really decisive and able to answer right at the moment you see the questions.
Example of an accuracy question:
Question: Select the option that has this number: 3012
A. 3210
B. 3120
C. 3012
D. 3021
Answer: C
Based on the applied positions, candidates might be asked to take several other tests like the situational judgment test, the technical test, and the investment banking test.
Situational judgment test: In this test, Morgan Stanley creates scenarios where candidates are asked to respond to fake colleagues using a chat feature named chatAssess. This is a platform developed by Aon for this specific type of test.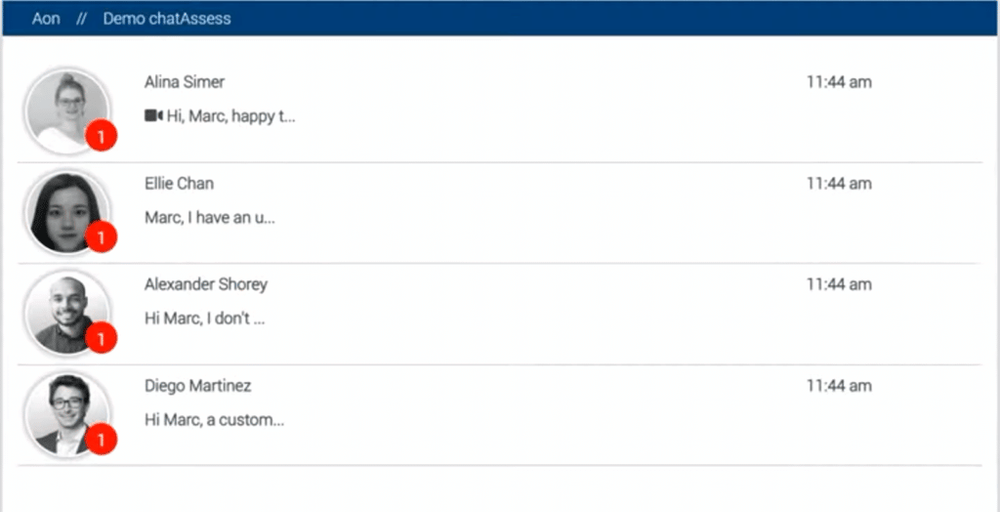 Source: Aon's Assessment Solutions
Technical test: This test will vary based on the candidates' application. The questions in this test are industry-related, requiring candidates to show their knowledge and skills in analyzing the latest affairs in the banking world.
The best way to pass the Morgan Stanley online test is to train yourself with practice questions. The company has clearly stated that candidates should practice regularly before the real test for the best result.
Below are some tips for you to make the best out of your practice period:
Focus on your weakest areas: With the above list, ask yourself which test would be the most likely for you to fail, then concentrate on practicing for it. A tip for you: since this test is specifically designed for banking vacancies, make sure you practice your math skills and become flexible with numbers.
Update your knowledge of banking: Since the Morgan Stanley online tests are specifically designed for banking jobs, you need to frequently update yourself with information on the latest affairs in this field. Try following the banking sections on news portals like Financial Times, CNBC, The Economic Times, etc. Besides, building connections in the industry to have frequent discussions about every new situation is definitely beneficial.
Practice with quality materials: You can spend lots of time practicing and still fail due to the lack of proper study materials. Our Aptitude test package is among the best solutions to support you in your journey to Morgan Stanley. There would be hundreds of practice questions in numerical and verbal reasoning with the styles of the most popular test providers, including Aon's Assessment Solutions.
For a glimpse at what our tests might look like, check out our free demo tests: