As a leading management consulting firm, Oliver Wyman has a reputation for its rigorous recruitment process and high standards for hiring candidates. Therefore, preparing for case interviews with the firm can be daunting without knowing what to expect.
In this article, we will delve into Oliver Wyman's history, culture, and recruitment process, as well as the types of case interviews that candidates can expect. Additionally, we will provide a comprehensive guide to preparation, including tips and strategies to help you effectively demonstrate your qualifications. By familiarizing yourself with the company and honing your case interview skills, you will be well-equipped to secure a position at Oliver Wyman.
Background
Oliver Wyman is a management consulting firm specializing in financial services and digital strategy. Founded in 1984 in New York City, it has grown to include over 60 offices worldwide with more than 5,000 employees globally.
The firm is a subsidiary of Marsh & McLennan Companies (MMC), a global professional services network. MMC has acquired several consulting firms, including Temple, Barker & Sloane, Strategic Planning Associates, and Delta Consulting Group, leading to the formation of the Oliver Wyman Group in 2007. With a reputation for excellence in the management consulting industry, Oliver Wyman is currently ranked at the 7th position on the 2022 Vault Consulting 50 list.
Oliver Wyman works with clients to improve their operations, risk profiles, and performance across industries, focusing on financial services. Its capabilities include digital strategy, corporate finance, operations, organizational effectiveness, risk management, strategy, and sustainability.
Culture and value
Oliver Wyman sets the bar high for its people in terms of core values. They value exceptional people - people with intelligence, energy, passion, emotional sensitivity, and a commitment to excellence. The firm holds a belief that if people have common aspirations, a non-hierarchical environment based on respect, and no artificial barriers to advancement, then exceptional people will realize their potential.
Understanding its culture and what the firm expects from its ideal people can help you determine whether or not you can be a good fit. If yes, you can also better prepare for the behavioral and fit interview sessions.
In general, there are 5 core aspects Oliver Wyman values in its people which include:
Self-starters and free thinkers who work well in teams - individuals who are self-starting, motivated, energetic, entrepreneurial, and passionate about what Oliver Wyman does.
Common aspiration, collective endeavor, shared success - people having the same aspiration to have an impact, leave a legacy and change the world.
Straightforward, open, respectful interaction - an environment where every member of Oliver Wyman is encouraged and expected to voice his or her opinion.
Opportunity without artificial barriers, anti-kudzu - a workplace where values merit and believes that to create a true meritocracy, artificial barriers to opportunity need to be removed. The firm rejects rewards or entitlements based purely on factors unrelated to valued outputs (i.e tenure, internal friendships, or "connections").
Balanced lives and a sense of fun - people whose lives balance work and non-work activities based on the belief that they are both more interesting colleagues and are able to make better contributions to the Firm.
Overall, the interview process at Oliver Wyman is lengthy and in-depth, and well-considered. The firm tests its candidates extensively and may be the most extensive compared to other consulting firms (including MBB). It can take candidates up to 4 months of the interview process to receive the offer.
The interview process at Oliver Wyman typically consists of 4 steps that go from screening a resume to conducting a final interview.
Step 1: Resume and cover letter screening
Candidates can apply for vacancies at Oliver Wyman through a myriad of programs which include:
Direct application on their website;
College/university recruitment;
Referrals; etc.
If you apply online on their website, you will have to fill in an online form with your personal details and submit a cover letter alongside a resume.
Step 2: Online assessment test/Phone interview
If your resume is qualified, you will receive either a phone interview from the recruiting team at Oliver Wyman or an online assessment test.
For the latter case, shortlisted candidates have to take a 20- to 30-minute online assessment test. The test questions mostly involve numerical reasoning. These questions are for testing the candidate's ability to process information and make quantitative calculations.
As you pass the test/phone interview, you'll be receiving all the details for the next in-person interview. This marks the beginning of the first round of interview at the firm.
Step 3: First-round interviews
You'll be taking both a behavioral fit interview and a case study in the first round interview. Depending on the specific office you are applying to, the number of interview sessions within the first round may range from 2 to 3 interviews (i.e one behavioral fit interview and two case studies). Each of the interview sessions can take from 30 to 45 minutes.
Step 4: Second-round interviews
In the second round of interviews, you may encounter around 3 other interview sessions: 1 fit interview with behavioral questions, 1 case interview, and 1 case presentation.
Before the hit of Covid-19, the second-round interviews were known as a "Super Day" assessment in the United States or as the "Assessment Centre" in Europe. These were usually on-site office visits, where candidates participated in a series of interviews, including:
Case interview
Behavioral/fit interview
Case presentation
Consultant Q&A
This is basically just an on-site office visit where you perform a series of interviews. You may just have one session of each of these interviews during the second round (maybe two for case interviews), but not necessarily in that order.
For the Consultant Q&A part, Oliver Wyman sometimes provides an opportunity for candidates to join an informal discussion with current consultants. Technically, this is not an interview and probably will not count toward your offer decision. However, this is a great chance for you to ask about the life of an Oliver Wyman consultant. You can prepare a few thoughtful questions to gather more information if needed.
During the COVID-19 pandemic, the second-round interviews have been modified to 30- to 45-minute interviews. Its format is similar to the first-round interview, with a behavioral fit interview and a case study. It is often conducted via HireVue - a popular platform that provides digital pre-employment solutions. Such interview formats still carry on at several global offices other than the U.S. offices post-pandemic.
These steps are Oliver Wyman's typical interview process. However, the process may vary based on the role applied (i.e Intern, Consultant, Senior Consultant, etc.) and the location. Candidates can ask for further details about the process with the recruiter or HR once they are shortlisted.
Again, it's worth noting that the number of interviews within each round is different among offices from different countries and regions. There have been records of applicants for consultant positions taking a total of 6 case interviews for 2 rounds; therefore, you may have to work out more than 1 case interview within each round.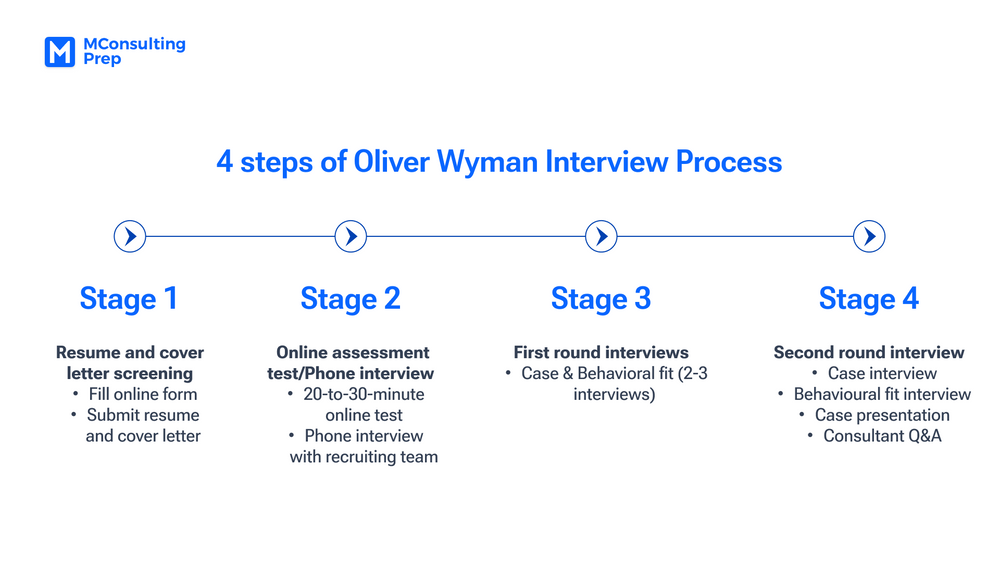 There are three main types of interviews at Oliver Wyman: fit interviews (also known as conversational or behavioral interviews), case interviews, and presentation interviews.
Behavioral interviews
For behavioral/fit interviews, each fit interview is conducted within 30 minutes. Applicants will receive a set of questions based on their resume and the office they are applying to. Possible questions include:
Why Oliver Wyman?
Which projects has Oliver Wyman done?
How does your past prepare you for the position?
Tell me about your CV.
Tell me about something off resume.
What do you do outside of work?
Why?
What do you think are the main skills relevant for consulting? How do you evaluate yourself among those?
Sectors you see yourself working in 5 years?
Case interviews
For case interviews, there are often two types of case interviews applicants will go through during the screening process. The first one involves solving case interviews with current consultants/managers at Oliver Wyman, while the second one is a case interview with 2 to 3 other partners. Each case interview has a time limit of 30 to 40 minutes.
There is a wide range of case interviews you might encounter; however, typical case interviews include:
Market sizing
Business situation
Investment evaluation
Product launch
Written case study
During their "Super Day" Assessments, Oliver Wyman also conducts written case studies in selected locations. This is the final round of the interview process.
This interview session is not as common as the typical case study interview, but other MBB firms like BCG and Bain give them to applicants in certain regions as an assessment of the candidates' speaking and writing skills.
During Oliver Wyman's written case interview:
Candidates receive case information, including a business scenario, a business problem, and data.
Candidates have 30 minutes to analyze the materials and prepare a presentation.
Candidates have another 30 minutes to present their insights and answer questions from the consultant(s).
Consultants may pause your presentation to ask clarification questions. This is likely for testing your ability to support your recommendation under pressure rather than indicating that you got the "wrong" answer.
To tackle this presentation interview effectively, it's highly recommended that you know how to do a presentation like a consultant.
Regardless of the case interview types you might encounter, below is our typical 4 step approach to solving case interviews. We'll also be providing you with some examples for better comprehension.
Four-step approach
There are four basic steps to handle case interview questions:
Step 1: Clarify any unclear points in the question
Step 2: Announce the approach and ask for time
Step 3: Draw issue trees to solve the given problem
Step 4: Pitch your answer and end with a takeaway conclusion.
This is the general outline to do case interviews. Nonetheless, it may vary depending on each type and each question. For example, you only need the last step in brain teasers or information questions while you have to take all 4 steps to work on framework questions.
Oliver Wyman case interview examples
Oliver Wyman's case interviews are all candidate-led. This case interview format to lead the case by breaking down problems, hypothesizing the root causes, and asking for data from the interviewer to test your hypotheses. Below is a video to help you familiarize yourself with candidate-led case interviews by giving practice cases and step-by-step guidelines:
This case interview format is also used in many prestigious consulting firms, such as BCG and Bain. You can browse their websites for more official practice resources. However, these companies often provide a small number of sample cases for reference, so you need other reliable training programs like our Case Interview End-to-End Secrets.
In this program, we offer practice cases, detailed answer guidelines, and an actionable study plan to help you succeed in any case interview, not just ones from Oliver Wyman. Start preparing today and get ready to impress your interviewer!
Be aware of assessment criteria
In the preparation guide for case interviews on Oliver Wyman website, the firm mentions they look for the following when assessing candidates during case interviews.
How do you approach unstructured challenges? People at Oliver Wyman break down complex problems into logical components.
Can you evaluate data and use it in your analysis? Can you ask the right questions?
Can you think outside the box? Clients look to Oliver Wyman for fresh thinking and new approaches.
Can you apply common sense to complex business problems? The firm develops practical solutions, not theoretical constructs.
Can you ask the right questions? Individuals at Oliver Wyman learn to quickly pinpoint priority issues.
Can you communicate your ideas? Solutions need to be clear to clients at every level.
Keep in mind these above assessing criteria so you can deliver your case interview answers more effectively. This is also helpful while preparing for the real case interviews - you can use it as a checklist to evaluate whether your answers satisfy all the above questions.
Create a preparation strategy
It's a matter of fact that Oliver Wyman tests its candidates really extensively with countless case interviews in both of its interview rounds. In theory, it may not be difficult to prepare for each of the tests on its own (I.e master GMAT Critical Reasoning for verbal tests, GMAT Math for numerical questions, case interviews, and written case/presentation case). However, it may become tricky when you have to prepare for everything at once. With little to no strategy, you may end up over-preparing in one section and under-prepared in the other.
To spend your time effectively, you should identify your weakness and prepare a list of bullet points for the things you need to work on. By creating a learning strategy and scheduling study time for each subject, you know what to prioritize and learn more effectively.
Dedicate more time to practicing case interviews
Case interviews might be the most time-consuming part of your preparation for the Oliver Wyman application. Since there are different types of case interviews, you should spend a decent amount of time getting yourself familiar with each type. Chances are you might encounter other types of case interviews other than the 4 common ones: Market sizing, Business situation, Investment evaluation, and Product launch.
Additionally, with a rich profile of industries that Oliver Wyman has worked on, it will take you a great amount of time to try case studies of such industries. Therefore, do consider prioritizing your time for practicing and mastering case interviews.
Below is the list of Oliver Wyman's focused industries:
Automotive
Communications, Media, And Technology
Education
Energy And Natural Resources
Financial Services
Health And Life Sciences
Industrial Products
Private Equity And Principal Investors
Public Sector And Policy
Retail And Consumer Goods
Transportation