Bain & Company are among the top three largest and most prestigious management consulting firms and ranked as the best consulting firm to work in by Glassdoor. To land the desirable offer from Bain&Co, the candidates must pass the stressful yet compelling consulting interviews known as the Bain case interview.
In this article, we willl walk you through the fundamentals, techniques, tips and tricks you can use to ace the Bain case interview in an effective way.
Bain case interview is a screening tool used in Bain interviews to evaluate a candidate's problem-solving and analytical skills. It is used to predict how well the candidate may perform as a consultant if they are hired. This assessment typically takes 40 to 60 minutes and can consist of multiple cases.
Bain case interviews are candidate-led. In this format, candidates are expected to lead the case by breaking down problems, hypothesizing the root causes, and collecting data from the interviewer to test their hypotheses. Candidate-led case interviews, therefore, are less structured than McKinsey's interviewer-led, in which the candidate must answer given questions instead of deciding their own approach.
To gain a better understanding of the Bain case interview format, here are some important features of candidate-led case interviews to keep in mind:
Candidate-led cases focus on one big problem. In these cases, you solve the problem as a whole, instead of addressing it through each question like in interviewer-led cases.
Candidate-led cases are more flexible: You are free to analyse the problem in the way you think is best.
Candidate-led cases focus less on giving the right answer: There is a large margin of errors allowed as you have very little assistance from the interviewer.
Another consulting firm using the candidate-led case interviews is BCG. Learn more about this interesting case interview format in our Complete Guide to BCG Case Interview.
Bain case interviews are the third stage of the company's hiring process. The hiring procedure is divided into three stages: Application ⇒ Online tests ⇒ Interviews. The whole process usually takes between 4 and 6 weeks, with usually 14 days between phases. Each level of Bain's selection is described briefly below:
Stage 1: Application
The first stage of Bain's hiring process is resume and cover letter screening. Usually, candidates can apply via Bain online application form, allowing them to collect all the data quickly and easily, as well as submit any necessary documents. Check out Bain's FAQs for more credible information about the application round.
The resume and cover letter should showcase your consulting attributes, and qualities Bain looks for, apart from educational background or work history. You can equip yourself with guidelines and templates for a perfect consulting resume with our Complete Guide to Consulting Resume.
Stage 2: Online tests
After submitting your application form, you will progress to Bain Online Tests. The Bain Online Test, sometimes known as the Bain Online Assessment, is a set of pre-interview screening tests used by Bain & Company, assessing skills and traits necessary for consulting work: cognitive abilities, problem-solving skills, or cultural fit.
Bain Online Tests is not uniform across offices worldwide. The question types, format, and design can vary from place to place. Fortunately, most tests' format and underlying purposes at different Bain offices are similar. The common tests are:
Aptitude test
Analytical test
Business case test
Personality test
One-way video interview
You can dive deeply into the fundamentals of each one and practice common question types in our Bain Online Test Overview.
Stage 3: Interviews
Typically, the Bain Interview process consists of 2 interview rounds: the first conducted by junior consultants or managers, and the second carried out by Bain partners to make a final decision. Both rounds include 2 common types of interviews:
Fit interview: often lasts 10-15 minutes, assessing a candidate's experience, competencies, motivations as well as personality fit.
Case interview: often lasts 30-45 minutes each, up to 6 case interviews, and usually divided into 2 rounds.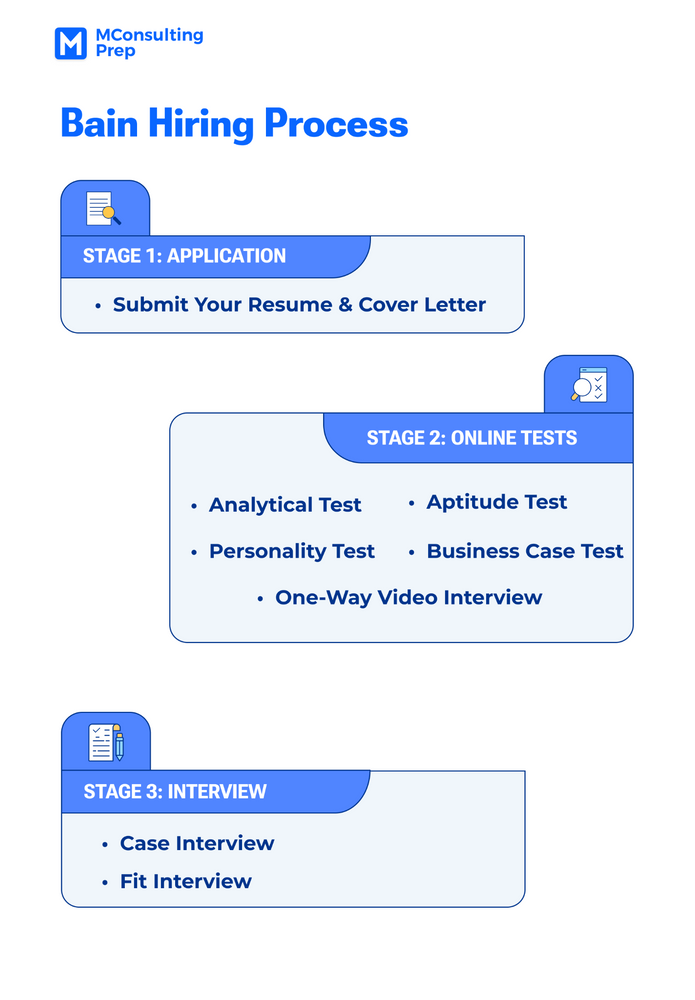 According to the Bain official website, the 4 qualities that the company seeks in a candidate are:
Problem-solving skills
This is one of the core values of a Bainee, yet a consultant in general, as they constantly find pragmatic solutions for clients. Therefore, the company is trying to find a candidate with the ability to analyze problems and resolve any problem efficiently and systematically.
The ability to lead
Bain employees must be able to manage individuals from diverse backgrounds and create a sense of belonging where everyone can perform to their full potential. When applying to Bain, emphasize how you've been a leader in the past, whether at work, school, or via extracurricular activities.
Results delivery
Bain is proud of its legacy of offering solutions that have a positive, quantifiable impact on our customers' objectives and reputations. Thus, they want to hear how you've made an impact in your previous work, along with significant results to an organization, project or team's success.
Passion
Candidates who push themselves to be exceptional and have the ability to motivate others are sought after by Bain. Throughout the selection, you should showcase your enthusiasm for the job, willingness to contribute, and entrepreneurial drive spirit.
Though the question types in Bain case interviews might vary, there is a standard process that you can apply for any case you encounter: Taking notes ⇒ Clarifying ⇒ Structuring ⇒ Hypothesizing ⇒ Pitching.
Taking notes
You will be given the case background at the beginning of a case interview. Make sure you pay attention to every piece of information interviewers give you, and take careful notes of key details about the client, the problem they are facing, and the objective they want to achieve. Moreover, keep your notes neat and organized to ease the storing and arranging information.
Clarifying
To get a case interview going in the right direction, it's crucial to ask the appropriate clarifying questions. If you skip this important step, you can misinterpret the objective, the business context, or technical terms. Make sure there is nothing unclear or unfamiliar before attempting to solve any case.
Structuring
In a case interview, structuring is breaking down a complex business problem into smaller components, allowing you to solve it more efficiently and professionally. Below are several helpful techniques to stay organized:
Keep the map habit: The map habit means regularly and explicitly checking where you are and where you're doing next. It also makes you sound structured and organized, which is a defining characteristic of a consultant and will immensely impress the interviewer. One helpful trick is to pause at each step.
Number your items: Numbering each item is a simple and efficient method to make your pitches sound organized. The formula is straightforward: "There are the items I want to discuss, they are: No.1... No.2... No.3...". This habit also creates an impression of MECE, a key principle in solving case interviews.
Focus on the big problem: If you feel like you're "derailing," check your progress on the issue tree and get back on track right away. Make sure that whatever you do, doesn't deviate from the main problem.
To learn more about how to keep structured, and different frameworks to approach case interviews, check out our Case Interview Guidebook.
Hypothesizing
To solve the client's issue, you must now develop a working hypothesis, which is an educated guess based on evidence and available data. Since you will be gathering information and testing your idea continuously, it need not be the final, definite solution to the problem. Along the way, your hypothesis will be refined and most answers the question.
Pitching
A closing pitch is the summary of all your findings and delivery of recommendations to the client CEO. Your final pitch, regardless of the wording, must include these 4 factors:
Introduction / Lead-in
Summary of the root causes
Summary of the solutions
Next step
Throughout the solving process, you can apply some helpful tips below to optimize your performance: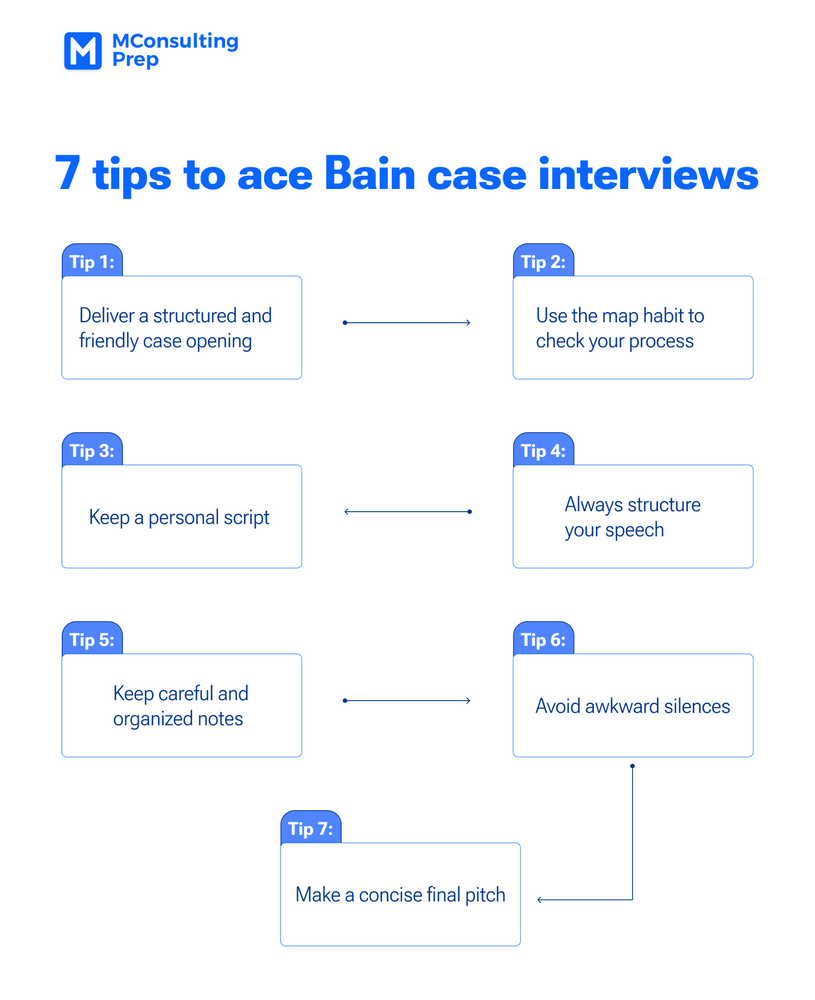 To excel in Bain case interview, you should familiarize yourself with common question types, especially candidate-led case interviews. Below is a comprehensive candidate-led example case from our Case Interview End-to-End Secrets Program, which thoroughly examines sample cases and uncovers step-by-step guidelines!
Bain also provides official case interview practice materials in their website. Let's try out some of examples from the company:
If you want to practice more example cases, discover instant-result tips and techniques for Bain case interviews, check out our Case Interview End-to-End Secrets Program. Besides mock cases and video guides, we also provide fundamental theory and intuition exercises to develop your case interview expertise!
Bain written case interview is an extension of the regular case interview. In this case interview, you will be given 20+ powerpoint slides that provide a client's situation. Before the interview begins, there will be about 55 minutes to review the slides, highlight key information, and script your suggestion(s) into slides. Then you'll have about 40 minutes to pitch your ideas.
Bain written case interview is required for applicants to specific roles. Bain uses this case interview format to assess your comprehension of written information, as a large amount of clients' data is in the form of reports and documents. Also, a written case interview requires you to summarize your results in slides and then deliver them logically, which are parts of consulting work.
Familiarize with candidate-led case examples
To become familiar with Bain candidate-led case interviews, you can watch official examples from Bain itself,
or practice further examples with MConsultingPrep's coaching service. Book a mock case interview with former consultants from MBB and other prestige consulting firms. Our experts will provide you "quality" practice with reliable case interview resources and actionable feedback to help you ace every case!
Practice consulting math
Consultants need to deal with a huge amount of quantitative data, so consulting math skill is a must. Here are some tried-and-true methods for making math practice easier and producing better outcomes:
Use Your Head: Do all your daily calculations mentally unless an EXACT answer is required.
Flatten the Learning Curve: At the start, a piece of scratch paper and a 5% margin of error really help; once you are confident, discard the paper and narrow down the margin.
Establish a Routine: Allocate some time for daily practice this may seem hard at first, but once you've overcome the inertia, you can literally feel the improvement.
Develop business intuition
Having business intuition makes you a much better candidate for case interviews. Improving business intuition is a gradual process; start early, practice every day and be patient. Step by step, these business insights will become ingrained in your instinct. There are 2 ways to sharpen your business intuition:
Written Sources: It's a good idea to read business papers every day. You can also find excellent articles on the McKinsey, Bain, and BCG websites. Be careful, though, because the important thing is not how many pages you read but what you learn from them.
First-hand Experience and Observations: Don't just show up to work; try to figure out what the senior managers are doing, the reasoning behind each decision they made, and how it has affected the organization.
Learn the basics and frameworks
To ace Bain case interviews, it is crucial to have a good grasp of the basics and structured approaches. Case interview principles like hypotheses, MECE, issue tree, and other frameworks are the backbone of any case, so make sure you master the use of those fundamental knowledge.
Equip yourself with basic terms, concepts, and problem-solving fundamentals in our in-depth Case Interview Guidebook.
Perform mock interviews
To familiarize yourself with common question types and improve your performance in case interviews, one proven way is to practice as many mock cases as possible. Find a former consultant to support your practice; they've been through numerous case interviews, both real and mock, so apparently understand what's expected of a candidate. Book a coach now to ease up your practice process!
During your practice, take time to study and review your cases thoroughly. Along the way, ask consulting experts for reliable feedback on your performance, take careful notes of your coach's comments, and focus on the areas of improvement.
What is Bain fit interview?
Bain fit interview covers a wide range of questions designed to assess a candidate's experience, skills, motivations as well as personality fit. The questions are divided into 2 types: traditional resume questions to better understand the candidates, and behavioral questions examining past experiences and how candidates handled them.
Long ago, consulting fit interviews were viewed as "just procedure" by interviewers and were only a small component of the consulting recruitment process. However, Bain fit interview is now drawing a lot of attention as it can demonstrate personal motivations and soft skills, the secret ingredients of a successful consultant.
Bain fit interview questions
Bain fit interview questions are classified into 2 common types: Why-our-firm questions and Personality questions. Let's look at several samples and learn how to ace each question type!
Why-our-firm questions
This question type can be asked under the form of:
Why are you joining the consulting industry?
Why are you interested in Bain?
Almost any employer, not just consulting firms, would ask you something like that. They want to ensure you won't leave once you've become helpful to the company.
The ideal response should cover 4 characteristics: unique, specific, authentic, and appropriate. You can check out our comprehensive article about Bain Fit Interview to learn how to best demonstrate each factor.
Personality questions
Personality questions is the least predictable and can vary from interview to interview; however, there are 3 topics that do come up repeatedly: Hobbies and interests; Workplace preferences; and Values & plans/traits & skills. Below is a table including examples and suggested approaches for each topic: