Bain Sova Tests are comprehensive, data-driven talent assessments that add more important data to the application process of this company. Bain Sova Tests has been used to replace Bain Online Tests in some offices.
This article will show you an overview of the Bain Sova Tests and explore each question type you'll face in the test, as well as suggest the best practice materials.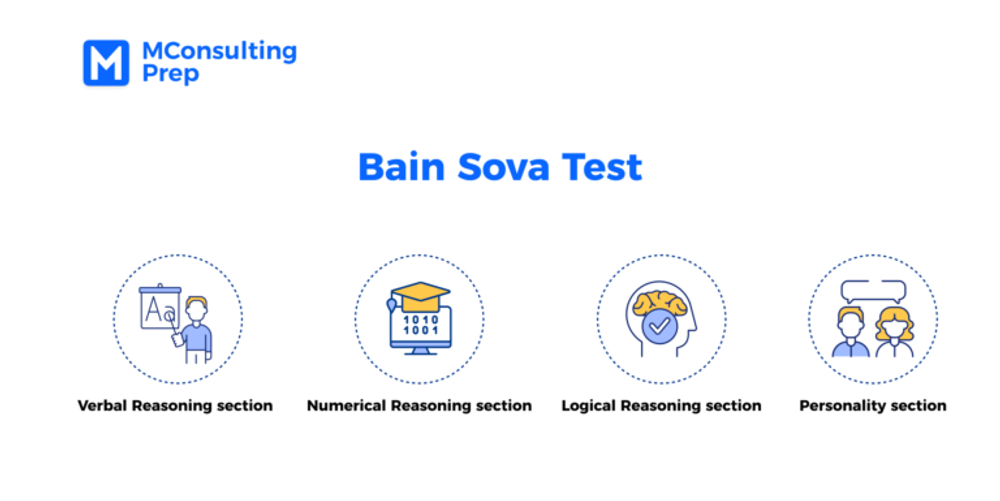 Bain Sova Test, provided by the UK-based Sova psychometric test publisher, is an aptitude assessment for those applying to Bain & Company. The test contains 4 main sections: Verbal Reasoning, Numerical Reasoning, Logical Reasoning, and Personality, with about 15 questions per section. There is no time limit and no timer displayed.
It's important to note that the amount of time taken is recorded. The combination of correctness and time spent answering questions will contribute to the final results. Hence, you need to complete questions both accurately and quickly.
Bain Sova Test is the second stage of the recruitment process, filtering candidates after resume screening and before an invitation to case interviews. The aim is to sort out candidates without the essential skills and traits before interviews – the test will help save time and improve selection effectiveness. Bain's recruitment process involves three stages as follows: Resume screening => Bain Sova Test => Case interview & Fit interview.
Stage 1: Resume screening
Like in other companies, resume screening aims to shortlist a huge pool of talent, filtering out the best candidates for the next round. However, due to the unique requirements (traits & qualifications) of consulting companies, including Bain, your resume should be absolutely perfect before you send it.
For example, your resume applying to Bain should be tailored to the consulting industry, such as: result-oriented, one-page long, non-image, non-color, etc. Explore the checklist below to craft a better "Bain" resume.
Stage 2: Bain Sova test
The Bain Sova Test is given to candidates who have passed the screening round. At this stage, Bain wants to assess your verbal, numerical, and logical reasoning skills and your work behaviors. The test involves a range of multiple-choice questions with no time limits.
Bain Sova Test measures candidates on skills and traits essential for consulting work – no prior experience is required. However, the test is often put in business contexts, so intensive practice and background knowledge would be crucial.
Stage 3: Case interview & Fit interview
To become a Bain-er, you need to pass through Case Interview and Fit Interview in the final stage. While the key to getting a consulting job at Bain is mastering Case Interviews, Fit Interviews have a decisive role in the whole recruitment process.
Bain Fit Interview (10 minutes) aims to make sure whether your qualities, motivations, and personality traits fit the company's culture. The interview involves behavioral/ personal experience questions, comparing your skills and personality in past situations with the company's workplace.
Learn more about Bain Fit Interview: McKinsey PEI & BCG/Bain Fit Interviews
In Bain Case Interview (30-45 minutes), you're given a business problem to solve – the problem with the entire surrounding business context is called a case. This interview assesses problem-solving skills, ownership mentality, leadership ability, technical skills, and business background.
Read more about Bain Case Interview: BCG & Bain Case Interview
The Bain Sova Test consists of 4 different sections, including Verbal Reasoning, Numerical Reasoning, Logical Reasoning, and Personality. There are about 15 questions in one section, with one sample question with detailed answers before you enter each section. Now we'll dive deep into every section and explore what questions look like.
Bain Sova verbal reasoning
Bain Sova verbal reasoning questions contain passages of information, accompanied by multiple-choice answers. Test takers must determine whether the given statement True/False/Cannot Say based on the data within the text. This section measures candidates' ability to interpret complicated written information.
Here's an example of a verbal reasoning question in the Bain Sova Test: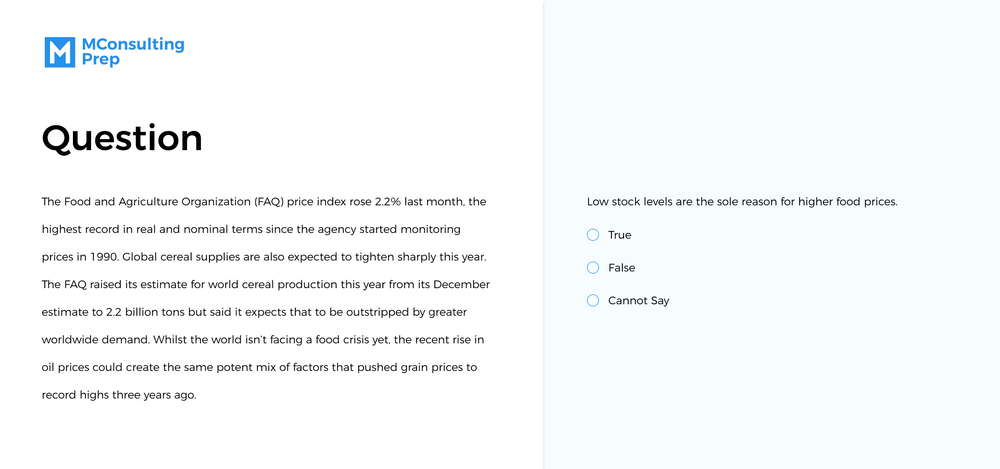 Answer: False
Explanation: The passage says, "While the world isn't facing a food crisis yet, the recent rise in oil prices could create the same potent mix of factors that pushes grain prices to record highs three years ago"
That means low stock levels are not the sole reason, another reason could be "rise in oil prices"
KEY TAKEAWAYS


This type of verbal question is also known as Making Inferences question. MConsultingPrep does have this question type in its
Verbal Package
. Our Making Inferences questions range from easy to hard levels (B1-C2 English language and simple-complex paraphrasing), which helps progress your practice effectively.
Bain Sova numerical reasoning
In Bain Sova numerical reasoning questions, you need to interpret data in tables and charts and then solve mathematical problems. This section aims to test candidates' ability to work with quantitative data.
Here's an example of a numerical reasoning question in the Bain Sova Test: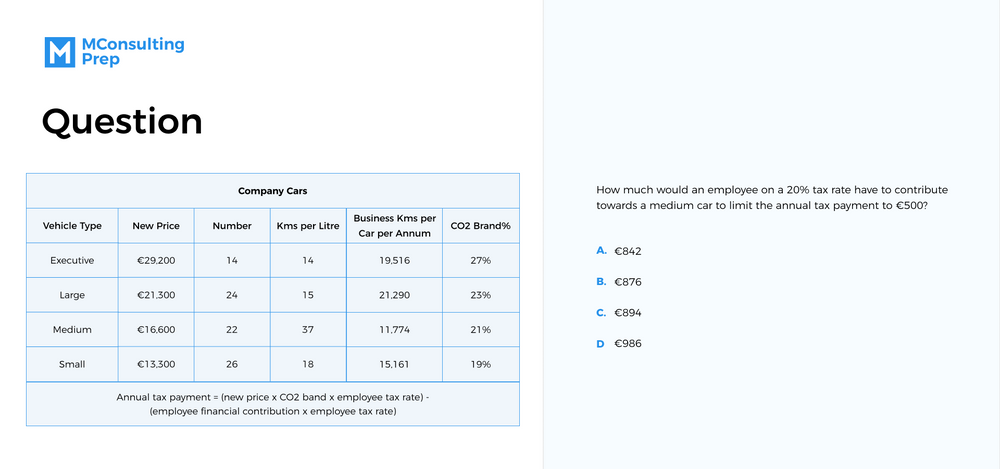 Answer: D
Explanation:
Annual tax payment = (new price x CO2 Brand% x employee tax rate) – (employee financial contribution x employee tax rate)
⇒ €500 = (€16,600 x 21% x 20%) – ( EFC x 20%)
⇒ €500 = €697.2 – (EFC x 20%)
⇒ EFC x 20% = €197.2
⇒ EFC = €197.2/20% = €986
So, the correct answer is D.
KEY TAKEAWAYS


This numerical question is called Data Interpretation. The most challenging factor is getting the most important data from tables or charts to answer questions.
Our list of
Data Interpretation questions
involves data in different forms besides tables and charts (lines, bars, pies, caselets). The more you practice, the higher chance you can understand data and solve problems correctly.
Bain Sova logical reasoning
Bain Sova logical reasoning test requires you to complete a logical sequence of shapes by identifying the sequence's pattern. The purpose is to assess candidates' ability to tackle abstract concepts and unfamiliar information.
Here's an example of a logical reasoning question in the Bain Sova Test: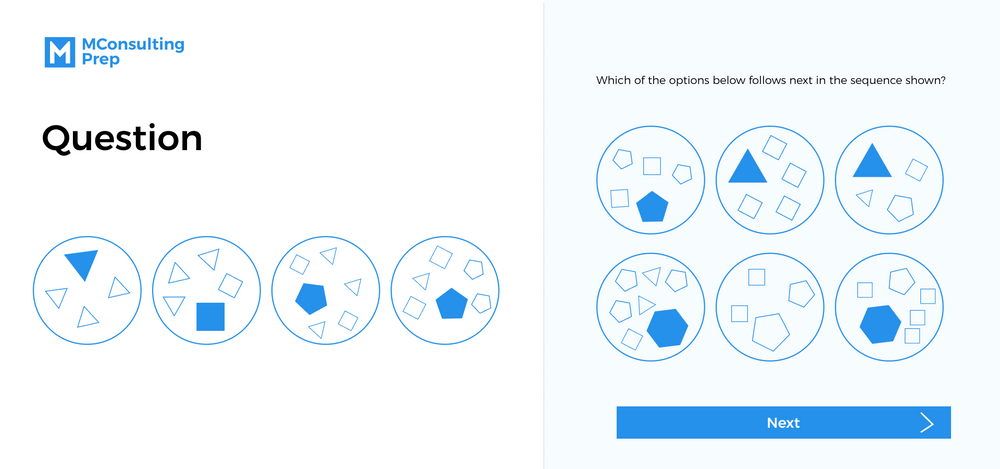 Answer: The bottom shape to the left
Explanation:
Elements: There are two elements in each big circle: a black shape and white shapes. The shapes can be varied among the circles.
Rules in the given sequence:
There is one black shape and some white shapes in the circle.
In each circle, the number of sides of the black shape exactly equal the number of white shapes (no matter what the white shapes are).
The total number of the white shapes' sides is in an ascending sequence that starts with 9. The next ones will add 4 at every step.
The sequence looks like this: 9, 13, 17, 21, 25, …
So, the answer is the circle with a black hexagon and 6 white shapes.
KEY TAKEAWAYS

This logical reasoning question is called Inductive Reasoning. The key to acing this question type is to practice.


At MConsultingPrep, we understand the importance of preparation, which is why we've designed over 400 inductive reasoning questions, including the most popular types found in aptitude tests. By practicing regularly, you'll become more familiar with the test and solve the questions quickly and accurately.
Bain Sova personality test
Bain Sova personality test involves a range of statements reflecting your workplace behavior – you need to rate them on a scale (from Least like me to Most like me). Personal traits that are often tested include flexibility, decision-making, motivation, problem-solving, communication, etc.
Below's a list of qualities you might be evaluated in the Bain Sova Test.
Focus: Flexibly adapt to changes in the tasks and handle many problems at once without neglecting one or the other.
Attention: Handle every task with structure and a stable pace
Decision-making: Make your decisions based on data and evidence, depending on your instinct and intuition.
Effort: Perform an 80/20 approach, working most effectively on the task at hand to seek an immediate outcome.
Learning: Demonstrate openness and willingness to learn and adapt to the feedback you get.
Risk Tolerance: Express a balanced risk-taking aptitude. Do not be too prone to take risks, as well as do not spend much time considering your options before you choose.
Emotion: Demonstrate that you can comprehend people's reactions, emotions, motivators, and underlying concerns.
Fairness: Focus more on fairness and equality when making decisions and identifying unfair situations.
Generosity: Be a nice team player, willing to forgo personal gain for other members' sake or the greater good of the team.
Here's an example of a personality question in the Bain Sova Test: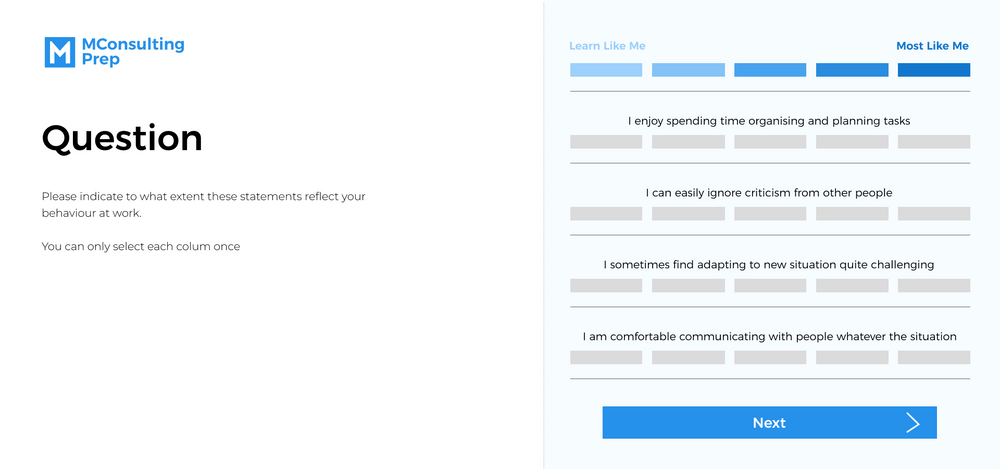 Note: There are no right or wrong answers for personality questionnaires. Being honest is what you need to do.
MConsultingPrep has rolled out the full aptitude test package (verbal, numerical, logical reasoning test - deductive & inductive). This product contains the same types of questions you may face in the Bain Sova test.
Our packages are built with a large variety of questions, from simple to complicated, making it the most proper practice material. Getting familiar with these question types would gain you an edge over the competition.
Before you make any purchases, try our free trial test. It's great to experience our product firsthand and see if it meets your needs. Your feedback is valuable to us, so please drop some lines after you complete the test.
1. Bain Sova Test vs. Bain Online Test?
While the Bain Sova Test is a psychometric assessment, the Bain Online Test may consist of 5 different assessments (including a psychometric one). In general, Bain Sova Test provides a more holistic assessment of candidates.
Bain Sova Test
Bain Online Test
Verbal Reasoning section

Numerical Reasoning section

Logical Reasoning section

Personality section
Aptitude test (verbal, numerical, logical reasoning)

Personality test

Analytical test

Business case test

One-way video interview
2. How is the Bain Sova Test scored?
Bain Sova Tests are NOT time-restricted, and there's no timer on the screen. Candidates can take as much time as they need to answer all the questions. However, the time taken will be recorded – the test results are evaluated based on accuracy and answering speed.
So, manage your time wisely so you can complete the test correctly and quickly.
3. Which offices use the Bain Sova Test?
According to Bain & Company, Bain Sova Tests are mainly used in Europe and the Middle East offices.