Case interviews at management consulting firms are among the most difficult job interviews, but they are also quite predictable. Once you know the types of questions they ask, preparation is straightforward.
Using years of experience at McKinsey, as well as field reports from thousands of candidates, I've crafted a list of 8 common case interview questions, and in this article, I'll show you how to answer each of them.
Types of case interview questions
Most questions in case interviews belong to one of these 9 types:
1. Framework/issue tree questions
2. Market-sizing and guesstimate questions
3. Valuation questions
4. Brain teaser questions
5. Chart insight questions
6. Value proposition questions
7. Information questions
8. Math problems
9. Solution-finding questions
In this article, we'll discuss how to answer each question, along with the necessary tips and tricks.
How to answer case interview questions
There are the four basic steps to answer case interview questions:

Step 1: Clarify any unclear points in the question
Step 2: Announce approach and ask for time
Step 3: Draw issue trees to solve the given problem
Step 4: Pitch your answer and end with a takeaway conclusion.
This general outline may vary depending on each type and each question – for example, brain teasers or information questions need only the last step, while market-sizing and framework questions need all four steps to deliver the perfect answer.
These are on top of the list among popular case interview questions!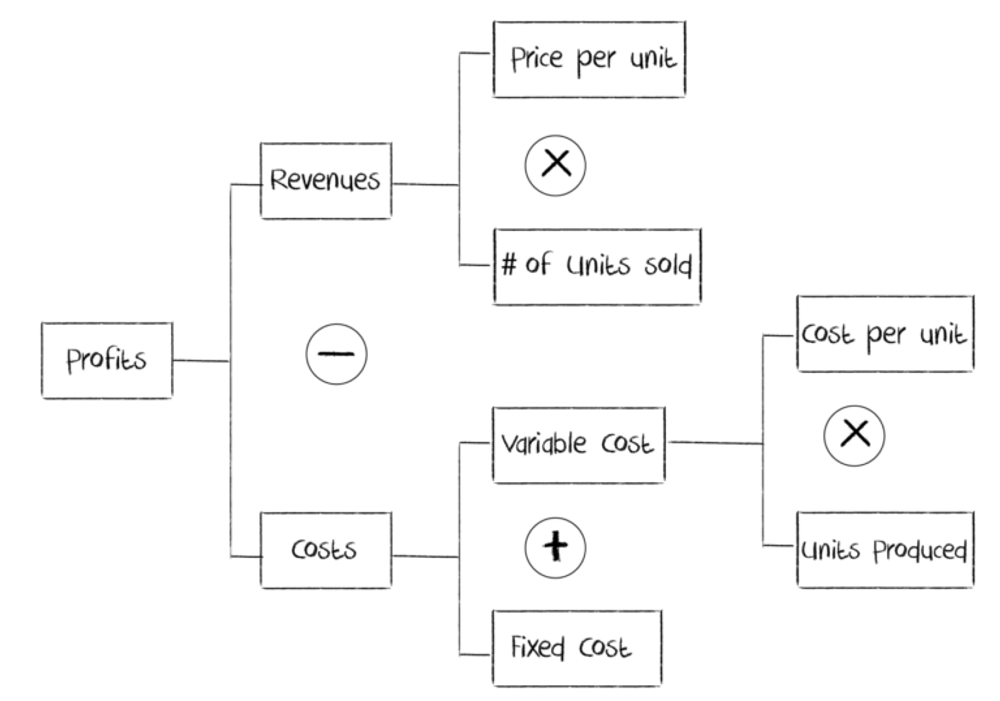 If the interviewer asks you to identify factors contributing to a problem or to break down an entity (such as the revenue of a business), he/she is telling you to draw an issue tree.
And to draw a spot-on issue tree, you need to master consulting problem-solving foundations, the MECE principle, and common consulting frameworks. You should check out our other articles on these topics before moving on, because mastering the issue tree is the key to acing every possible case interview.
You also need good business intuition to draw good issue trees, so that's all the more reason to start reading every day.
EXERCISE
Gastronomia – a gourmet restaurant chain has found the turnover rate among its highly-skilled chefs increasing dramatically for the last 3 years; this has led to a noticeable decline in food quality and increased training costs, among other negative effects.
Which factors would you consider when tackling this turnover problem?
Answer Key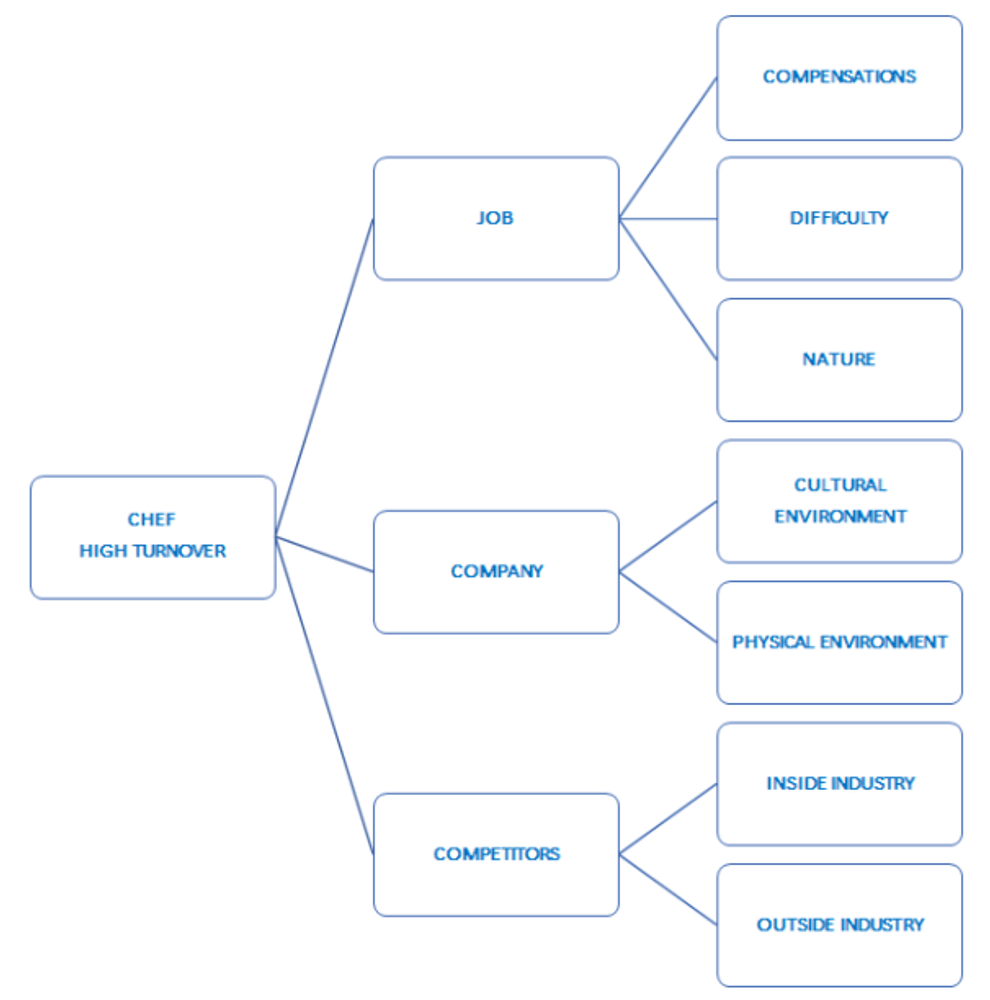 Job: Factors from the job itself. Further divided into 3 sub-branches
Compensations: are the salaries, bonuses, and benefits attractive enough?
Difficulty: is the job too difficult?
Nature: is the job too boring, too unengaging, too repetitive…?
Company: Factors from the work environment within the restaurant chain, surrounding the affected jobs. Further divided into 2 sub-branches
Cultural environment: is the culture at Gastronomia compatible with the chefs?
Physical environment: is the physical working environment at Gastronomia safe, comfortable, convenient…?
Competitors: Factors from outside the restaurant chain, related to competing job offers. Further divided into 2 sub-branches.
Inside industry: are other restaurant chains competing with Gastronomia for skilled personnel?
Outside industry: are there new career options or changes in existing alternatives that draw chefs away from restaurant chains like Gastronomia?
For detailed guides on issue trees, frameworks and their principles, see the articles on Issue Trees, Case Interview Frameworks, and MECE Principle
These are on top of the list among popular case interview questions!

These questions go along the lines of "How many trees are there in Central Park?" or "What's the market size of pick-up trucks in the USA?"
The key to nailing market-sizing and guesstimate questions lies in not the closest results, but the most logical and structured approaches. In fact, the interviewer expects you to follow these four steps:
Step 1: Clarify: Make sure you and the interviewer are on the same page regarding every detail and terminology, so you won't be answering the wrong question.
Step 2: Break down the problem: Break the item in the question (number of trees in Central Park, market size of pickup trucks) down into smaller, easy-to-estimate pieces.
Step 3: Solve each piece: Estimate each small piece one at a time; each estimation should be backed by facts, figures, or at least observations.
Step 4: Consolidate the pieces: Combine the previous estimations to arrive at a final result; be quick with the math, but don't rush it if you aren't confident.
Unless you come up with something about 10 times the reasonable estimate, don't worry about being "wrong" – the interviewer is unlikely to have a "correct" number in mind, he/she just wants to see your structured mindset.
This question type is so common, we devote a whole article to it, and our Case Interview End-to-End Secrets Program have a separate package on these questions. Check out our comprehensive guide on Market-Sizing & Guesstimate Questions for more details!
Now, here's a quick example for you to try and get used to this type:
EXERCISE
How many smartphones are sold each year, globally?
Answer Key
Clarify:

Smartphones are phones using exclusively touch-screens.
"Sold" means sold to the end-consumers.
The market size is calculated at present.
Break down the problem:
The global smartphone market can be divided into three segments – developed countries, developing countries, and undeveloped countries.
In each segment, the annual unit sales of smartphones depend on four variables:
Population
The percentage of "phone-owning age" people among the population
The percentage of smartphone owners within the "phone-owning age" group.
The average, annual, per capita "consumption" of smartphones for those owners.
Solve each piece:
The population is 1.5 billion in developed countries, 5.5 billion in developing countries, and 1 billion in undeveloped countries.
80% of the world population is in the "phone-owning age" (Global life expectancy is 70 and everyone older than 15 years counts towards the "phone-owning age" group)
100% of the phone-owning age in developed countries will own a smartphone; the figure in developing countries is 75%, while in undeveloped countries it's 10%.
The average smartphone user replaces their phone every 3 years – so they "consume" 0.33 phones each year.
| | Developed | Developing | Undeveloped |
| --- | --- | --- | --- |
| Population | 1.5 billion | 5.5 billion | 1 billion |
| Phone-owning age | 1.2 billion | 4.4 billion | 0.8 billion |
| Smartphone owners | 1.2 billion | 3.3 billion | 0.08 billion |
| Annual unit sales | 0.4 billion | 1.1 billion | 0.03 billion |
=> Estimated global smartphone market: 1.53 billion units per year
=> Actual 2019 global smartphone sales: 1.37 billion units (error margin: 11.7%).
This market-sizing question is solved using a four-step process, which is explained in this article: Market-Sizing & Guesstimate Questions
Valuation questions are about estimating the monetary value of a business, and these are very popular in case interviews too!

Valuation questions are a blend of guesstimation/market-sizing, math, and business. They also require basic finance knowledge.

There are three ways to estimate the value of a business:
The NPV Method: take the net cash flow generated by the business, and discount it to the present to account for time value of money. Basically "this company is worth X dollars because it gives me Y dollars over Z years". This approach works best when the cash flow from the business is positive and stable.
The Market Method: take one index of the firm (which can be stocks or anything depending on the industry) and multiply it with an industry multiple (the value of one unit of the said index). In other words, "this company is worth AxB dollars because it has A traffic and each traffic is worth B dollars". This approach works best when the market is transparent and data on similar firms are accessible – usually with major, established industries such as commercial airlines.
In real case interviews, you have to justify your approach then ask the interviewer to give you the necessary data.
EXERCISE
Our client wants to sell his organic-food restaurant (called "Cato's Cabbage Farm") to retire. How much is his restaurant worth?
(Supposed the interviewer gives you the following data: his current income from the restaurant is $100,000 per year; two other restaurants in the neighborhood – one with 2 times more customers, and another about 0.75 times, have been sold at $1,800,000 and $1,000,000 respectively).
Answer Key
NPV Method: Cato's Cabbage Farm value = $100,000 / 10% = $1,000,000
Market Method:
Assume the number of customers for Cato's Cabbage Farm is 1 "customer unit", then the two neighborhood restaurants get 2 and 0.75 "customer units".

Industry multiple: ($1,800,000+$1,000,000) / (2+0.75) = ~$1,018,182
Cato's Cabbage Farm value = $1,018,182 x 1 = $1,018,182
Brain teasers are the least predictable case interview questions – but even these can be learned!

Brain teasers are riddles designed to test unconventional, creative, and logical thinking. A famous example of this is Accenture's "How do you put a giraffe in a fridge?".
Although not as popular as before, brain teasers might still appear in consulting interviews; therefore, you should spend some time to prepare.
Most brain teasers can be allocated into these seven types:
| | |
| --- | --- |
| Illusion questions require you to bypass misleading details to spot what's important. | Pattern/trend questions require you to identify trends and patterns, then fill in the blanks. |
| Draw-explanation questions require you to use stories to explain weird and seemingly impossible situations. | Wording questions require you to find alternative meanings to words to explain impossible situations. |
| Letter-trick questions require you to identify meanings hidden behind the organization, composition, and visual demonstration of letters. | Market-sizing & guesstimate questions require you to estimate vague, sometimes unverifiable figures; we've just covered these in the previous section. |
Logical questions are pure logic riddles – there's no trick, no illusion, no creativity.
In our Case Interview End-to-End Secrets Program, there are +200 brain teasers to help you prepare for these "unpredictable" questions. You can also read our article about Case Interview Brain Teasers for insights on all of these exciting brain teasers, as well as 30 example questions and answers!
EXERCISE
How do you put a giraffe in a fridge?
Answer Key
Open the fridge, put the giraffe in, then close the fridge.
The question never says how big the fridge or the giraffe is.
For the logic and approach behind each kind of brain teasers, see the article on Brain Teasers.
You can't be a management consultant without mastering the use of charts – the complex, scary-looking real-world charts such as those included in our Case Interview End-to-End Secrets Program.
In management consulting and case interviews, most charts are one (or a combination) of these four basic types:
Bar charts compare the values of several items at one point in time, or 1-2 items at several time intervals.
Line charts illustrate time-series data, i.e trends in data over a continuous period.
Pie charts illustrate proportions, i.e "parts of a whole" analyses.
Scatter-plots use data points to visualize how two variables relate to each other.
To read these charts and answer chart-insights questions effectively, you must follow a structured, comprehensive process:
Read the labels: You must be 120% sure what the chart is showing; to get that information, carefully examine these items: title, axis labels, units of measurement, categories and series, legends and footnotes.
Look for insights: To extract the most comprehensive insights from any chart, ask yourself these questions – 1. "What is the usual purpose of this chart type?", 2. "What's my objective in using this chart?", and 3. "Are there any abnormalities in the data?". One key note here: always add at least one "so-what" to your answer – to a consultant, data means nothing without implications.
You can find a more detailed guide in the Charts section in our article about Consulting Math.
EXERCISE
What can you draw from the following chart?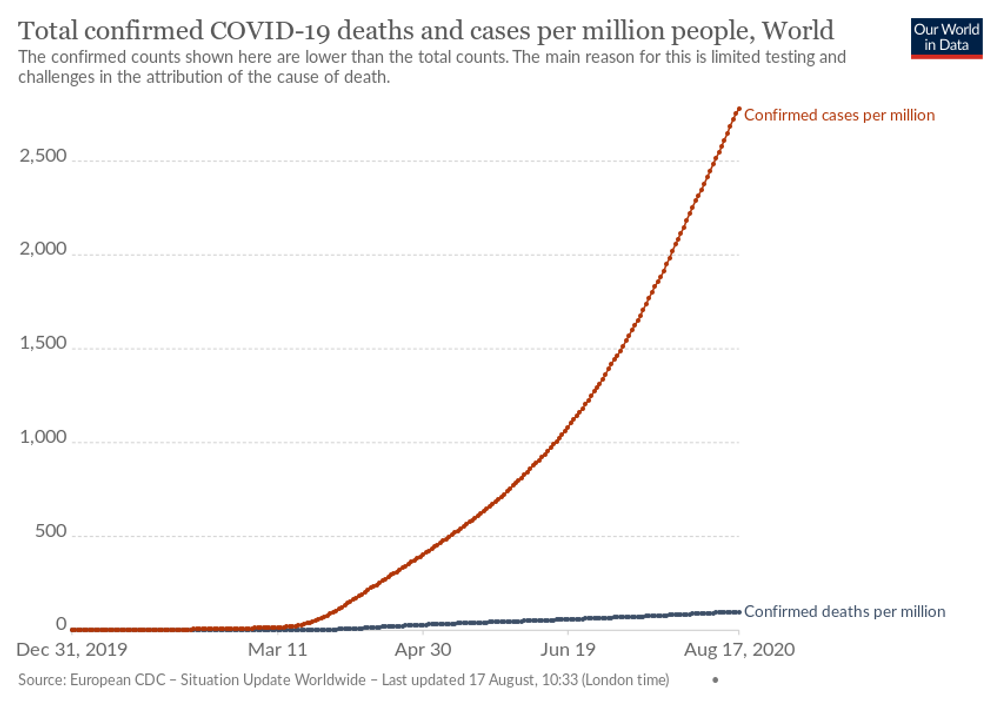 Answer Key
Trends in chart:
Very steep rise around March 11 in the number of COVID-19 confirmed cases – from a negligible number to about 2,800 per million in just 5 months
Steady rise in the number of confirmed deaths to about 70-80 per million;
Both changes started around March 10-11.
Implications:
These sudden rises can be explained by events occurring in early-March, and 2.
If number of cases is kept low, the threat from COVID-19 will remain minimal, considering a mortality rate of only 2%.
No business or consulting candidate can succeed without understanding the customers!
Value-proposition questions are not only about correctly identifying customer preferences, but also about analyzing and delivering the answer in a structured fashion. The former relies heavily on business knowledge and intuition, but the latter can be trained methodically and quickly. Personally, I use a "double issue-tree" – essentially a table with customer segments on one axis and proposed values on the other:
For segmenting customers, you can use the following table. However, don't over-rely on it, since there may be more relevant and insightful question-specific segmentations.
Geographical
Demographic
Behavioral
Psychological
Segments the market based on the geographical location of customers
Segments the market based on personal characteristics of the customers (e.g: age, income, etc.)
Segments the market based on how customers act
Segments the market based on how customer think
In some cases, clarification is also necessary – both to avoid "answering the wrong question" and to narrow down the range of customers/values you need to cover in the answer.
EXERCISE
What will a customer consider when buying a Toyota sedan?
Answer Key
Clarification: A sedan must be branded "Toyota" to be a Toyota sedan – cars with other Toyota-owned brands such as Lexus or Ranz do not count in this question.
Situational Assessment:
Toyota sedans occupy the entry-level and mid-range price segments, so Toyota customers will be more price-conscious than, for example, Lexus customers.
They are also less likely to lean considerably towards one particular factor, so achieving a balance is extremely important.
Functionality factors:
Safety: Nobody wants an unsafe car, so the safer the car, the better.
Comfort: Toyota sedans are mostly for everyday use, so customers should feel comfortable being inside the car.
Utility: Toyota sedans are used for multiple purposes, so convenience for a wide range of uses is important.
Cost factors

Purchase price: A car can be an expensive investment while Toyota's low-to-mid-range customers are more price-conscious, so having a cheap/reasonable price is important.
Fuel and maintenance: Maintenance and fuel costs over time are likewise inversely related to the decision to buy a Toyota sedan.
Physical factors

Performance: Customers are usually drivers themselves, who often pay attention to the technical characteristics of the car (speed, acceleration, handling, etc.)
Visual design: The car should possess the same level of visual appeal as other competitors in the same segment.
Build quality: Parts of the car should be assembled in a reasonably good manner.
Emotional factors

Branding: The car should come from a well-known, reputable brand
Personal preferences: Some customers choose specific cars simply because they "like" the car.
In any problem-solving process, information is one of the overarching concerns!
"Information questions" essentially ask if the piece of data you use is obtainable in the first place. In real consulting work, data is not always available – client team members may refuse to cooperate or there's simply no data on the subject.
There are many kinds of information sources in case interviews/consulting works, but I'll divide them into primary and secondary sources. Primary sources means you must do the research yourself (or pay someone else to do it for you), such as customer surveys or mystery shoppings. If someone already did that research, and you use their results, it's called a secondary source – you can get these from the client, the consulting firm you work for, or third-parties such as market research firms or external industry experts.
You can find out more about these sources and how to cite them in real case interviews through this free Prospective Candidate Starter Pack, which contains a glossary of data sources in consulting.
Our Prospective Candidate Starter Pack has a sheet containing all the possible sources of information in case interviews and consulting projects, among numerous other free resources; you can download and use it to answer these questions, by subscribing to our newsletter at the end of this article.
EXERCISE
How do you assess your target customer's preferences for sports cars?
Answer Key
Primary sources: customer survey, customer interviews,
Secondary sources: industry reports, client sales reports, third-party expert interview, client expert interview
A lot of information in case interviews and consulting work comes in the quantitative form, so you won't escape Math by joining the consulting industry!

When you have to do the math, perform back-of-the-envelope calculations in a structured fashion, and say out loud what you're writing. For one thing, it's safe; for another, you show that you're careful, organized, and reliable – just like actual consultants.
We have a Math Practice Tool right here! Use it every day, and you'll be a master of mental calculations in no time flat!
We have a dedicated article on Consulting Math, which you should definitely read.
What's the point of analyzing a problem, if not to solve it?!

When dealing with solution questions, keep these four points in mind:
Firstly, in case interviews as well as real consulting projects, solutions must always solve every root cause of a problem, so remember to check if your solutions are relevant and comprehensive.
Secondly, every solution must be actionable – if your solutions are too expensive, too time-consuming, etc. for the client, they're useless.
Thirdly, the interview expects a highly-structured answer; so segment your solutions based on their characteristics (long-term vs short-term is the easiest segmentation)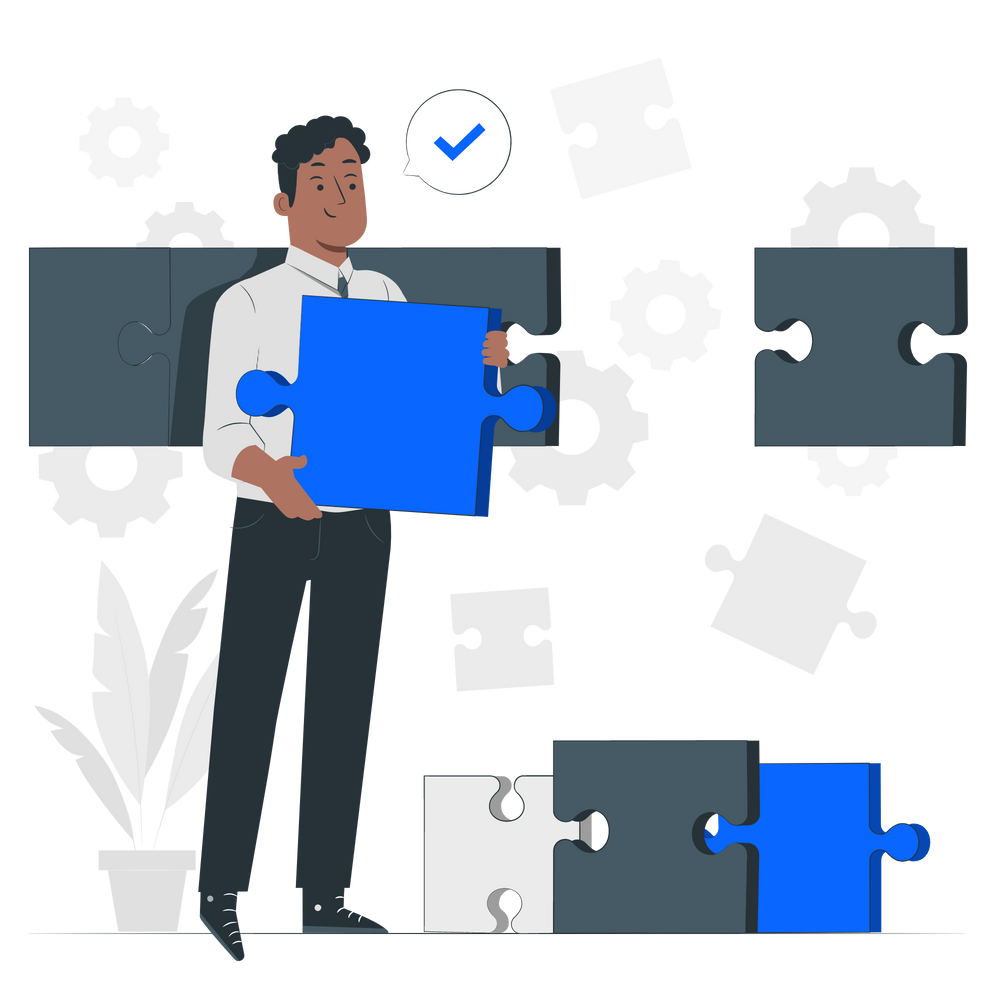 Last but not least, deliver at least two solutions, preferably three to five. Otherwise, you'll appear uncreative and lazy to the interviewer's eyes.
Nailing these questions relies on having excellent business intuition; our Case Interview End-to-End Program has a dedicated Business Intuition package, but you should also train a habit of reading consulting and business articles daily, to sharpen your business mind.
EXERCISE
A restaurant that relies solely on on-premise dining found the loss of adjacent parking space (due to termination of contract) harming their revenue. How can they fix that?
Answer Key
The solutions for the restaurant's parking space problem can be divided into two types:
Short-term solutions: Find new parking space around the neighborhood, or renegotiate for old parking space (possibly at a higher price).
Long-term solutions: Introduce takeaway items and off-premise dining.
The questions are not clear-cut in candidate-led cases
There are two extremes in consulting case interview format: interviewer-led (McKinsey) and candidate-led (BCG, Bain).
Interviewer-led cases, on one hand, consist of multiple, clear-cut questions in a larger business case context; the candidate navigates through these questions to arrive at the solutions.
Candidate-led cases, on the other hand, have one big problem, which the candidate must break down into small pieces to identify the root causes and deliver solutions.
This list, therefore, is much more relevant to the interviewer-led format; nonetheless, this guide is still quite beneficial for candidate-led cases, because when solving that big problem, you'll have to tackle small issues similar to the 8 aforementioned question types.
Mastering the fundamentals is crucial to consistent performance
Although it's good to study the case interview questions, it is no substitute for mastering the fundamental principles.
Learning the exercises without the basics is like building a house without a foundation. My poor neighbor's house developed a huge crack right down the center because of its weak foundation, so make sure to build your case interview prep a strong one by knowing the basics first.
Once you've mastered the fundamentals, you'll become much more flexible – this quality is getting increasingly important because case interviews are getting less predictable, and more realistic.
If you haven't, I advise you to read these articles (especially the first 4) before practicing the question types:
Expect the unexpected
If you study those nine question types, rest assured that you've covered the majority of questions in case interviews.
However, these are not all the possible questions you might be given. In actual cases, there are always questions that cannot be categorized neatly. If you do not prepare for these questions, it's easy to be thrown off-balance.
So, how do you prepare for "the unexpected"?
Master the basics: Focus your efforts on the basics, once you've mastered them it'd be comfortable to move on to higher, more sophisticated levels.
Business Intuition: You need business intuition for a business-related job, it's simple as that. Nearly every case concerns business in one way or another – even public sector cases. This is why we also teach business intuition in our Case Interview E2E Secret Program.
Have mock case interviews: Practice case interviews with ex-consultants will help you get a sense of what might happen or how you might be evaluated in actual cases. Highly experienced coaches from MConsultingPrep will review your performance, giving you the most valuable feedback and actionable tips & techniques.