To land a job at KPMG, candidates have to successfully pass the KPMG Online Test. The test takes place after the resume screening round, helping KPMG to assess candidates' cognitive ability and personality fit with the firm. In this article, I will provide an overview of the KPMG Online Test, examples of most common question types as well as preparation guidelines.
What is a KPMG Online Test?
KPMG Online Test or KPMG Online Assessment is the second screening round in the KPMG recruitment process, taking place right after the resume screening. The test is designed to assess candidates' mental capability, reasoning, critical thinking and their personality fit with the firm. It helps filter out unqualified candidates, saving the expensive time and resources put in the later rounds.
Each KPMG office is entitled to their own test, so there is no consistent test format across locations and positions. So the first step in the preparation process is to figure out the exact test formats and principles of your target office.
KPMG Online Test formats
The KPMG Online Test is not a standardized test, it varies according to positions and locations. Here are some of the most common test formats reported used by KPMG. Each candidate has to go through one or a combination of them to pass on the next round:
KPMG Game-Based Behavioral Assessment: This is a psychometric test used to measure cognitive capability and decision-making style of KPMG candidates. The game used varies across offices but the most common ones are "KPMG Ready" and "Cognify and Emotify"
KPMG Aptitude Test: The KPMG aptitude test is a computer-based test, but some offices require physical attendance. It comes in three parts: numerical, verbal and inductive reasoning. The basic principle of this test is the same as a standard aptitude test.
KPMG Scenario-Based Assessment: It is an immersive assessment where candidates are provided with information in the form of videos, podcasts, articles, voicemails and emails to answer a series of questions. Candidates' response, ability to use given information will be used to determine their situational judgment as well as verbal and numerical reasoning skills.
KPMG recruitment process
KPMG does not have a standardized recruitment process, but in general, the process in most offices is basically the same with five steps:
KPMG Online Application: The online form will ask you to provide details of your education and any academic results, work experience and potentially some motivational questions, depending on the business area you apply to.
KPMG Online Test: This test varies in formats and knowledge requirement. The purpose of this test is to assess candidates on their cognitive capability and personality fit with the firm.
KPMG Digital Submission/Video Interview: This round involves video recording your answers to a set of provided questions within a data context and submitting them via a special video interviewing platform used by KPMG.
KPMG Launch Pad Recruitment Event: It is a full-day event gathering KPMG applicants across positions and KPMG professionals. During the event, candidates go through group exercises, analysis projects, and one-on-one interviews. This is a chance to network with professionals at KPMG, and gain insight into KPMG work life.
KPMG Final Interview(s): These interviews with seniors and managers of KPMG, help them to see through candidates' personality, skills and communication capability.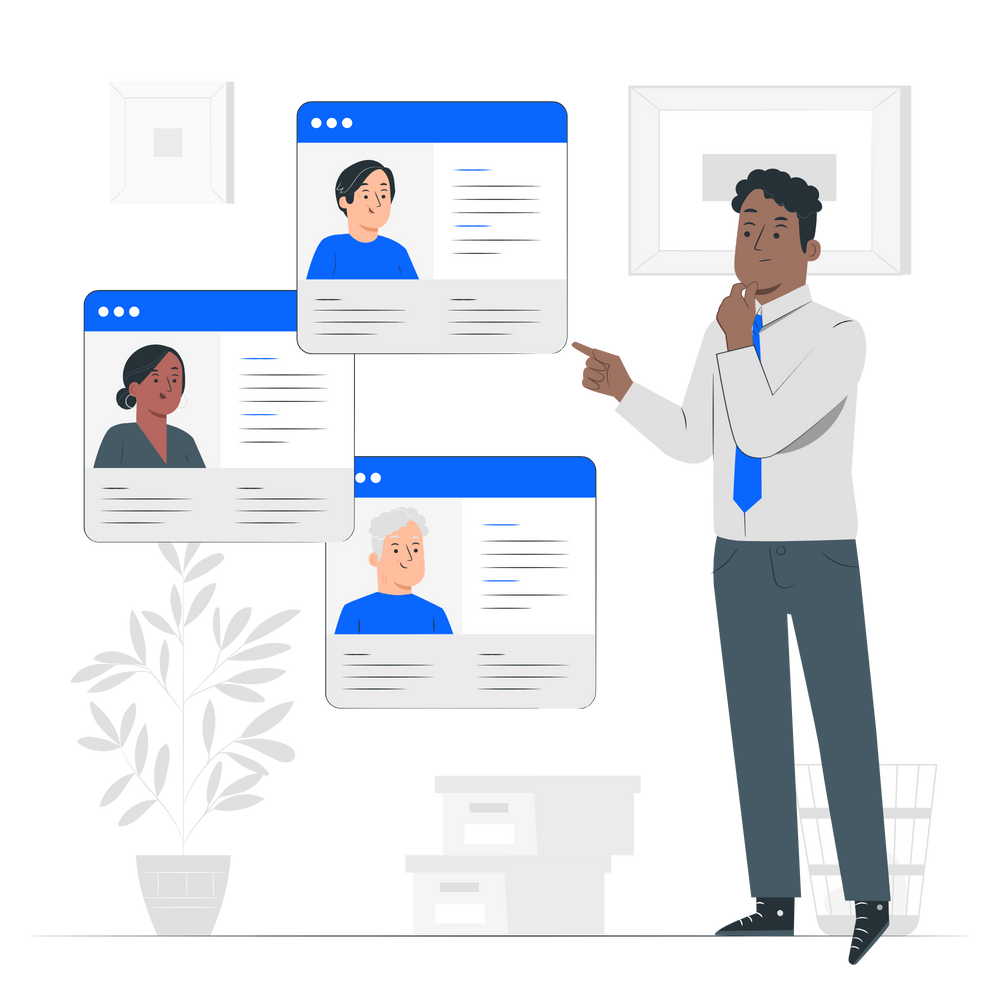 KPMG Online Test pass mark
KPMG Online Test cut-off rate/pass mark is reported to be 75%-80%. Candidates have to nail over 75% of the questions to be passed to the next round. This test often rejects more than 60% of candidates.
What is KPMG game-based behavioral assessment?
Game-based behavioral assessment is a psychometric test used by KPMG. It measures cognitive and emotional intelligence based on the candidates' response and ability to make decisions. The game used in this round varies from office to office, and the most common one is KPMG Ready developed by Arctic Shores and Conify and Emotify by Revelian.
Cognify and Emotify game-based assessment
Some KPMG offices, for example Australia, use Cognify and Emotify game-based assessments to measure your decision-making style, emotional intelligence, perception and understanding. This assessment is divided into two parts:
Cognify:

this part consists of six minigames to be completed in approximately

30 minutes. It measures cognitive ability critical to every role: problem solving, numerical reasoning and verbal knowledge. The test shows KPMG each candidates' strength and weakness in a comprehensive report.
Emotify: this is an interactive measure of emotional intelligence, perception and understanding as employees with high emotional intelligence tend to be more productive, more stable, better at communicating and solving problems, and easier to work with.

It consists of

two separate ability-based mini games to be completed in 20 minutes.
KPMG ready game-based assessment
KPMG Ready is the game-based assessment used by KPMG in their recruitment process. It requires completing ten to eleven distinct and interactive game challenges accessible through a mobile device or PC. It provides KPMG with detailed insights into candidates' personality and natural strengths that help shape personal development.
There is no right or wrong answer to KPMG Ready. The game offers a fair and objective way for you to demonstrate your decision-making style through a series of activities and challenges. After completing KPMG Ready you'll automatically receive a personalized report of your performance, as well as your personality and strengths.
What is the KPMG aptitude test?
The KPMG Aptitude Test is used to assess a candidate's cognitive capability. It follows the format of a standard aptitude test, with three mini tests: numerical reasoning and verbal reasoning. Each has a restricted time of 20-30 minutes. The test is developed by Cubiks with difficulty level depending on business areas and position you are applying for. No prior knowledge is required as it is designed to measure pure mental capability.
KPMG numerical reasoning test
The Numerical Reasoning test provides candidates with numerical data in the form of charts, graphs and tables with up to four corresponding questions for each piece of data. Candidates have to analyze the given data and do the necessary calculation to reach the answers. There are a total of 24 questions and you can spend less than one minute on each question. A calculator is allowed during the test, though remember to double check before preparing.
This test is used by KPMG to evaluate candidates' ability to interpret numerical information and make decisions from statistical data.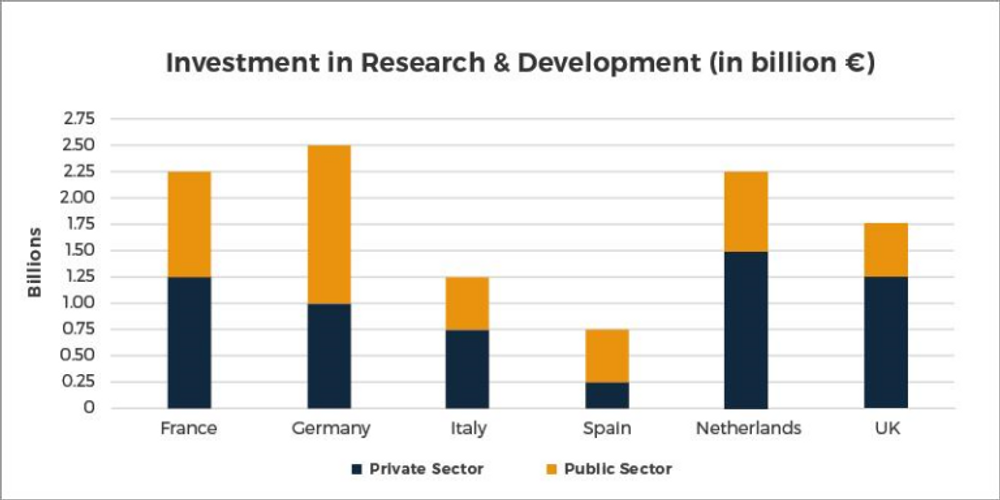 KPMG verbal reasoning test
Verbal Reasoning Test measures candidates' reading comprehension and grammar skills. This section provides candidates with text passages and corresponding questions. There are a total of 40 questions whose formats vary among spotting errors; fill in the blanks, reading comprehension, idioms, synonyms & antonyms.
Reading comprehension is the most popular question format, with two main types: multiple choice and True/False/Cannot Say based on the information given in the passage.
EXERCISE – VERBAL REASONING
Example from Cubiks

For the first time ever, more than half of new power capacity added last year came from renewable energy sources like wind and solar power, beating fossil fuels, according to a recent report. Last year represents a turning point because renewables now constitute 23% of global power generation. It is expected that this share will increase by an additional five percent in the next five years due largely to market forces and a shift in global policy in favour of renewable energy.
Governments are increasingly introducing policies that encourage the adoption of renewable power and aim to reduce the use of fossil fuels that produce the highest levels of pollution, for example coal, oil and natural gas. However, much of the transition to renewable power would likely happen even without this increase in regulation as the costs associated with renewable energy have declined rapidly in recent years. This is due to advances in technology and increased competition in the market.
For example, the cost of the most common type of solar panel found at most power plants and residences has fallen 70% over the past decade and is expected to continue to decrease over the next number of years.
KPMG inductive reasoning test
Inductive reasoning question is a type of psychometric test involving identification of the general pattern and rules from specific observations. This test measures candidates' ability to think and work flexibly in unfamiliar situations. The most common question type is diagrammatic reasoning, which requires candidates to find the rule connecting a series of shapes to determine the next one.
Here are some sample questions from Cubiks: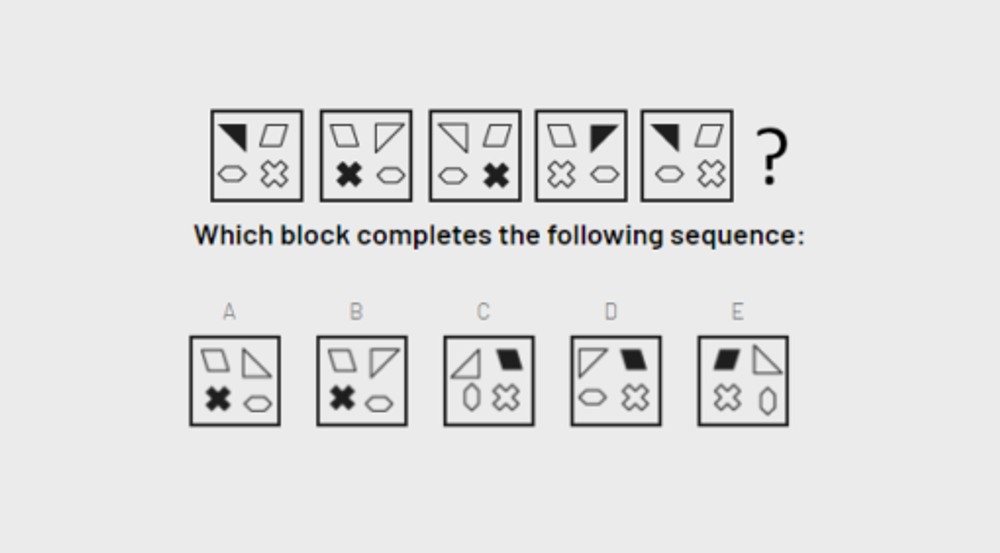 Answer: Option B
In this sequence, the two shapes on the right always mirror the two shapes on the left of the next block, and there is always one shaded shape that rotates anti-clockwise.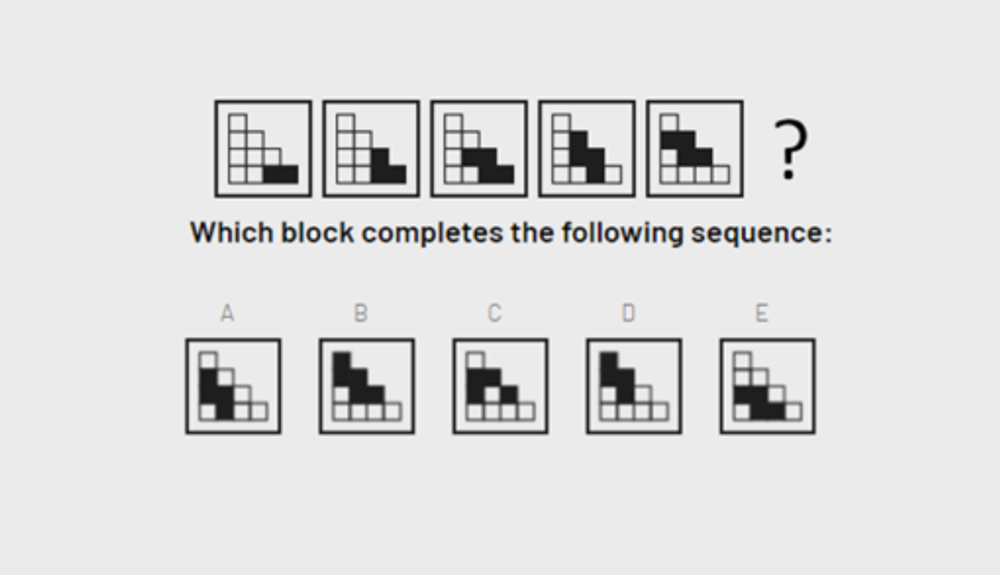 Answer: Option D
In this sequence, the shaded cells increase to four squares and then remain constant. During each move, the first cell always moves one position in each sequence, first moving up and then left in the next sequence.
What is KPMG scenario-based assessment?
KPMG scenario-based assessment or KPMG situational judgment test is a type of online immersive assessment used by KPMG to judge candidates' cognitive ability and workplace behaviour. It will provide a total of 12-20 work-based scenarios in the form of texts and video clips, and a set of cognitive ability tasks.
This is a blended test format with multiple question types, including situational judgment as well as verbal and numerical reasoning skills. You will need to use your common sense, and appreciation of what it takes to excel in a professional environment to give appropriate responses to situational judgment questions. And use your numerical and verbal capability for other reasoning questions.
This test is not timed, but KPMG recommends it to be completed in approximately 90 minutes in one sitting. After finishing this test, you will receive a Strength Report with practical advice on areas of improvement.
KPMG scenario-based assessment format
The KPMG scenario-based assessment formats vary from office to office, but in general, it consists of three separate rounds as follows:
Transforming Small Businesses: Candidates are provided with scenarios in the form of videos, podcasts, articles, voicemails and emails, to help form answers to the various questions. The questions are in the form of ranking preferences, choosing the most likely responses or providing the response in text. This will include situational judgment as well as verbal and numerical reasoning skills.
Delivering Outcomes: This is a combination of situational judgment questions, written exercises and video answers. Like the previous section, the questions are based on a hypothetical work scenario. The difference lies in some questions requiring video answers. You will have to record the answer in two minutes for each question with some preparation type beforehands.
Critical Thinker: In this test, candidates are invited to join a Microsoft Teams meeting with other candidates, with video turned on. During 30 minutes, candidates have to complete 10 numerical reasoning questions across two sections.
What is the KPMG written test?
The KPMG Written Test or KPMG Entrance Exam is a written test on specialized knowledge and language. This includes a paper-based knowledge test (Audit/Tax) to be completed in 25-30 minutes and a computer-based English test with grammatical questions in multiple formats.
This test format is reported less frequently and is mostly used for internship or junior position recruitment.
KPMG written test formats
This test format contains two main parts:
Specialized Knowledge Test: There are a total of 25 questions with the area of knowledge covered depending on the service line you are applying for. For example, if you want the Audit Intern position, the test will contain around 20 audit and 5 accounting questions.
English test: This test is used mainly in non-English speaking countries. It contains grammatical questions in multiple formats such as multiple choice, fill-in-the-blanks, word arrangement.
Step 1: Verify test format and familiarize yourself with the test principle
Knowing what you are up against is the first important step in your prep plan. To find out the test version of your target office, do careful research, contact HR, leverage your KPMG connection. Make sure you practice for the right test in the first place.
Once you've gathered enough information about your upcoming test, learn the principles and formats carefully. Familiarity with the test principles helps many of my clients to tackle any test format from any firm. It will also help you to adjust your preparation strategy accordingly.
Step 2: Practice answering questions correctly
Speed and accuracy is the key criteria in every online test format.
In the early phase of your preparation process, take your time to think and fully comprehend each question. Try to get as many correct answers as possible as it will be reflected in your final results,. Finishing early means nothing if you got the wrong answers. So spend as long as it takes to understand the underlying reasoning within each question without any time pressure.
Step 3: Practice answering questions speedily
If you are quite comfortable with the test format and can produce the correct answer with ease, it's time you moved on to the next step – increase your speed. Put yourself under serious time pressure, allow yourself only a limited amount of time to finish one question. Here are a few guides on how to finish your test faster:
Increase your reading speed: In this article, I introduce two techniques to step up your reading skill: trackers & pacers (use a pencil to follow through your reading) and perceptual expansion (focus on the middle words and your peripheral vision will take in the side ones).
Improve your mental math speed: Math is one unavoidable element in the KPMG Online Test. You have to be fast and accurate with your calculation. If you find yourself a little rusty in math, invest time and effort into practice. Remember, the more you practice, the higher chance you have at passing the KPMG aptitude test.
Step 4: Practice for the game-based assessment
Although the game-based assessment is claimed to require no preparation in advance, it's still important to get familiar with the game principles. Practice with available gamified assessments and other games resembling the KPMG test format such as Firefly Freedom. This will help you figure your general approach and sharpen your strategic thinking in a gaming environment.
Although it is unlikely that you get the exact same game in the KPMG game-based assessment, a good look on how the general assessment games roll out, as well as careful practice will maximize your chance of passing.
Step 5: Perform full mock test under simulated condition
Take full mock tests under the simulated environment several times before walking into the real one. Try to simulate real test conditions – ask someone else to act as your test supervisor, to keep you from the "try again" or "one more minute" temptation. You need to piece together a full mock test, make sure that you have not done it before.
The mock test result will reflect your weaknesses in a real test-taking environment, allowing you to allocate the rest of your preparing time appropriately.