PwC Online Test is the second in PwC recruitment process, taking place after potential candidates successfully pass the resume screening round. It is used to verify applicants capability and personality with the firm. The exact format and contents of the Assessment vary across offices and positions. This article will give an overview of this test, breakdown of popular question types and a comprehensive preparation guide.
What is PwC Online Test?
PwC Online Test or PwC Online Assessment is a screening test to help the firm filter out unqualified applicants before the interviews. The test is designed specifically for PwC to get an overview of candidates' verbal reasoning, numerical reasoning, situational strength and personality traits.
Unlike consulting standardized tests like the McKinsey PST or BCG Potential Test, the PwC Online Test format varies from place to place and from position to position, making the preparation process more demanding. However, the underlying principles for test-taking are consistent. Therefore, there is a general approach to help you prepare for those tests.
PwC Recruitment process
Although the exact details of the recruitment process vary across locations and positions, the general process is basically the same. Each candidate has to go through a five-stage process, including:
Online Application: Candidates are required to either submit their resume via email or fill out an online application form, which includes your GPA, Universities, relevant work experience and motivational questions
Online Test / Online Assessment: This round will include several test formats, including aptitude test, game-based assessment and written knowledge test. These tests are used to test candidates' cognitive capability and personality fit with the firm.
Video and Telephone Interview: PwC will give candidates short video questions and candidates have to record their answers in videos. You are given preparing time for each question but have to finish your answer within a time limit. This whole interview process is carried out through a mobile app.
Assessment Center: This is a full-day event consisting of five stages: written communication exercise, aptitude tests, PwC In-tray exercise, presentation exercise, and an interview.
Final Interview(s) with manager and/or partner: One-on-one interviews for managers to see your skills, experience and abilities, determining whether you have what it takes to be a "PwC Professional". Candidates should show their career choice and a clear interest in the business world with PwC.
PwC Online Test - Formats and principles
In the second round – the PwC Online Test, each office will choose to use one or a combination of the following test formats:
PwC Situational Judgement test: This is an aptitude test. It assesses how you deal with typical workplace situations and evaluates your competencies. You will be presented with a video scenario and asked about your approach to the situation. Your task is to select the "best" and "worst" course of action.
PwC Aptitude Test – PwC Psychometric Test: This test assesses a candidate's logical, verbal and numerical capability. This is more popular and standardized among PwC offices.
PwC Game-based Assessment (also known as Career Unlock): This is a quick set of games, designed based on traditional psychometric tests. Each game takes approximately three minutes to complete, making the total test time no more than 20 minutes. The games are designed to measure some of the following criteria: reaction time, decision-making skills, perseverance, strategic thinking.
What is the PwC situational judgment test?
In the situational judgment test, candidates are presented with a set of hypothetical workplace scenarios and asked about their reaction. Candidates have to select the best and worst course of action. The answers will be judged against PwC competency to see if you have what it takes to become a PwC employee.
Through this test, PwC can see through the candidates' work behavior and decision-making styles, determining emotional intelligence and fit with the firm.
EXERCISE – SITUATIONAL JUDGEMENT
"You are a supervising manager. You want to profile the performance of your workers based on certain criteria. Which of the following criteria would you consider as best and worst to choose for the task?".
1. Amount of paperwork processed per week.
2. Socializing habits.
3. Rate of compliance with administrative decisions.
4. Level of participation in non-formal corporate activities.
How to pass the PwC situational judgment test?
PwC Situational Judgement Tests are tailored according to which business area and position you apply for, so remember to carefully read all the information in your test invite email from PwC.
My only advice here is to use your common sense and answer honestly. The situational judgment test is actually a two-way process. While PwC wants to ensure you'll be a good fit, you also want to make sure that you enjoy working here. So don't try to look for the right answer, but be yourself with a sense of appreciation for what it takes to work professionally.
What is the PwC aptitude test?
The aptitude test is used by PwC to evaluate candidates on their numerical, verbal and logical reasoning capability. The test is developed for the PwC worldwide by SHL and Cut-e Cooperation. All candidates passing the resume round will take a numerical reasoning test, but they will be split between verbal and inductive reasoning depending on the service line they have applied to.
The purpose of this test is to evaluate candidates on their mental capability, so no prior knowledge is required. However, a sufficient amount of preparation and practice is necessary if you want to make it to the next round.
Recently, some PwC offices have started using SHL Verify Interactive Tests. The skills tests will still be the same as previous aptitude tests, but the format will be a little different.
PwC numerical reasoning test
Numerical reasoning test provides numerical data in the form of charts, graphs or tables with corresponding multiple choice questions. To get the final answer, candidates have to analyse the numerical data, do simple calculations, data comparisons and data interpretations. The PwC numerical reasoning consists of 18 questions to be completed in 25 minutes. A calculator is usually allowed, but remember to double check with your target office.
This test evaluates candidates on the following skills: understanding relevant data in charts, accurately using basic math concepts to analyse data, drawing conclusions from mathematical analyses.
EXERCISE – NUMERICAL REASONING
Newspaper Readership

Daily Newspapers
Readership (millions)
Percentage of adults reading each paper in Year 3
Year 1
Year 2
Males
Females
The Daily Chronicle
3.6
2.9
7
6
Daily News
13.8
9.3
24
18
The Tribune
1.1
1.4
4
3
The Herald
8.5
12.7
30
23
Daily Echo
4.8
4.9
10
12
PwC verbal reasoning test
Read more: The ultimate guide to verbal reasoning tests
The PwC verbal reasoning test follows the format of a standard test. It provides candidates with passages of text and corresponding 2-3 True/False/Cannot Say questions. The test has 30 questions and the time limit is 19 minutes. The verbal test is used to evaluate candidates' verbal skills, including grammar, vocabulary, sentence improvement, and reading comprehension.
EXERCISE – VERBAL REASONING
Cut-e Sample Test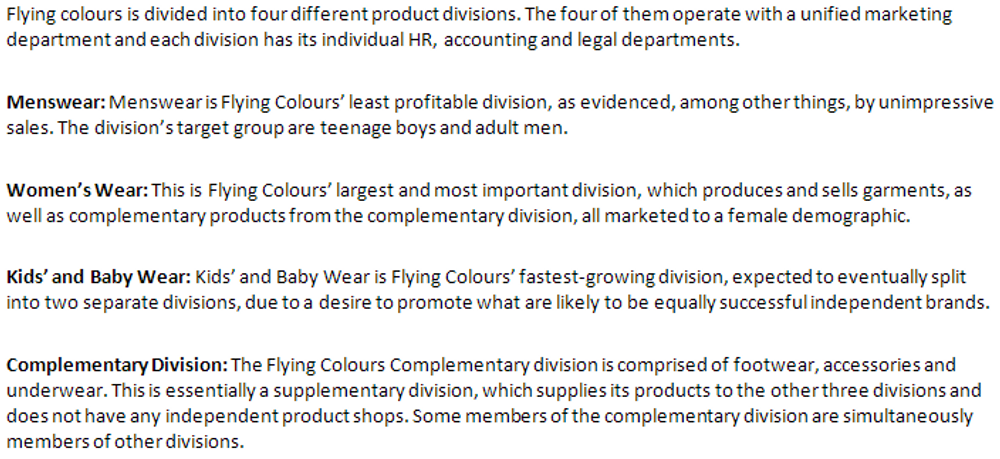 All customer inquiries regarding Flying Colours products are handled either by email or via a hotline.
1. True
2. False
3. Cannot Say
Answer: Cannot Say.
There is no information about means of communication like email or a hotline in the text.
PwC inductive reasoning test
The inductive reasoning test asks candidates to derive the general rule or pattern from a series of specific observations. Candidates are presented with a set of figures and are required to derive a general rule to determine the next one. The result helps PwC evaluate the candidates' ability to handle abstract concepts in unfamiliar situations.
EXERCISE – INDUCTIVE REASONING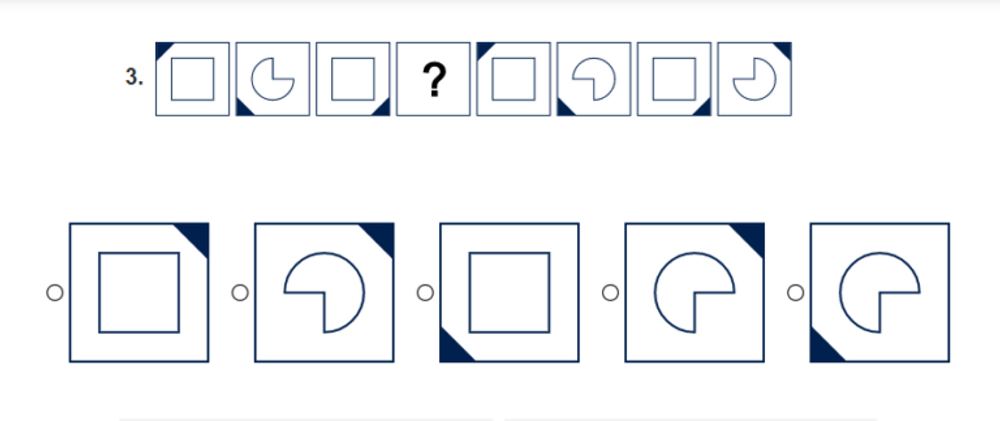 Answer: Option D.
The series is based on two symbols of the same size. Each circular rotates by 90 degree and the shaded corner for both symbols also rotates by 90 degree from one symbol to the next.
What is PwC game-based assessment?
PwC game-based assessment is a series of short games, designed for PwC to evaluate candidates' cognitive ability and the ability to tackle new challenges. Each game will take approximately 3 minutes to finish, so the total time spent on this assessment is no more than 20 minutes. After the assessment, you will receive a performance report and insights into your working styles.
PwC Game-based assessment examples
Here are some examples of the games you may encounter in PwC game-based assessment:
Balloons: This game is developed by Arctic Shores for PwC to measure risk acceptance level. Players inflate different-sized balloons and store them before they pop. The more you pump a balloon, the more points you get but if that balloon pops, you gain zero points.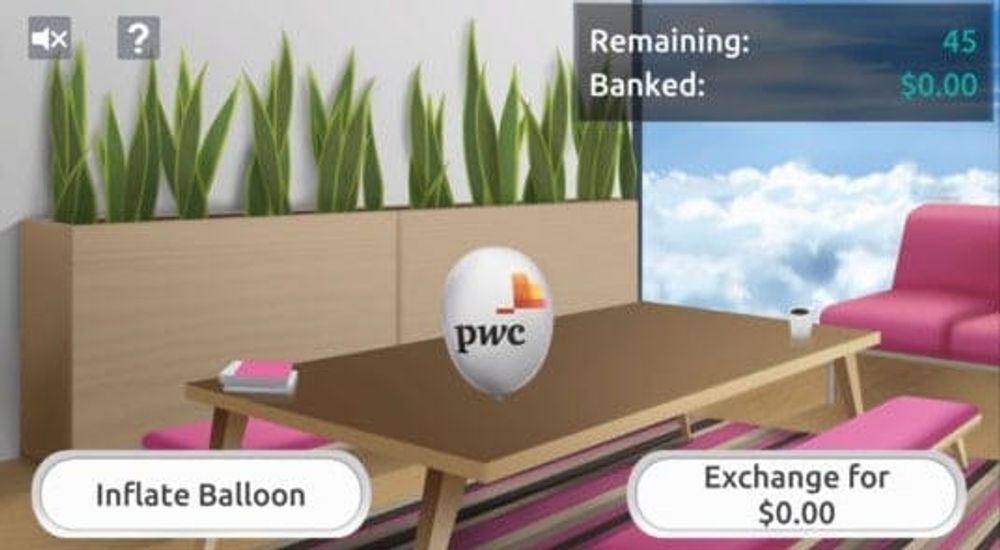 Arrows: In this game, you need to press the button corresponding to the direction of a specific arrow in the center, which is surrounded by other distracting arrows.
Bulbs and Spanners: The moment a bulb or spanner appears at the top of your screen, you react by clicking the corresponding button as fast as you could. This game assesses candidates' reaction.
Leaflets: This is a memory game, requiring test-takers to memorize the order of a grid of leaflets. In the later round, it would be more challenging with a secondary stamp that should be ignored.
Power Generators: The context of this game is you are in a building during a power outage and your job is to reach a desired power level using 4 different generators. You pull the lever for the power to go up but if too much is used, some generators might start to deduct power. This game is reported by test-takers to be confusing.
Moving Numbers. Shapes with numbers appear on a split screen. If the shape enters the top half of the screen, you have to focus on the number, clicking the left button for even numbers, and the right button for odd numbers. When the shape enters the bottom half, you need to focus on the shape. For rounded corners, click the left button, for pointed edges click the right. The game gets faster and switches between the two halves to make it trickier. This game tests candidates' reaction time.
Emotional Responses. This game tests your emotional recognition when looking at facial expressions. The game will show a series of 50 pictures of animated faces and you have to identify which emotion it displays and choose among 7-8 options.
Open the Safe. This also measures your reaction times. You will see a coded safe in the centre of the screen, with numbers around it. To reveal the code, you must press a designated button when the correct digit is highlighted. If you make a mistake you will need to start again from round one.
Step 1: Verify test format and familiarize yourself with the test principles
Leverage your connection, contact HR, ask seniors, do research online to find out about the test version you are going to encounter. Make sure you practice for the right question types.
Once you've gathered enough information about your test version, start preparing right away. First thing first, get familiar with the test principles and formats to come up with an efficient and effective preparation strategy. If you find your target office uses an unfamiliar test version, then only being familiar with the test formats can put you at a major advantage to other applicants.
Step 2: Practice numerical reasoning and mental math
You cannot escape math and calculation. The numerical reasoning questions require candidates to be fast and accurate with their calculation. If you find yourself a little rusty in math, invest time and effort into practice. Remember, the more you practice, the higher chance you have at passing the PwC aptitude test.
Don't know where to start? Let me help you with an article on practice guides to get the ball rolling.
Step 3: Practice verbal reasoning and speed reading
Your test-taking period is strictly timed, and there is a lot of information to process. The questions format requires candidates to consume a large amount of written information in a short timeframe. So to ace the EY Online Assessment, fast reading is one essential skill. My Speed Reading Techniques article will provide two methods for faster reading and better comprehension:
Trackers and pacers: Pencils can be used as trackers and pacers to guide your readings, making it smoother and faster.
Perceptual expansion: In this technique, you only focus on center words in each line and let your peripheral vision do the rest. This is because if you focus on one word, you can still perceive the and register the sides of it.
Step 4: Practice for the Game-based assessment
The PwC game-based assessment involves multiple games with different formats. So it's still important to get familiar with the game principles. Practice with available resources such as brain-training games similar to Pwc games. This will help you become more effective in understanding the game rules and figure out the general approach in a gaming environment.
Some of the skills you need to practice before joining the PwC game-based assessment are fast reaction, proper risk-taking, reading emotion, calculation, and information processing.
Step 5: Practice answering questions accurately and quickly
In the beginning, spend as long as it takes to dig deep into the questions to get an accurate result. Try to get as many correct answers as possible. Finishing early means nothing if you got the wrong answers. So in the first place, try to understand the underlying reasoning within each question without worrying about the time limit.
Once you've mastered the logic and nailed almost every question quickly, it's time for speed improvement. The more you practice, the faster you get. Also, it's good to embrace some test-taking tips and techniques to finish faster.
To pass the online test, speed and accuracy is really important.
Step 6: Perform full mock test
The real tests require more than just good knowledge preparation. There are many other factors in a real test: the pressure, the external condition, the mentality of the test-takers,… So it's necessary to simulate the real test-taking condition and practice full mock tests several times before the real one. Deloitte does not provide full mock tests. You need to piece together some question types, with the same number and difficulty.
Mock tests also help you to adapt and develop your own test-taking strategy. And based on the mock tests results, you can allocate an appropriate amount of time to each practice segment.