Talentlens is a subsidiary of Pearson Education LTD, specializing in providing Pearson tests for big and small companies worldwide. The test publisher has international assessment centers across many countries including Europe, Australia, North America, and more.
In this article, we'll be providing you with an overall breakdown of each Pearson assessment, its testing areas, and comprehensive practice packages.
Talentlens Assessments are published by Talentlens – a part of Pearson Education LTD. Talentlens's test packages are supported by 70 years of research with the purpose of helping companies and organizations identify, select and retain talent.
Depending on the specific position and company, candidates sitting for a Pearson test are likely to take assessments on decision-making ability, their fit to organizational culture, and the likelihood of counterproductive behaviors.
By adopting Pearson Talentlens tests in the recruitment process and talent development, companies can reduce the risk of making an uninformed hire.
With a view to helping companies and organizations build a talented and qualified workforce, Pearson Talentlens provides a wide range of tests for the evaluation of different employment areas.
Various assessment areas include:
Attention
Critical thinking/Verbal reasoning
Numerical reasoning
Inductive/Abstract reasoning
Situational judgment
Spoken English
Mechanical reasoning
Personality
The test provider also designs different test packages covering 3 key aspects of talent management: selection, development, and graduate recruitment.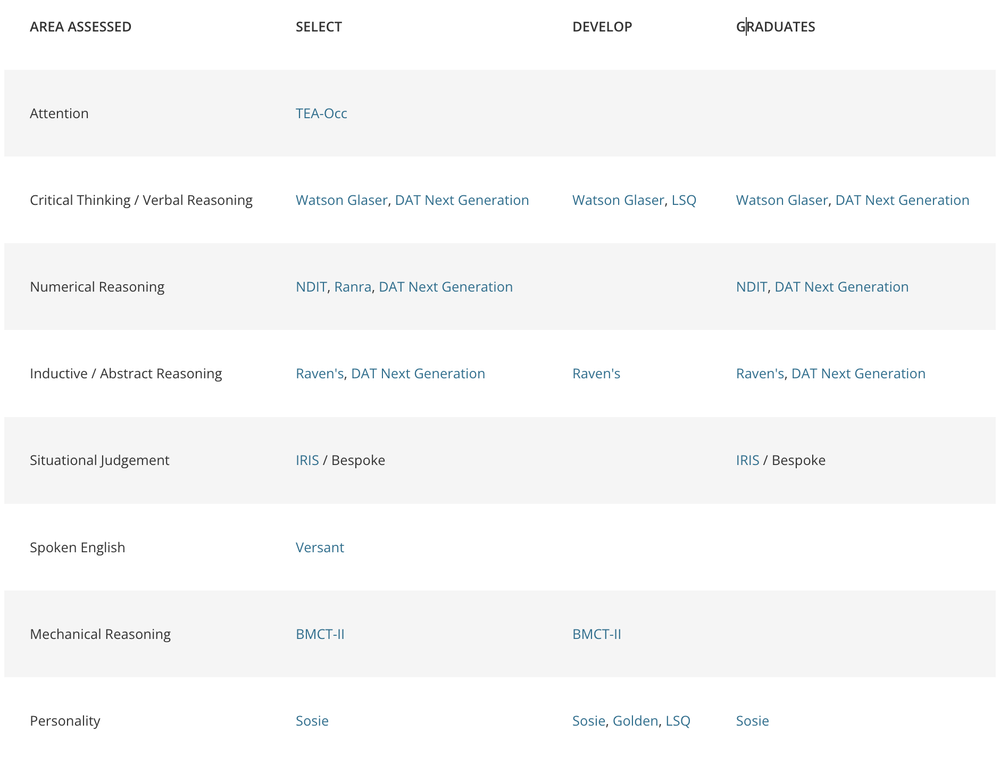 Source: Pearson Talentlens
Watson-Glaser is one of the most established and well-known verbal capacity assessments worldwide. It is a quick, consistent, and accurate parameter of candidates' abilities to analyze, reason, interpret and draw logical conclusions from written information.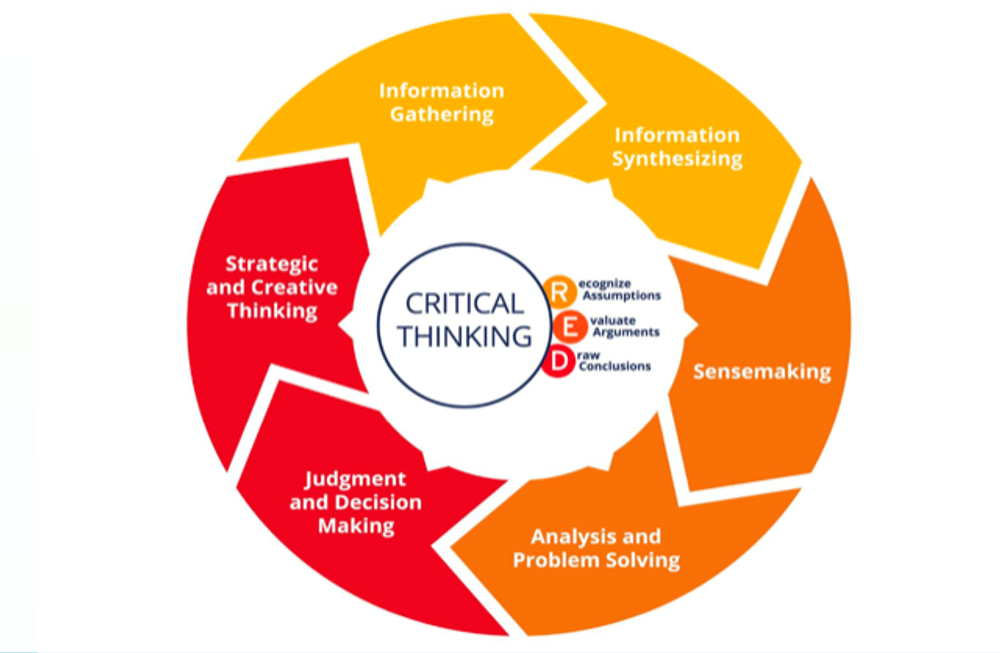 Source: Pearson Talentlens

More precisely, the Watson-Glaser critical thinking assessment focuses on measuring critical thinking ability — as defined by Talentlens "the ability to look at a situation and clearly understand it from multiple perspectives while separating facts from opinions and assumptions."
Watson-Glaser assessment format
This is a timed-online test with a time allowance of 30 minutes maximum to complete all the assessment questions. Along with test instructions and practice questions, it can take employers up to 40 minutes to administer the test.
The Watson Glaser consists of 40 questions, including a new bank of business-relevant questions for international use. Pearson Talentlens makes the critical thinking assessment suitable for unsupervised screening of candidates by using its "item-bank". The item bank includes a group of questions randomly selected from a large pool of resources.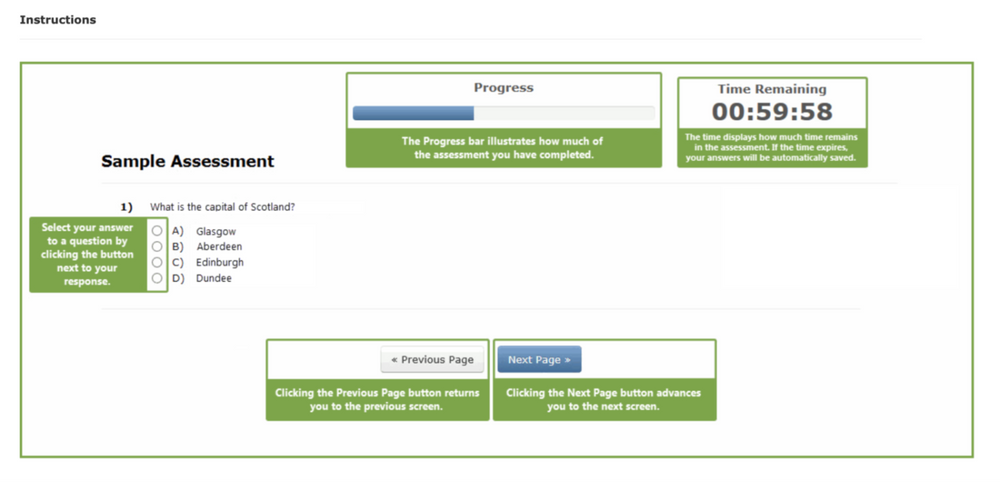 Source: Pearson Talentlens

However, job applicants might also take this test online in a supervised environment such as an assessment or development center depending on specific employers' requirements.
This test is available in many different languages, which are:
UK English
US English
French
French Canadian
Dutch
Spanish
Latin American
Spanish
Watson Glaser performance report
There are two types of performance reports available for candidates, depending on each company's request and test purposes whether for training or hiring.
Profile Report: This report presents an individual percentile score for three evaluating sub-areas: Recognise Assumptions, Evaluate Arguments and Draw Conclusions. This percentile score is based on a wide variety of Pearson's available norm groups with bespoke norms created upon specific requests from employers.
Development Report: This report is designed to help test-takers leverage and strengthen their critical thinking skills. It is often adopted for the Watson Glaser assessment of talent development purposes.
Differential Aptitude Tests™ or DAT™ is a suite of Pearson Talentlens assessments measuring different areas of cognitive abilities. Current DAT assessments offer five types of DAT tests in four languages using Computerised Adaptive Testing technology (CAT).
Companies use DAT to evaluate candidates' general and specific mental abilities that are critical for success in many roles and training courses.
Each DAT sub-test consists of 15 items and measures the following:
Verbal Analogies: The sub-test assesses verbal reasoning with questions involving the relationships between pairs of words.
Numerical Calculations: The sub-test assesses numerical ability by presenting mathematic questions of addition, subtraction, division, percentages, algebra, and, multiplication.
Numerical Sequences: The sub-test assesses numerical reasoning and problem-solving abilities with numbers.
Abstract Reasoning: The sub-test assesses abstract reasoning by looking at candidates' ability to see sequences in shapes and patterns.
Space Relations: The sub-test evaluate the ability to visualize 2D shapes in 3D.
This is an untimed and unsupervised test that is suitable for a wide range of testing purposes such as Talent identification, apprenticeships, career guidance, and higher education.
Numerical Data Interpretation Test (NDIT) formerly known as Athena, is designed to assess numerical reasoning ability. The test questions focus on measuring the test-taker's ability to interpret and manipulate data. Candidates are required to
Draw appropriate inferences from data
Make calculations involving basic arithmetic operators and work with decimals and fractions
Comprehend information presented in tables, charts, and graphs
Identify when additional data is needed for drawing particular assumptions
The test questions reflect tasks involving numerical data in various roles in the modern workplace. It helps companies and organizations predict how well an individual will perform when encountering data interpretation assignments in the workplace. The test permits the use of calculators and also includes free-response questions – a simulation of data encountered at work.
Numerical Data Interpretation test format
The test questions are drawn from a large question bank which ensures no candidates receive the same question set. Therefore, the test can be administered online to test-takers for unsupervised remote completion.
There are both multiple-choice and free-response questions in the test. With free response items, candidates are less likely to guess the correct answer and it helps improve the accuracy of the assessment.
This test is specifically designed for executive, managerial, sales, IT, admin, and technical roles. It includes 21 items that should be done within 30 minutes. It is available in English and French.
Raven's Advanced Progressive Matrices Test (APM III) measures candidates' level of cognitive abilities with a focus on non-verbal abstract reasoning skills. Targeted skills for assessment include
Lateral thinking
Learning new concepts quickly
Solving new and complex problems without drawing on prior knowledge
By using Raven's Advanced Progressive Matrices Test, employers have a better insight into how candidates can identify patterns and solve problems related to their business industry. The test offers informative reports on each individual's capacity of analysing and solving problems, cognitive thinking, abstract reasoning, and learning ability.
Raven's Advanced Progressive Matrices Test is widely used within graduate recruitment and for numerous roles across multiple sectors. Like other tests published by Pearson Talentlens, Raven's can be administered online to any job applicant in unsupervised remote conditions.
Different Raven's test formats
The assessment includes 23 items that should be done within 40 minutes. It presents questions using three-by-three geometric designs. Each given image contains a missing piece. The candidate is asked to choose the correct missing piece among eight options to complete the pattern within the matrix.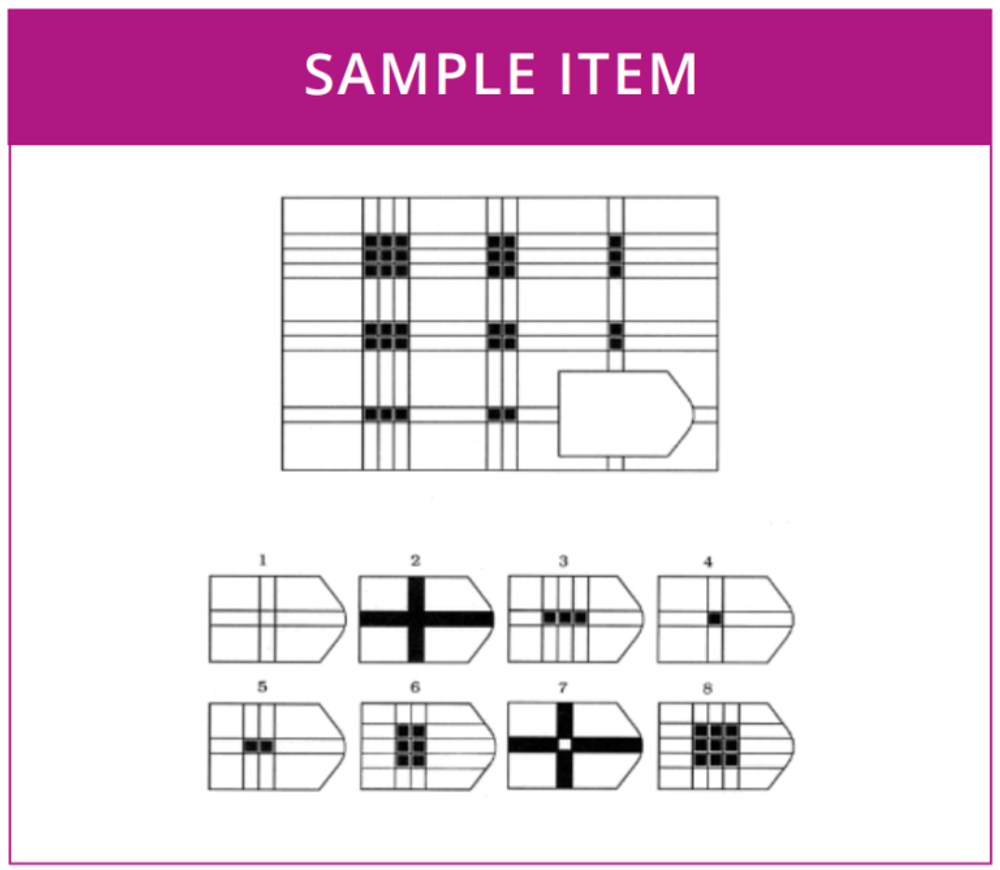 Source: Pearson Talentlens

There are a number of different Raven's test formats. The difference among these Raven's test variations is the number of questions and the amount of time it takes to finish the test.
Standard Progressive Matrices. In Raven's Standard Progressive Matrices, candidates have to complete 60 questions within 40 minutes. Upon finishing the test, participants will be graded according to normative international standards. Employers adopt this test for positions of entry and supervisory levels in management. It can also be used for mid-level roles that demand decision-making and analytical abilities.
Advanced Progressive Matrices. It's the most advanced version of Raven's test that measures candidates with a higher level of cognitive abilities. It consists of 23 questions that should take no longer than 40 minutes to finish. As you progress, the questions will become more difficult. This test is only presented to upper management roles and positions that require an advanced level of cognitive and analytical abilities.
Short Advanced Progressive Matrices. This is a simplified version of Raven's Advanced Progressive Matrices with 12 questions and a time allowance of 15 minutes. Employers often use this test to screen candidates in the human resources industry.
Raven's scoring
Raven's does not use percentage scores for its scoring report. There is no fixed score for each of the questions since the question's level of difficulty is taken into account. For example, if you answer correctly more difficult and challenging questions in the test, you will obtain higher marks than a candidate who only answers correctly the easier and less challenging ones.
When interpreting your Raven's score, you'll first be given a theta score ranging from -4.000 to +4.000. This is the first-grade prediction of your capability. Candidates with a bottom-of-the-scale score (-4.000) will be individuals with extremely low ability, while ones with scores at the top (+4.000) will be people with extremely high ability.
Pearson Talentlens will provide employers with a percentile report for easier comprehension and comparison. Each individual will be benchmarked against other test-takers of the Raven's assessment, or the selected norm groups of Pearson Talentlens. If your percentile score is 73%, it means your score is equal to or higher than 73% of the people participating in the test.
Rust Advanced Numerical Reasoning Appraisal (RANRA) assesses advanced numerical reasoning ability that is often a requirement for Executive or Senior Management positions.
The test adopts an evaluating framework to filter for candidates with higher-level numerical skills including the ability to deduce, interpret and evaluate numerical information.
It is an advanced numerical reasoning test that can provide employers with further evidence of candidates' general ability, together with the output from other Pearson Talentlens tests such as Watson-Glaser Critical Thinking Appraisal and Raven's Advanced Progressive Matrices.
This sub-test places the emphasis on evaluating analytical capacity, rather than formulaic numerical skills. Questions of this test involve using higher-level numerical reasoning skills, rather than employing common mathematic operations.
A RANRA includes 32 items that take 30 minutes to finish. It is administered to executives and managerial positions, supervisors, or professionals.
Golden Personality Type Profiler
Pearson Talentlens designs Golden Personality Type Profiler to help companies and business improve collective efficacy and business processes. The test includes 10 global dimensions and 36 related sub-facets that describe one's unique personality.
The five dimensions evaluate how each individual spends his energy, gathers information, approaches self-control, makes decisions, and manages stress.
Energy – Extraversion / Introversion: Where you direct your energy (with sub facets including: Talkative-Quiet, Outgoing-Intimate, Socially Bold-Reserved, Participative-Reflective).
Information – Feeling / Intuition: How you process information (with sub facets including Concrete-Abstract, Practical-Innovative, Conventional-Visionary, Traditional-Trendsetting).
Decide – Thought/Feeling: How you decide (with sub facets including Rational-Empathetic, Autonomous-Compassionate, Analytic-Warm, Competitive-Nurturing).
Control – Organization / Adaptation: How you approach life (with sub facets including Planned-Open ended, Reliable-Casual, Deliberate-Spontaneous, Conforming-Nonconforming).
Stress – Tense / Serene: How you cope with stress (Concerned-Optimistic, Unsure-Confident).
The test adopts a universal and comprehensive personality tool that is a combination of 5 of the most widely known and accepted personality theories – Jung, Thurstone, Allport, Hippocrates, and Selye.
The test can be used for various purposes including: Management, Leadership development, Training & career development, Personal development, Teambuilding, Coaching, Advice, Orientation and mobility approach, and Outplacement. It contains 125 items with a untimed allowance of 25 mins.
By taking the test, people become fully aware of each other's differences and of how useful it is to adapt. The specific scoring system uses a seven-point rating system, thus preventing dichotomous votes.
Sosie traits and values tool
Sosie assessments are designed to measure an individual's personality and system of value. This helps employers reliably predict motivations, behavior and adaptation to any role, team and work culture.
The test consists of items relating to eight personality traits or characteristics that decide test takers' behaviors:
Dominance
Responsibility
Stress Resistance
Sociability
Cautiousness
Original Thinking
Personal Relations
Vigour
Considering interactions with others, there are six interpersonal values as following:
Support
Conformity
Recognition
Independence
Benevolence
Power
In terms of working manners and professional activities, there are six values determining someone's personal values:
Materialism
Achievement
Variety
Conviction
Orderliness
Goal orientation
The test is adopted for assessing a person's fit to specific role and organization for all roles across different job levels. With quasi-ipsative question formats, candidates are unable to fake responses and therefore the test result is valid. This is an unsupervised assessment with a total of 80 items and 30 minutes untimed to complete.
Companies adopting Pearson TalentLens assessments in their recruiting and training process include:
British Airways
BP
University of Cambridge
HSBC
G4S
Thales
WilliamHill
For the specific Watson Glaser Test, there are a great number of UK companies using it for their pre-employment screening process. The names include the following
BCAT
Linklaters
Simmons & Simmons
Hill Dickinson
Hiscox
Bank of England
Burges Salmon
Ince & Co
Government Legal Service
Irwin Mitchell
Clifford Chance
Deloitte
Dentons
Hogan Lovells
Discover MConsultingPrep's Aptitude Test practicing platform with
A question bank of 1400+ aptitude questions (Numerical, Verbal & Logical)
A comprehensive explanation of every question
Evaluation and recording tools for performance reviews
With our test packages, you can practice more strategically and gain more confidence for every test question you might encounter in your future aptitude tests.
Our extensive aptitude question bank covers a large number of item variations in Aptitude Tests in the pre-employment process across different companies & businesses. With questions categorized in types, you can leverage your preparation by
Focus on practicing questions in specific types
Improve your performance in questions that you struggle with
With evaluation tools coming in handy, you have better insights into your overall performance, what you excel at, and what you need improvements on.