Designed by more than 300 scientists, SHL assessments are used by tons of companies around the world to measure candidates' potential performance and fit to the organizations.
This article will give you a clearer look at SHL assessments so that you can have the best preparation to get a high score.
SHL (Saville and Holdsworth Limited) is a leading international company that provides a huge range of recruitment solutions for major industries such as IT software & technology, BPO & Contact Center, Retail, Financial services, Manufacturing, Healthcare, and Professional services.
With 45+ years of talent expertise, SHL has become the most reliable technology partner to over 10,000 companies over the world, across over 150 countries, working with 50% of the Fortune Global 500 and 80% of the FTSE 100. Some of its clients include Microsoft, Heineken, Amazon, Nokia, NHS, Bayer, Bae Systems, and Crédit Suisse.
SHL comes with a variety of excellent hiring solutions, including:
Talent acquisition solution
Talent management solution
Managed and training services
Assessments and other recruitment-related products
And SHL assessments are one of the most trusted and broadly-used resources in companies all over the world. These amazing products will help evaluate candidate job fit, readiness, and potential with a plethora of personal assessments, skills tests, and job simulations.
SHL assessments help employers measure the personality, skills, and cognitive ability of candidates, which aims to spot the best potential employee(s) out of a giant talent pool. There are 5 different types of SHL assessments, including:
Cognitive assessments
Behavior assessments
Personal assessments
Job-focused assessments
Skills & simulations
Each of the SHL assessments can be used alone or mixed with other assessments, as long as satisfying the requirements of each company. These tests are available in multiple languages, allowing international use.
We will cover every assessment's purpose, format, and specific features later in this blog, so keep moving!
How Can You Get SHL Results?
When you have finished your assessments, you will receive your results from the company you are taking the assessments for. SHL will not be involved in providing you with the test results.
How are SHL Assessments Scored?
Luckily, SHL only counts your accurate answers. There is no penalties for incorrect answers.
As most SHL assessments contain multiple-choice questions that can better your odds if you need to make an intelligent guess.
What is a Good Score in SHL Assessments?
There is NO good score in SHL assessments. Your results will be compared to other comparison groups or specific comparison standards early chosen by your employer. Hence, your result is compared to the average of this group and converted into a percentile.
For example, if your percentile rank is 85, your score is higher than 85% of the candidates within the same comparison group. Note that a percentile of 85 doesn't mean you answered 85% of the questions correctly.
Are SHL Assessments Adaptive?
Yes, SHL provides adaptive tests where the order of questions varies from person to person. These tests let candidates get the first question more or less adapted to their level based on earlier characteristics given by the candidates. Similarly, the following question is determined depending on the answer to the previous question.
For example, if a question is too hard and the candidate answers it wrongly, the following question will have a lower level and vice versa until the candidate's level is accurately identified.
Cognitive assessments
Cognitive assessments (aptitude assessments) are often used in the early stage of recruitment to measure candidates' cognitive ability via numerous testing formats.
SHL cognitive assessments combine interactive numerical, deductive reasoning, and reasoning ability tests, which help employers evaluate candidates' potential to perform and adapt to any job position.
SHL cognitive assessments are presented in 2 forms: SHL Verify and SHL Verify Interactive.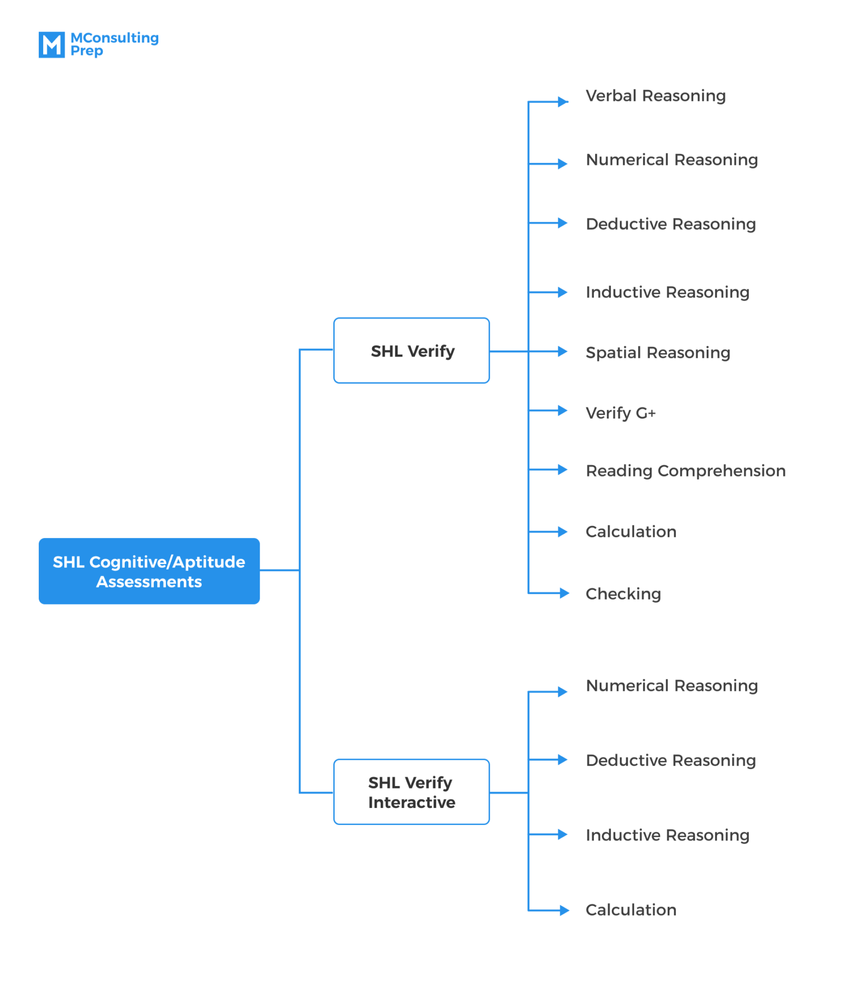 Let's see how SHL Verify and SHL Verify Interactive are different from each other.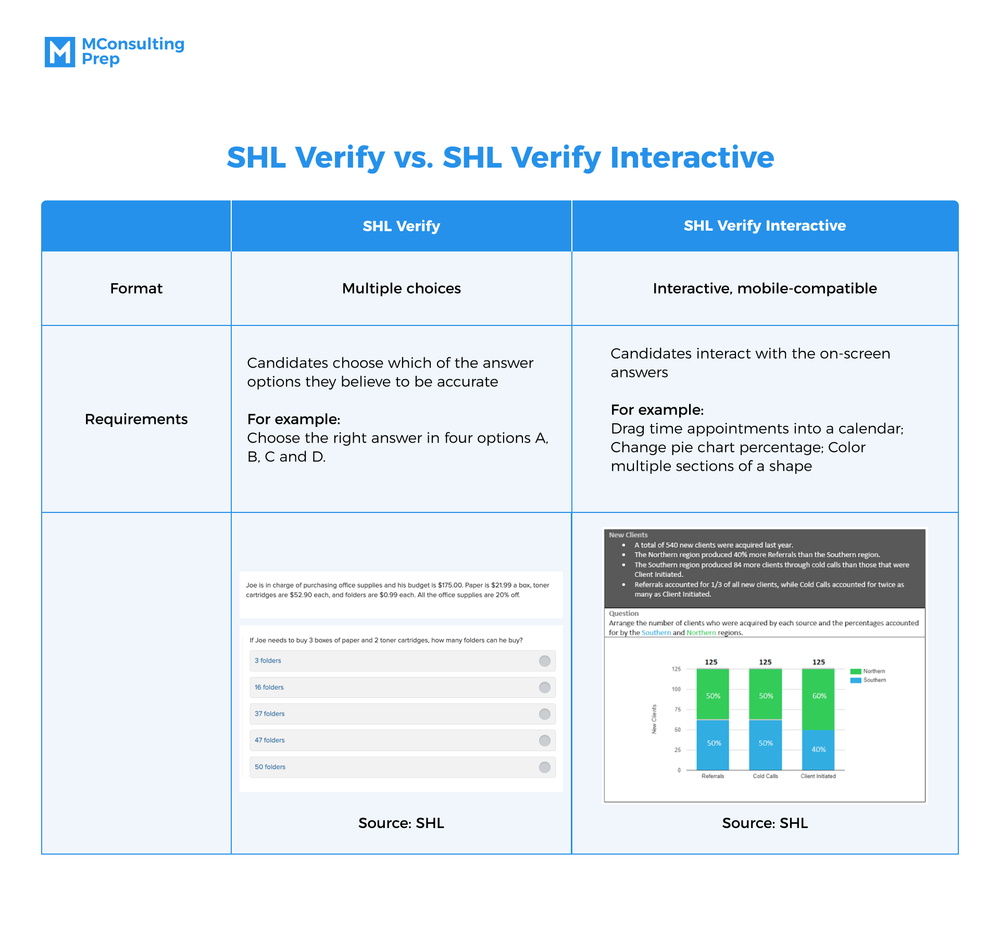 Behavioral assessments
SHL behavioral assessments measure each candidate's behavioral fit at the start of the hiring process. These tests are built with mobile-first technology to help candidates complete them on any device.
There are 3 types of tests in SHL's behavior assessment portfolio, including:
Realistic Job Previews: Reflect roles with scenario-based quizzes that help candidates understand what the job would be like before applying.
Situational Judgement Tests: Match a candidate's behavioral fit to your position with engaging, interactive scenarios.
Universal Competency Framework: Obtain a rational, consistent, and practical understanding of candidates' behaviors at work and whether they can perform well in the position.
Personality assessments
SHL personal assessments provide deep insights into candidates' preferences, motivations, and online-work ability. These tests are well adapted to any device, allowing candidates to initiate and complete them anywhere at any time they want.
There are 3 types of tests in SHL's personality assessment series, including:
SHL Occupational Personality Questionaire (OPQ): Match people's working preferences to business needs and provide correct, bias-free assessments of each worker's potential.
SHL Motivational Questionaire (MQ): Align each worker's personal motivation to team and organizational objectives.
SHL RemoteWorkQ (RWQ): Assess candidates' readiness to work remotely.
Job-focused assessments
SHL job-focused assessments measure both hard and soft skills which are required in a specific role. That can speed up candidate recruitment and selection faster, as well as help candidates clearly understand the job role. These assessments are part of SHL's Talent Acquisition solutions that can totally transform hiring decisions.
Skills & Simulations
While job-based assessments evaluate job-specific competencies, SHL skills & simulations are customized based on the specific skills of each role, such as technical skills, language skills, business skills, and specific job simulations such as coding simulations or contact centre simulations.
SHL Verify consists of two different parts:
SHL Verify Ability: is an online, unsupervised assessment. Verify tests will show up on your candidate page on the SHL Talent Measurement testing site. Candidates are provided with a date by which you need to finish these tests.
SHL Verification: If your result on the Verify Ability Test surpasses a pre-set cut-score, you're eligible to enter the next stage of the recruitment process which takes place at an SHL assessment centre or the employer's office. You will need to take a supervised "verify" test to ensure the integrity of your results.
Verbal reasoning
SHL verbal reasoning tests measure the ability to interpret and draw logical inferences based on a given text.

19 minutes for 30 questions means that you have only 38 seconds to answer one question. That's why you will need effective strategies and methods to pass the test. We show you some pretty good tricks in the blog "How to pass SHL verbal reasoning tests?" Check it now!
Numerical reasoning
SHL numerical reasoning tests measure the ability to make proper conclusions from numerical data in the form of charts, tables, and graphs. Find some helpful techniques to get correct answers in the shortest time with our blog "How to pass numerical reasoning tests?"
Deductive reasoning
SHL deductive reasoning tests measure the ability to deduce logical, accurate conclusions from the provided ideas and premises.

Inductive reasoning
SHL inductive reasoning tests measure the ability to make more general conclusions by applying specific observations.

Spatial reasoning
SHL spatial reasoning tests measure the ability to observe 2D or 3D objects, then visualize their movements and find patterns and changes between them.

SHL Verify G+
SHL verify G+ tests, also known as General Ability G+ tests, measure three abilities: numerical, deductive reasoning, inductive reasoning.

Mechanical comprehension
SHL mechanical comprehension tests measure the ability to use mechanical principles to answer questions.

Reading comprehension
SHL Reading comprehension tests measure the ability to read, understand written materials, and then answer the questions.

Calculation
SHL calculation tests measure the ability to add, subtract, multiply, and divide numbers quickly and precisely.

Checking
SHL checking tests measure the ability to compare information and find out errors fast and accurately.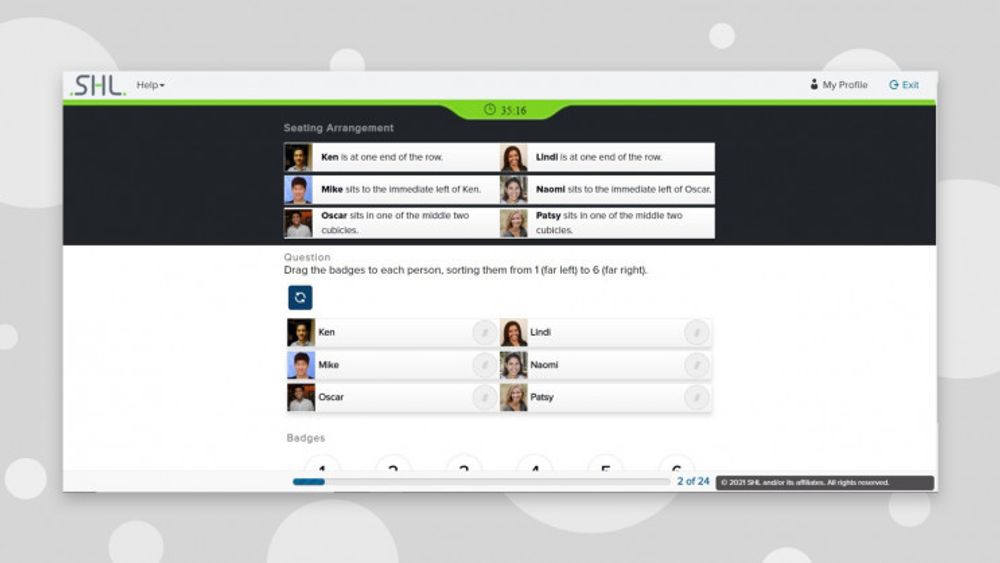 Source: SHL

SHL Verify Interactive is a new test series that is compatible with all kinds of online formats, especially on smartphones, thanks to its mobile-first technology. These assessments make the test experience fun and interesting by replicating the problems of daily tasks which candidates may expect in the new position.
Interactive numerical reasoning
SHL interactive numerical reasoning tests assess candidates' ability to analyze numerical data and interact with on-screen answers. For example: build tables and graphs or fill in calculation tables.

Here's an example of an interactive numerical reasoning question from SHL:
Source: SHL

Here you need to adjust the green line to complete the question.
The text says, "Each day after Monday the stock increased 1% of its original value."
Its original value: $1000
1% of its original value: $1000 x 1% = $10
Therefore, you can conclude that:
Monday = its original value = $1000
Tuesday = $1000 + $10 = $1010
"On Wednesday, she was charged an administrative fee of $10."
Wednesday = ($1010 + $10) – $10 = $1010
Thursday = $1010 + $10 = $1020
Friday = $1020 + $10 = $1030
Interactive deductive reasoning
SHL interactive deductive reasoning tests assess candidates' ability to make accurate conclusions from the given premises. This interactive version may ask you to drag and drop answers (interact with answers) rather than choosing one out of a set of options.

Here's an example of an interactive deductive reasoning question from SHL:
Source: SHL

Interactive inductive reasoning
SHL interactive inductive reasoning tests assess candidates' ability to make generalizations with the use of specific observations. You need to create the right answer yourself instead of having multiple options to choose from. For example, instead of choosing one from A, B, C, D options, you need to manipulate the answer shape until you get the correct one.

Here's an example of an interactive inductive reasoning question from SHL:
Verify Interactive G+
SHL verify interactive G+tests consists of three topics (numerical reasoning, deductive reasoning, inductive reasoning). As this interactive version requires you to create your answer, so you can have more time for one question compared to the traditional version.
Verify G+ Test: 36 minutes for 30 questions
Verify Interactive G+ Test: 36 minutes for 24 questions

Interactive calculation
SHL interactive calculation tests assess candidates' ability to make accurate calculations (add, subtract, multiply or divide numbers). As you need to interact with on-screen answer options, you'll have more time per question in the interactive version, compared to the traditional one.
Verify Calculation Test: 10 minutes for 20 questions
Verify Interactive Calculation Test: 36 minutes for 24 questions