Career path at top consulting firms
Traditional track, supporting track and exit opportunities at 10 top consultancies
"What is our title when first entering a management consulting firm? Will it be much different from other jobs?"

When applying for any career options, you may wonder what lies in the future to get yourself well-prepared in the upcoming path. Elite as management consulting may sound, its complicated structure may confuse you at first.

With my former experience at McKinsey, I'll guide you through a typical career path of a consultant, give you some insights about the firm, and hopefully, it helps clear your confusion!

There are 2 major tracks in consulting: (1) the traditional consultant and (2) the supporting tracks. See the below picture for an illustration.
Traditional consulting track
At management consulting firms, the career ladder usually has 4 to 5 levels:
Level 0: Intern 

–  Most consulting interns support other consultants by collecting data or running analyses. Not every consulting firm offer internships.
Level 1: Junior Consultant / Analyst

– Undergrads enter the firm at this level. They handle small workstreams or support senior consultants in larger, more important workstreams.
Level 2: Senior Consultant / Associate 

– MBA grads enter the firm at this level. They tend to lead large and important workstreams in a project.
Level 3: Project Manager / Project Leader 

– They manage the day-to-day in a project, similar to CEOs in other firms.
Level 4: Partner / Director 

– They are in charge of selling consulting projects to clients, and act like owners of individual projects.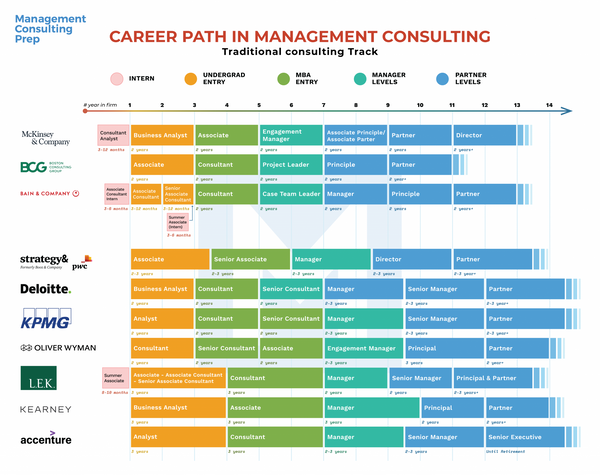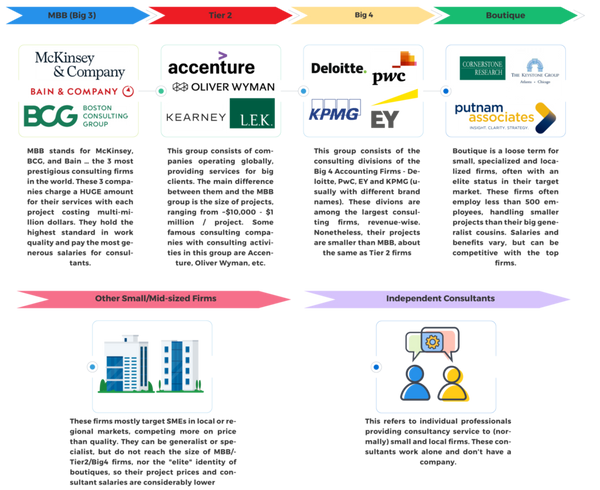 Roles in a consulting project
Projects and offices are completely separate entities – think of them as separate companies in a conglomerate. If you pay close attention to the titles, you'll know the positions listed in the above section belong to the office.

What about projects?

In consulting projects, there are just three levels – they roughly correspond with job titles, with slight variations here and there. Wordings can vary through different firms but naturally, it stays the same. For a simple approach, I will use McKinsey's title to explain.

Engagement Director

This role corresponds with Level 4 (Director/Partner) in the office.

Engagement Directors (ED) are the ones who own a project. All Associate Partner and above can start a project, as long as they can get one. That is why high-ranking leaders spend most of their time on networking, connecting with CEOs, and selling consulting services – projects.

Engagement Manager

This role corresponds with Level 3 (Project Manager/Project Leader) in the office.

Once a project is established, the ED will hire an Engagement Manager (EM), the most important decision of any project. While ED is the project owner, the EM is somehow like the project's CEO. The EM will manage projects' activities and make important decisions.

Managers spend most of their time problem structuring, managing individual analyst's working progress, and synthesizing the whole team's work into a cohesive analysis.

They will also be in charge of managing the output of the workstreams, update with senior leaders, and communicate with their clients to see whether they are on track.

Staff-level Consultants

Everyone from interns to senior consultants will play this role. They handle the executive work in a project – conducting research and interviews, building financial models in Excel, collecting data and running analyses, building PowerPoint slides on key insights. Higher-ranking consultants will be given larger and more difficult tasks.

A consultant team that best fits the context of the project will then be assembled. They are chosen based on various criteria: cost, experience, background relevancy, and familiarity with the EM himself or herself.

Besides, a project may need help from supporting centers, which opens up another career path in consulting: supporting tracks. Find my explanation later in this article.
Ever heard people saying consulting is about "solving business problems"? That vague descripton does not do justice to a highly complex job of a management consultant.
For a non-cliche description from a former McKinsey consultant, check out this article below:

Policies and mechanisms
You have to climb up the ladder

You will always start at entry-level positions in the traditional consulting track and gradually climb up your career ladder. At MBB, they rarely hire an experienced person straight to manager or partner levels.

Management consulting is unlikely a good route to switch your career with 10+ years of experience as you will have to start over again. It is most ideal to start your consulting career as fresh as new graduates!

Up or out!

You may wonder when consultants will get promotion, in fact, it is a race for everybody. You have strictly 2 years to advance your position to the next level. If you are not qualified enough to be promoted after every two years, you are suggested to leave.

This results in a strict pyramidal structure for most top consulting firms – the higher up, the fewer people there are.
Supporting track
As I told you, there is another track to get into consulting firms – through supporting tracks. You may find it detailed explained in the right corner video!

In projects, consultants are not the experts in all fields, they act as content ambassadors between clients and the real experts from different supporting centers over the world.

You may join supporting centers in two ways:

One, experienced consultants in a specific field may join some industry-related or function-related supporting centers to help their junior consultants to master the expertise in their projects.

Two, some supporting centers may go out and recruit top-notch experts to join their team. You may not have any consulting background previously. This is when a successful 10-year career path gives you an advantage in joining the consulting field.

For example, a Cement Center may employ an experienced cement expert from over the world and lend him to cement projects in progress. The firm doesn't impose any fixed standards or restrictions on how other centers recruit their talents.

Consulting exit opportunities
Everybody quits Management Consulting at some points. After gaining a sufficient set of skills, they look for other challenges.

You have more than one choice to jump over after leaving management consulting firms.

You can join your favorite client and take high positions there.

You can join Venture Capital, which deals with unicorn start-ups and has more exposure to business outside the Fortune 500 list.

You can start your own business as I did, and succeed in your own way.

Your future is unsure yet so flexible that you can try out as many positions as you want!

Before applying for any consulting positions, you should learn well about its structure and your future path. With this explanation, hope it helps with your consulting preparation!
Read next
What is Management Consulting?
Management consulting is an industry providing expensive and professional advice to organizations to improve their overall performance, through better "management", which includes strategy, governance, operation, organization, finance, and marketing. The three most prestigious management consulting firms are McKinsey, BCG, and Bain (the Big Three).