If you're interested in management consulting, you've likely stumbled upon the acronym "MBB" – a prestigious name that inspires awe, admiration and even envy – so prestigious, in fact, that having it on your resume can propel you right up the higher ranks in any firms.
What does MBB mean? Why does it carry such incredible prestige? Let's find out with my in this article.
In management consulting, MBB stands for McKinsey & Company, Boston Consulting Group, and Bain & Company, the three most prestigious firms in the industry (also known as the "Big Three"). MBB consultants are recruited with the highest standard (<1% passing rate), paid the highest salaries (starting at $80,000/year in the US), and have access to the highest-paying exit opportunities.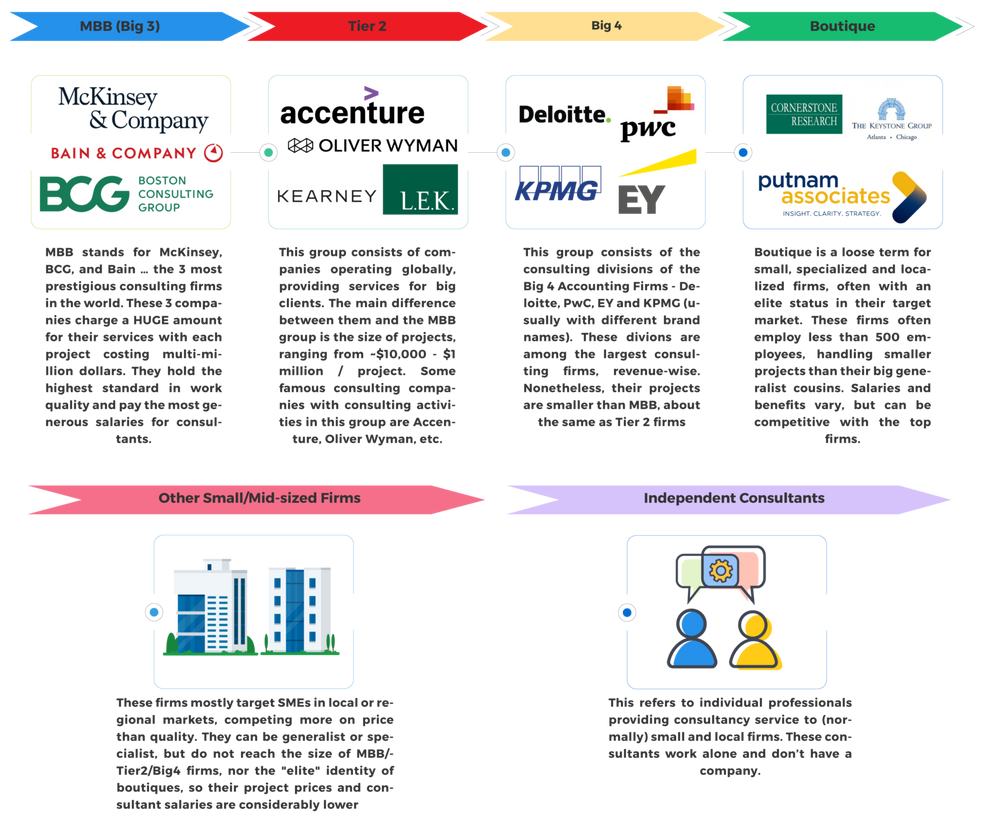 Landing a job at one of these Big Three MBB consulting giants is the dream of almost every aspiring consultant out there. They are notoriously selective in terms of suitability, so any candidate would need to craft a persuasive application gearing towards one particular MBB consulting company that they aim at.
This means that, if you are applying for McKinsey, your application should clearly demonstrate why you are suitable for McKinsey, and not BCG or Bain.
So how do you know which MBB consulting firm is right for you?
This article presents an in-depth comparison of these Big Three consulting firms, including an overview of each company, key similarities, and differences based on a list of 5 suitability criteria. I hope this post will help you select your company of choice and devise an outstanding application. Enjoy reading!
M – McKinsey & Company
Founded in 1926, McKinsey is the oldest and generally perceived to be the most prestigious company among the Big Three. McKinsey is renowned for its concerted, obsessive efforts to build a high-performance, data driven, and efficient problem-solving culture.
The company is also famous for its "one-firm" principle, which rigorously incentivizes the sharing of best practices, revenue and human resources across offices. This principle enables McKinsey to assemble the best people for any given task across any offices worldwide.
Together, these two mutually supportive strategies have consistently strengthened McKinsey's reputation as the best consulting firm to work for.
B – Boston Consulting Group
Boston Consulting Group (BCG) is a pioneer in thought leadership.
Maintaining a top-ranked leadership consulting reputation is what sets it apart. The company's famous slogan is "Unlocking the potential of those who advance the world".
BCG is an excellent choice if you want to work in a supportive, caring system, with valuable opportunities for great mentorship and talent development.
B – Bain & Company
Bain & Company was founded by Bill Bain, former vice president of Boston Consulting Group, in 1973. At the heart of everything Bain does is the customer.
What sets Bain apart is a customer-centric approach to doing business: "selling outcomes, not projects". The company's Result Delivery Process guarantees that each client outperforms the market 4-to-1.
Now that you have a holistic view of all three MBB consulting firms, let's dive into the key similarities and differences between them. Below is an in-depth comparison of McKinsey, BCG and Bain based on the following 5 criteria that you might want to consider before applying.
Earnings potential
Entry levels
Earnings at MBB companies for entry levels start from a minimum of around $80K for candidates out of an undergraduate program and around $140K for those from an MBA/ Graduate Program. If you add signing bonus, performance bonus and relocation costs, these figures add up to around $105K and $208K, respectively.
Among the three MBB consulting firms, Boston Consulting Group (BCG) compensation package is the highest for both entry levels (at $113K for undergraduate entry and $219K for graduate entry). This is because the performance bonus for graduate entry level in BCG ($42K) is $7K higher than that of McKinsey ($35K) and Bain ($35K).
In all MBB companies, the signing bonus for graduate entry ($25K) is always five times higher than undergraduate entry ($5K).
Higher Levels

McKinsey leads the pack for all higher-level positions, followed by BCG and Bain. The difference is most noticeable at principal positions, where McKinsey pays $13K higher than BCG and $29K higher than Bain.
Recruitment process
Similarities

Former consultants from McKinsey, BCG and Bain take such pride in their "MBB consultant" label because getting into an MBB consulting firm is a feat in itself. Competition is brutal, and recruitment ratio is usually less than 1% in most MBB offices.

A successful applicant will have to pass through three rounds: Resume, Standardized Tests, then Case Interview. Every round is uniquely challenging. This is mainly because for each round, MBB consulting recruiters set unusually high expectations. Specifically:
Consulting resumes are expected to adhere to a set of internal rules of the consulting world, which differs significantly from normal resumes.
Standardized tests require a level of commitment and seriousness comparable to taking a full-fledged GMAT, SAT, etc. More importantly, this part filters out the majority of applicants.
The case interview expects all candidates, business or non-business backgrounds, to solve business cases. Case interviews usually last 30-45 minutes each, and there can be up to 6 cases per interview.
Example MBB consulting case interview questions:
"We have a restaurant called "In-and-out Burger" with recently falling profits. How can you help?"
"The CEO of a cement company wants to close one of its plants. Should they do it?"
"A top 20 bank wants to get in top 5. How can the bank achieve that goal?"
Case interviews are a challenging part of the recruitment process, with a success rate of only 10-20%. It is important to practice and get practical advice on where you should improve. Book a coaching session with our former consultants now to increase your chance of getting an MBB offer.
In case you are new to the principles of case interview, join our Case Interview End-to-End Secrets Program in advance.
Differences

Among MBB consulting firms, two key differences should be noted when it comes to the recruitment process.
First, each MBB company refers to the Standardized Test by a different name. McKinsey, BCG and Bain call it McKinsey Problem Solving Test (PST), BCG Potential Test and Bain Online Test, respectively.
Second, for all three firms, the final round – Case Interview – contains the name number of case formats and interview formats. However, within each format, the number varies depending on the individual MBB company. To understand what this means, take a look at the table below:
McKinsey
BCG
Bain
MBB
Case Formats
% Share of Case Formats
Profitability
37.4%
29.8%
20.3%
30.3%
Qualitative Biz Situation
29.5%
28.8%
23.3%
27.7%
M&A
10.9%
12.0%
16.9%
12.8%
Market Entry
8.9%
10.2%
14.4%
10.8%
Solution
7.5%
12.7%
11.1%
10.4%
Other
5.7%
6.6%
13.9%
8.1%
Interview Formats
% Share of Interview Formats
Interviewer-Led
62.6%
12.0%
23.4%
33.9%
Mixed
28.9%
35.1%
43.7%
34.9%
Candidate-Led
8.5%
52.9%
32.8%
31.2%
Table 1: % Share of Case Formats and Case Interviews for MBB Consulting Firms
Career progression
When it comes to career progression in MBB consulting, there is only one rule of thumb: Up or Out!
According to this rule, consulting career progression can be divided into two directions: advancements within consulting and post-consulting. For post-consulting, MBB consultants can choose from a similar list of exit options. Meanwhile, career progression within consulting is a bit different depending on each MBB company. Let's take a look at what this means:
Similarities

Whether you are a former consultant from McKinsey, BCG, or Bain, you will generally enjoy a list of many exciting post-consulting exit opportunities. This is because any consultant from MBB companies will likely have cultivated the skills, network and credibility that open up options from a wide variety of roles and industries.
A typical MBB consultant is welcomed with the best learning opportunities. These opportunities include having excellent mentorships or developing high-performing habits from exposure to a problem-solving culture. Not to mention, consultants spend a large chunk of their time working with top executives across many industries. These surely are the best learning experiences out there.
Aside from top executives, consultants also work alongside the best industry-specific experts and high-achieving, multi-background colleagues. Anyone who can leverage this incredible network is set up for huge assistance advancing their career.
Finally, the title "MBB consultant" on your resume will radiate credibility and prestige in the eyes of future recruiters. An MBB brand name automatically shows you're a candidate of high caliber because recruiters know you have previously made it through a very rigorous selection process and have accumulated highly differentiated combinations of skills.
With that being said, below are five common post-consulting exit options:
Occupy a CEO chair: Often dubbed "CEO factories", alumni from MBB companies are often hired to run the biggest companies in the world. Out of three MBB firms, McKinsey has a slight edge over this. According to one estimate, McKinsey alumni have a 1 in 690 chance of securing a CEO position at one of the 1,187 publicly traded companies valued at a minimum of $2 billion in market capitalization.
Entrepreneurship: commonly chosen options are starting a company (usually if one can secure funding from angel investors) or joining Venture Capital. The latter deals with unicorn start-ups and have more exposure to business outside the Fortune 500 list.
Enroll in MBA programs: all MBB companies offer sponsorships to employees wishing to continue their education. Of course, sponsorship receivers are expected to serve their respective companies for at least another two years upon returning.
Enter civil sectors, social enterprises, or policy: MBB consultants are often sought after by reputable non-profits such as The Gates Foundation. You can take a look at career transition stories to the social sector here.
Enter an industry: entering organizations who were previously consulting clients.
Learn more about post-consulting exit options here.
Differences

Within consulting, progression will look slightly different depending on whether you are working for McKinsey, BCG, or Bain. Our article about career path in management consulting details such differences for traditional consulting tracks and supporting tracks. Meanwhile, take a look the summary below: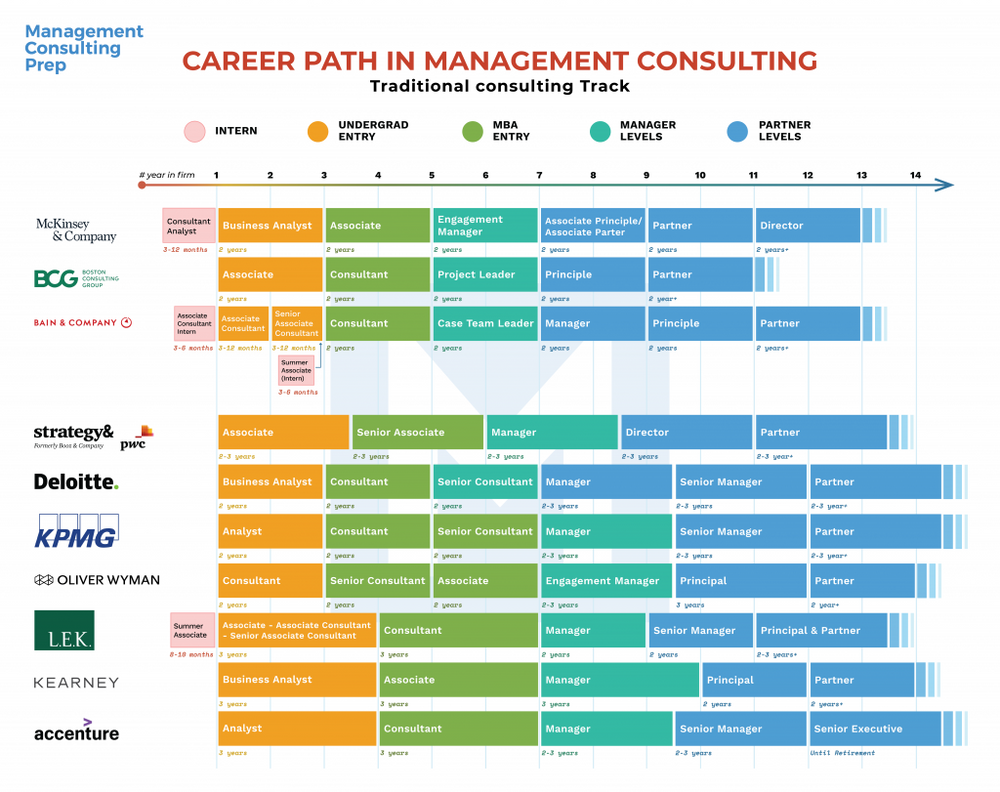 Of course, each company will have their own initiatives in moving employees up and down the ladder. For example, Bain offers a 6-month rotation term for undergrad hires after the first two years. Within this period, employees have a chance to try new things, such as transferring to a foreign office, taking an internship at a company outside of Bain, or working for Bridgespan, Bain's non-profit group.
BCG has talent retention schemes to reward top performers, such as the BCG's Henderson Institute, a research lab aiming to develop ideas that may redefine the notion of business strategy and competitive advantage.
Working culture
Perhaps the most noticeable difference between McKinsey, BCG and Bain is working culture. If you happen to be offered a job by more than one MBB firm, you might want to opt for one that best suits your personality and background.
Intellect over experience, fact over gut feel, logic over emotions, hyper-rational, structures and frameworks. These are the backbones of a high-performing culture at McKinsey. At this firm, structures are deeply imprinted in every consultants' line of thinking and problem-solving approach. Feedback is frequently given, acronyms are abundant, and a can-do spirit drives people to view almost nothing is impossible to achieve. McKinsey is also known for an infatuation for PowerPoint slides: there's an entire team of designers dedicated to creating impressive visuals. You can learn more about working culture from the perspective of another ex-McKinsey here.
BCG, on the other hand, is a culture of leadership, openness, mutual respect, people-focused and flexibility. Former consultants often emphasize the supportive working environment in their list of favorite things at BCG. The company emphasizes team effort when working on projects and focuses on client partnership to deliver distinctive solutions. This customer-focused approach to problem-solving gives BCG a competitive edge over McKinsey.
Of all MBB firms, Bain's company culture is probably closest to the familiar adage "work hard, play hard". Bain puts a lot of effort into creating a comfortable, homey work environment. Spaces are designed to accommodate varying workspace preferences of everyone to perform their best. Whether you work better alone in a quiet room or among others, Bain goes the extra mile to make sure your needs are met. The best perk, however, is that you get to build meaningful relationships with colleagues at various social occasions like office parties or Bain's edition of World Cup events.
Job satisfaction
When consultants talk about their jobs at MBB consulting firms, they don't just emphasize the prestige.
Most likely, you will hear that the job is more interesting than other corporate jobs. This is because MBB consultants usually enjoy how varied and challenging their work is and working alongside the brightest people. Alternatively, you might also hear complaints of long work hours, stress, extensive travel, or spending too much time making PowerPoint slides. These statements do contain some truths, but not always.
When you compare MBB firms, however, there is not much difference when it comes to work hours and stress levels. Consultants work at least 60 hours a week, often coupled with a lot of stress and significantly challenging times. But at the end of the day, most will view these challenges as invaluable learning experiences.
Among MBB firms, McKinsey ranks first with regard to employee satisfaction, followed by Bain and BCG. This is partly attributable to the depth of resources its employees can tap into. In addition to its infamous high-performance culture, McKinsey put a lot of effort into engaging current employees with its powerful network of alumni, a large percentage of whom ended up running billion-dollar corporations.
Before applying to any MBB companies, it is useful to understand their key differences, pros, and cons. Hopefully, this guide gives you a general idea of how each firm in MBB consulting is like, as well as deciding which company resonates best with your personal fit!